The Ultimate Guide to Hiking and Backcountry Camping in Garibaldi Provincial Park
Getting There
Most people start at Rubble Creek Trailhead at the end of Daisy Lake Road. This trailhead is easily accessible. It is about 30 minutes north of Squamish, and about 25 minutes south of Whistler by car on the Sea to Sky Highway. The road is on the east side of the highway and is well marked with signs for Garibaldi or Black Tusk.
Daisy Lake Road is paved and the parking lot is large (with overflow space) and not far off of the highway. If you are looking to access this area in the winter please be aware that there may be snow and you should bring a vehicle that can maneuver in it. Be sure not to leave any valuables in your car as there is always a chance of break-ins at trailheads.
Camping
You can book your backcountry camping reservation through Discover Camping. The reservation system has been changing a lot recently (as of 2020 and 2021) and some years you can only book 2 weeks in advance, sometimes you can book in May for the whole summer, and sometimes there are walk-in sites.
I would recommend looking into it as soon as you decide you want to hike/camp and plan accordingly. Do your best to book in advance as far as possible to avoid disappointment as there is no camping outside of developed campsites.
Locations
There are two main locations in Garibaldi Provincial Park to backcountry camp: Garibaldi Lake and Taylor Meadows. If you are interested in Helm Creek you will find that information further below.
Garibaldi Lake
This campsite is about a 9km hike from the parking lot. After the trail junction at 7km, you will follow the signs to the right and go past some small lakes and the barrier lookout. The trail will be mostly flat until you descend slightly towards the lake, cross a bridge and continue left along the lakeside until you round the corner and come across the camping and day-use area.
It is beautiful to stay here but note that doing the other hikes in the area will be more difficult from here than Taylor Meadows as you will have a somewhat steep 2km switchback section through the woods near the lake to reach the alpine section where the trails to Panorama and Black Tusk really start.
The tent pads are mostly wooden and in the forest without lake views. Read below under amenities for more information.
Taylor Meadows
This campsite is about 8km from the parking lot. The hike is a bit shorter than the Garibaldi Lake campsite and the trails (such and Panorama Ridge and Black Tusk) are easier to access as the campsite is at a slightly higher elevation than Garibaldi Lake and the distance to the trail junction is shorter and flatter.
Taylor Meadows will also be quieter as day hikers will just be passing through, rather than stopping to stay and play at the lake. Whichever place you choose, you will have a fantastic time.
Amenities
Water
Water is abundant in Garibaldi Park. There are multiple streams you can catch water in on your way up towards the peaks. At Garibaldi Lake Campground your main water source will be straight from the lake. At Taylor Meadows, there is a small river.
For the first 7 kilometers or so on the way up the switchbacks you will not see much water so be sure you have water prepared for the first section. Of course, be sure to boil or treat all of your water before consumption.
Waste
Be sure to pack out all of your waste, there is no waste removal service in the backcountry.
As for human waste, there are pit toilets at the campsites and a few along the way. They do not have toilet paper in them so be sure to bring your own. The pit toilets smell horrible and people will often leave trash in there (do not do that!) so be prepared for the smell or to do your business in the woods (100m away from a water source, dig a hole for solid waste, and pack out your TP).
For food waste, there are shelters that have greywater sinks. Here you can dump your leftover cooking water or dishes water without contaminating the water source.
For brushing your teeth you can spit your toothpaste and rinse water into the greywater sinks in the shelters.
Food
There are several shelters in the campsites that you can use to prepare and eat food, especially if the weather is bad. Here you will find the greywater sinks as well for dumpling excess cooking water.
There are no bonfires allowed so do not expect to cook over an open fire. You can fish in Garibaldi Lake with a permit if you are keen on catching your dinner that way.
Be sure not to cook your food near or in your tent as that can attract bears.
Be sure to not leave any food or anything with a scent in your tent, especially overnight as that can attract bears. In the campsites there are bear hangs which are tall poles with wires that you can put your food on and pull it up out of reach like a flag pole. It's best to bring a bag with handles or ties (we like to use a dry bag) that you can easily clip onto the wire.
Campsite
Almost all of the campsites have a wooden tent pad to put your tent and other things on. The tent pads are all in the woods at Garibaldi Lake and there are not any sites with views of Garibaldi Lake so just pick whichever one you come across that is open, they are all about the same. At Taylor Meadows, the area is a partially wooded, partially open field, and you will also find wooden tent pads here.
Be sure to print out your backcountry camping permit before you go because you will need to display it on a small stake next to your tent pad (be sure to remove it on your way out to maintain leave no trace!)
Atmosphere
Garibaldi Lake is a popular site but most people are out hiking all day and there isn't a single communal area for cooking/eating, which means people spread out more.
I found one good place to hang out and meet people if you want to chat with someone is to make your way to the dock at the very end of the trail around Garibaldi Lake. Keep going past the end of the campsite and you will eventually find it. The dock is actually a helipad (so if you see a helicopter coming in, be sure to move far away) but you can hang out and relax here in the sun and jump in the water (the water is cold so jumping in may be your only choice if you are wary of cold water).
Note that the campsite side of the lake gets the most sun in the morning and will be shadowy in the evening. If you want to swim or take photos when the water is bright blue, be sure to do so before the sun starts to shift in the evening.
Behind the helipad/dock you can find a ranger station, the rangers are not always there but if you need something you can find them wandering around camp or you can knock on the door.
At Taylor Meadows, the campsite is more central and together in a field.
When you are camping at Garibaldi Lake or Taylor Meadows I would recommend watching the sunset or sunrise at least once to enjoy the magical light on the mountains.
To note on a not-so-nice side, there are plenty of mosquitos in the area so bring repellant.
Hikes
(all stats are listed as roundtrip from Rubble Creek parking lot)
If you are camping overnight, be sure to dump all of your heavy things at your campsite before continuing on, but be sure to still bring plenty of water and food.
1. Garibaldi Lake
Distance: 18km | Elevation Gain: 1000m | Difficulty: Moderate
Hiking to the lake as a day trip is an excellent choice. The lake is bright blue and surrounded by stunning mountains. The water is cold glacial water but you will definitely want to go for a swim on a hot day. There are a few benches and a small dock/helipad at the far end of the campsite to lounge on.
The first 7km is switchbacks through the forest, the switchbacks are well maintained and only have a gradual incline so if you are traveling just for the day, this part might be monotonous, but without a heavy pack, shouldn't be too challenging. After this, you will find a fork, stay right, follow the signs to Garibaldi Lake, the path will flatten then eventually dip down towards the lake.
Cross a bridge and stay to the left and follow the edge of the lake around the corner to reach the campsite/day-use area and see the best views. On this lakeside section you will also find the iconic little boardwalk that is a great photo opp stop.
If you are planning on camping at Garibaldi Lake, these switchbacks will be a little more tedious with a heavy pack on but overall, it's a great place to try out backpacking for the first time, if you are in half-decent hiking shape this trail should be a great starting point.
2. Panorama Ridge
Distance: 30km | Elevation Gain: 1600m | Difficulty: Challenging
This hike can be done as a day trip but it is a FULL day. Be sure to start early and be prepared to get home late. Bring plenty of food and water (or bring a water filter as there are lots of water sources, especially at the meadows just past the campsites), and be sure you are physically fit before starting out.
The recommended route would be to stay left at the junction after the 7km of forest switchbacks and follow the signs to Taylor Meadows, then continue on to Panorama Ridge, this is an overall easier, flatter, and shorter route.
On your way back, if you still have energy left, make the detour to Garibaldi Lake and go for a swim, this way you avoid having to do the 2km of fairly steep switchbacks up from the lake to the Panorama Ridge/Black Tusk junction. If you are tired, just skip the lake and head back through Taylor Meadows and save the lake for another day (this will slightly shorten the entire distance covered).
If you are hiking to Panorama Ridge from one of the campsites, as I mentioned before, you will have to take 2km of steep switchbacks up from the lake until you reach the more alpine area that has a lot more flat sections and steady elevation gain.
Roundtrip from Garibaldi Lake to Panorama Ridge is about 14km, and it will be plenty challenging, especially after carrying your overnight pack to the lake already. Be sure to bring plenty of water and snacks.
From Taylor Meadows, this hike is slightly shorter and slightly easier, but still challenging after the first half of the hike to the campsite.
If you only have time for one hike, this is the one I would recommend. At the summit, you will have incredible 360 mountain views and a view of the bright blue Garibaldi Lake below you.
3. Black Tusk
Distance: 28km | Elevation Gain: 1700m | Difficulty: Challenging
Similar to Panorama Ridge, this hike can be done in a day but a very full day. Be sure to bring lots of water (or a filter), food, and be in good physical shape.
The best way to do this hike is to take the right at the junction towards Taylor Meadows after the first 7km or so of switchbacks. Taylor Meadows will be slightly flatter and shorter to get you to Blacktusk Meadows where you will find the junction to either Panorama Ridge or Black Tusk, follow the signs, and start climbing upwards again.
This section of the trail has a lot of loose rock and a lot of people will bring helmets to avoid loose rock hitting their heads as they climb. This mountain is epic to conquer, especially as it sticks out from the skyline like a sore thumb.
On your way back down, you can choose to head to Garibaldi Lake for a quick swim, or if you are tired and want to take a shorter, easier route, head back through Taylor Meadows.
If you choose to head to the Black Tusk summit from the Garibaldi Lake campground, you will follow the 2km of switchbacks up through the forest to Blacktusk Meadows where you will continue to climb for another 3km, the entire round trip is about 11km. Coming from the Taylor Meadows campground expect a slightly shorter hike with a bit less elevation gain.
Though it is shorter than Panorama Ridge, the hike is steeper and more technical, so I would rate the two hikes as about even when it comes to difficulty, but both equally as rewarding. At the top, you will be wholeheartedly rewarded with incredible 360 mountain and lake views and a sense of achievement.
4. Mount Price
Distance: 28km | Elevation Gain: 1600m | Difficulty: Challenging
Like the hikes above, this one can be done as one very long day trip but is much less trafficked than Panorama or Black Tusk. This hike goes in the opposite direction and keeps going on the Garibaldi Lake trail, up behind the lake in the opposite direction as the other two.
If you want to do this one in two days, it's definitely better to camp at Garibaldi Lake.
The trail winds through the forest then the last 3km or so are steep with plenty of scree, and you are likely to find snow here year-round. Be sure to download a map before you go as this last section is not well marked.
This trail is certainly for the more adventurous as it is not well-traveled. At the top, you will be rewarded with incredible mountain and lake views, and will likely have the place to yourself.
Hiking Tips
If you are only able to do one peak as a day trip or overnight I would recommend Panorama Ridge, it is the most classic hike and has incredible scenery throughout. If you are up for it, the best way to cram the most hiking into two days is to camp at Taylor Meadows, then hike to Panorama Ridge or Balck Tusk in the same evening that you hiked to the campsite. In the morning, leave your heavy stuff at the campsite and do the hike you didn't do the day before in the morning before heading back to your car.
This can also be done by camping at Garibaldi Lake, but the hiking will be a bit more strenuous. This is a lot of hiking in two days so be prepared to be quite exhausted by the end. Bring plenty of food and water and pace yourself.
If you are able to stay two nights in the backcountry you will be blessed with plenty of time to do multiple hikes and spend a day or afternoon hanging out at the lake. It all depends on what you are up for.
Hiking/Camping from Cheakamus Lake Via Helm Creek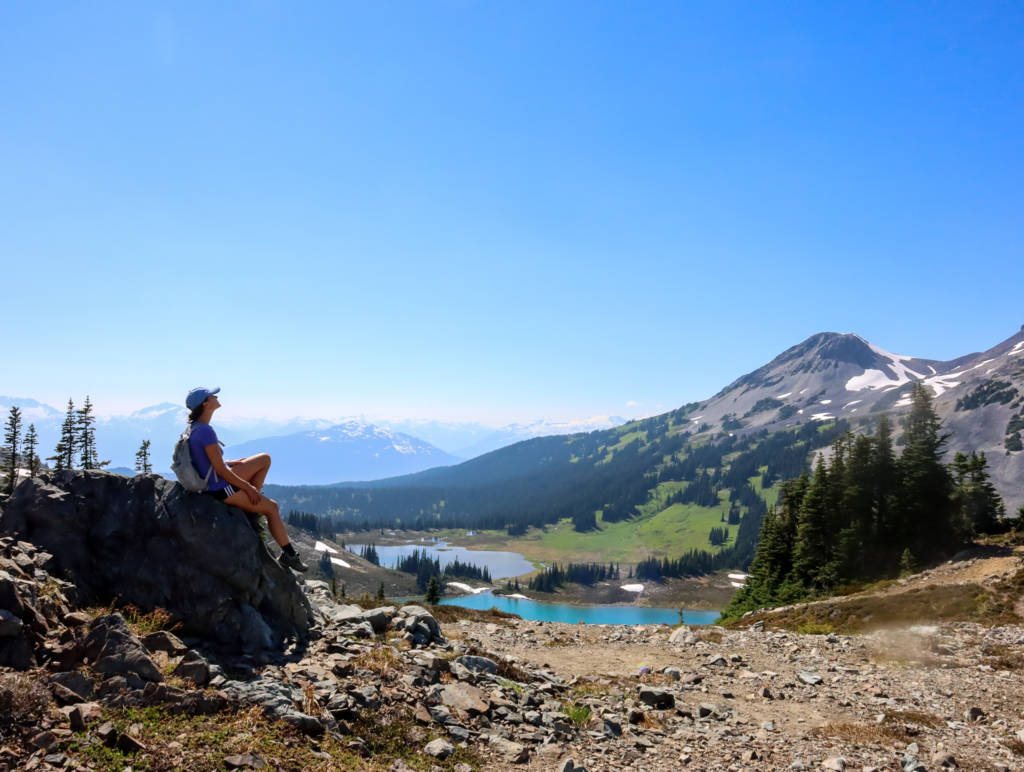 Helm Creek is a bit of its own entity though you can hike and camp there from Rubble Creek and take trips to the same places listed above, the better option (in my opinion) is to start from Cheakamus Lake.
From Cheakamus Lake, you will ease into the hike with the incline slowly increasing but it never gets too difficult, and you will find lots of beautiful views along the way, unlike starting at Rubble Creek which leads you through the forest for the first 7km.
Book the Helm creek campsite through Discover Camping just like the other site.
From the campsite, you can continue on to Panorama Ridge, for a total of about 32 km round trip, but never with excruciating elevation gain. You can also go up Black Tusk though there will be more hills. Finally, you can head up to Castle Towers, but this hike is only for experienced hikers as it is not well marked and can be dangerous at times, not to mention challenging on the body.
It is possible to go from Cheakamus Lake to the top of Panorama Ridge in one day, but of course, be sure to take the entire day, bring plenty of food and water, sun protection, and be in good physical condition.
If you have access to two cars you can make this a thru-hike by starting at Cheakamus and making any stops you want along the way (Panorama Ridge, Black Tusk, Garibaldi Lake, etc) then making your way down to the Rubble Creek Parking Lot at the end.
The Helm Creek from Cheakamus Lake is a far less traveled option but it is beautiful and well worth it. Be sure to keep an eye out for potential closures in the area as Cheakamus Lake is home to many bears.
Conclusion
Garibaldi Provincial Park is a great place to test out your backpacking skills as it is well populated, well-marked, has all of the amenities you need, and is stunning to top it off. If you have any more questions, please leave them in the comments below. Happy hiking!
Welcome to Alpine Feeling! My name is Talon, and I am a Vancouver local who loves hiking and all things outdoors. I am here to do my best to provide you with outdoor guides to the Vancouver area and beyond.