Ultimate Guide to Golden Ears Provincial Park (Hikes, Camping, Alouette Lake, and More)
Golden Ears Provincial Park is a stunning piece of land near Maple Ridge, only about a 1-hour drive from Vancouver. This is a very popular place for camping so be sure to book in as soon as you can if you plan on going in the summer. It's also a great place for a day trip!
There are several beautiful hikes as well as the massive Alouette Lake that is popular for swimming and picnicking as a day trip, but this large parking lot fills up quickly on the weekend in the summer as well so be sure to arrive early.
There is no cell service at this park and there is only a very small concession stand in the summer for your needs to be sure to bring everything you need with you for the day (and be sure to pack it out with you of course).
Find a PDF map of Golden Ears here.
This guide will include the best hikes in Golden Ears, a guide to camping (frontcountry, backcountry, and marine), as well as other activities (boating, fishing, and horseback riding).
The Best Hikes in Golden Ears Ranked by Difficulty
All of the hikes in Golden Ears are stunning. If you are going on a nice weekend be sure to arrive early to ensure a parking spot. The elevation is a bit lower here than other nearby mountains so it is often possible to hike to the summits in May rather than waiting for July, just consider recent weather patterns and check recent trail reports.
These are organized by approximate difficulty, the difficulty is always up to interpretation by the hiker themselves so this is based on my own experience.
1. Lower Gold Creek Falls
Distance: 5.5km | Elevation Gain: Minimal |Difficulty: Easy
This trail is wide and well maintained and takes you along the edge of Gold Creek until you reach the lower falls. The falls are a beautiful clear blue color that just makes you want to jump in. Lots of people do swim here but beware that the water is very cold.
This hike can be done year-round and by almost anyone, even strollers could make their way on this trail. The trail starts at the Gold Creek parking lot.
2. Gold Creek Lookout
Distance: 7.7km | Elevation Gain: 250m | Difficulty: Easy/Moderate
This hike starts at the West Canyon Parking lot or Gold Creek parking lot if West Canyon is full. You follow the West Canyon trail up a well-maintained trail with a slight incline until the trail changes and becomes filled with rocks and roots for a short while before you find a gap in the trees where you can see the river, mountains, and a bridge.
If you want you can turn around from here and go home or you can go on to Alder Flats or make your way down East Canyon instead and make it into a loop (read more about these below).
This trail is usually accessible year-round unless there has been a lot of low-level snow.
3. Alouette Lake Viewpoint Trail
Distance: 4km | Elevation Gain: 250m | Difficulty: Easy/Moderate
This trail starts at the West Canyon Parking lot and follows the West Canyon trail until you see a sign for "Viewpoint Trail" follow this trail over some steeper sections with a small amount of scrambling and eventually you will arrive at a viewpoint of the lake and the mountains.
This trail may have some snow in the higher parts during the winter but is largely accessible most of the year.
4. East and West Canyon
Distance: Approx. 10km | Elevation Gain: Approx. 350m | Difficulty: Easy/Moderate
This trail can start at Gold Creek or West Canyon parking lot and is usually accessible year-round. The trail takes you on a gradual incline through the forest and across a bridge that spans Gold Creek. There are several peekaboo views along the way but this trail is especially great for its detours.
You can detour to Alder Flats (below) which has beautiful mountain views, or go up to Alouette Lake Viewpoint (above), or take a short detour to Hikers Beach for some time by the water, or take a detour to Upper Falls (below), or Lower Falls (above) through the connector trail. I highly recommend checking out Upper Falls as a detour on this trail, read more about finding it below.
5. Upper Gold Creek Falls
Distance: 5 to 10km | Elevation Gain: Up to 400m | Difficulty: Moderate
These falls are some of my favorites in the Vancouver area. They are not too busy because the trail to get to them is not very well maintained and can be steep and muddy in sections. If you are willing to make the trip be sure to go in the morning to get the best sunlight. You can usually make it here year-round.
There are a few different ways to get here. You can take the East Canyon Trail and cut down to the left (keep a very keen eye out for the turnoff or look at your downloaded map, it is hard to see, it is shortly after the sign for the trail to Lower Falls). Once you arrive at the falls you can then turn back and take the same route back.
Another option is to start at East Canyon, take the detour to Upper Falls, then continue in the opposite direction as you came from on the main trail and do the loop around West Canyon (closer to 10.5km) like in the East/West Canyon hike above. Or do the entire trail clockwise instead.
The other option is to start by doing the trail to Lower Falls then looking very closely for the trail marker for the unmaintained connector trail to East Canyon, then walk a little further uphill on the East Canyon trail and cut onto the detour to Upper Falls then make your way back down East Canyon to your car or take the loop around West Canyon like in the option above this one. This option allows you to see both falls in one day.
Whichever way you go it will be a great trip, just remember that the trail will be muddy and may be semi-washed out after a big rain.
6. Alder Flats
Distance: 11.5km | Elevation Gain: 450m | Difficulty: Moderate
This trail takes you along the West Canyon trail which starts out well maintained and with only a slight slope then becomes rougher about halfway in but still not overly difficult. The trail takes you to a backcountry camping spot that has incredible views of the mountains surrounding you (be sure to go to the helipad for the best views).
The area around the campground will have snow until April or so but can still be accessed with proper snow gear year-round.
This is a fantastic spot for people to test out their backcountry camping skills as the trek isn't too far or too hard to carry a large backpack filled with camping gear. This is also a potential campsite for those continuing on the Golden Ears/ Panorama Peak. (Read more about backcountry camping in Golden Ears below in the camping section).
7. Menzies Trail
Distance: 16km | Elevation Gain: 200m | Difficulty: Moderate
I often think of Menzies Trail as a sort of connector trail, it travels from just south of Alouette Lake, near the trailhead for Alouette Mountain, and takes you up to the area where the trail to Golden Ears Starts (West Canyon or Gold Creek parking lots) but nonetheless this trail is still beautiful and takes a fair amount of effort for a largely flat hike.
Though this hike is accessible year-round if there has been a lot of rain or snowmelt (like in the spring) the creeks may be too high to cross. During other times of the year, the number of creek crossings and varied terrain make this a fun and interesting forest jaunt!
8. Evan's Valley/Creek
Distance: Up to 8.5km | Elevation Gain: Up to 500m | Difficulty: Moderate/Hard
This trail is easy to miss as you travel along the West Canyon trail so keep out a keen eye for trail markers or watch your downloaded map for the turn-off.
This trail is largely forested and starts out on the flat side then gets steep with some scrambles and rock slides to cross. You can stop at Evans Creek or continue on a bit further for the really cool part about this trail: ice caves! The best time of year to see the ice caves is in June, when some snow has melted but not all of it. Do not go into the caves as they can collapse. You will also get beautiful views of the valley and the mountains if you choose to skip the ice caves or go at a time when they are not visible. 
9. South Mount Nutt
Distance: 10km | Elevation Gain: 1000m | Difficulty: Challenging
This is the first real leg burner of this list. This hike starts at the Gold Creek parking lot and takes the East Canyon trail before turning upwards (download a map to find the correct turn-off for the Mount Nutt trail) and makes its way up a steep mountainside. At the top, you will be rewarded with multiple viewpoints of the surrounding mountains and the valley.
I would recommend doing this hike on a clear summer day otherwise you will be battling bugs or snow depending on the season.
10. Evans Peak
Distance: 10.5km | Elevation Gain: 1000m | Difficulty: Challenging
This trail starts at the West Canyon parking lot and starts out easy until making a sharp turn upwards and turning into a leg burner. From here, the trail becomes steep and technical with ropes and chains to help you along the way.
The view at the end is stunning with the valley and surrounding mountains going on for days.
I wouldn't recommend doing this hike before May, and even after then I would consider recent trail reports and weather conditions. This trail can be done in the snow but you should be fully prepared with snow gear, including an ice ax.
11. Alouette Mountain
Distance: 20km | Elevation Gain: 1200m | Difficulty: Challenging
This is a great choice for people who want the same amazing views as hiking Golden Ears but want an alternative path. This hike still has some hefty elevation gain and it will be a tough day but it also has some flat parts. The incline is overall more gradual than Golden Ears as well so it is easier to fathom doing in just one day.
The trail is largely forested until you reach the summit where you will find beautiful mountain views.
Park near Mike Lake to start. Of course, download a map before you go and bring bug spray. I would recommend doing this hike in late June or preferably July to avoid snow.
12. Golden Ears/Panorama Ridge
Distance: 22km | Elevation Gain: 1700km | Difficulty: Challenging
The most famous of all of the Golden Ears hikes, and for good reason! This hike starts at the West Canyon parking lot and follows the canyon trail before turning onto the trail for Alder Flats. The trail here becomes rootier and rockier and a bit steeper.
Once you reach Alder Flats, you can choose to camp here overnight if you want to make this a two-day trip. If not, continue on the next 6km to Panorama Ridge, which is a steep and challenging trail with some scrambling at the end but will lead you to incredible views of the surrounding mountains and the valley.
At Panorama Ridge you can also camp overnight in the height of summer with tent pads, an emergency shelter, and a pit toilet when this hike sees the most people (summer). This is an incredible place to wake up but keep in mind that you will also have to carry your heavy pack up some very steep terrain to achieve those sunrise views (read more about backcountry camping below)
It is possible to do this hike in one long day but be well prepared with lots of water, food, and time.
You can do this hike as early as May or even late April at times but be sure to consider recent weather conditions and trails reports.
Camping
Frontcountry/Vehicle Camping:
Frontcountry camping, or car camping, is very popular at Golden Ears Provincial Park and for good reason, only being an hour from Vancouver and in the middle of beautiful forest and mountains as well as being right next to the lake makes this an excellent getaway.
Be sure to book as early as you can through Discover Camping. All of the campsites are around the same area so location won't factor into your choice much. Each campground is gorgeous but each has different amenities and prices that might help you determine which one is the best for you.
The campsites have a 14-night maximum stay, and a minimum of 3-day stay on long weekends. The Discover Camping website charges a booking fee of $6. To add an additional car to your site there is a $12/night fee.
There is no cell service, all campsites have a picnic table, fire pit, and access to the lake (usually through a short trail).
There is a very small concession stand at the South beach access but other than that there aren't many supplies so be sure to bring everything you need with you or be prepared to go into Maple Ridge. You can buy firewood from the park operator.
There are also scheduled ranger talks/interpretive programs and nature trails near the campsites for learning and fun opportunities.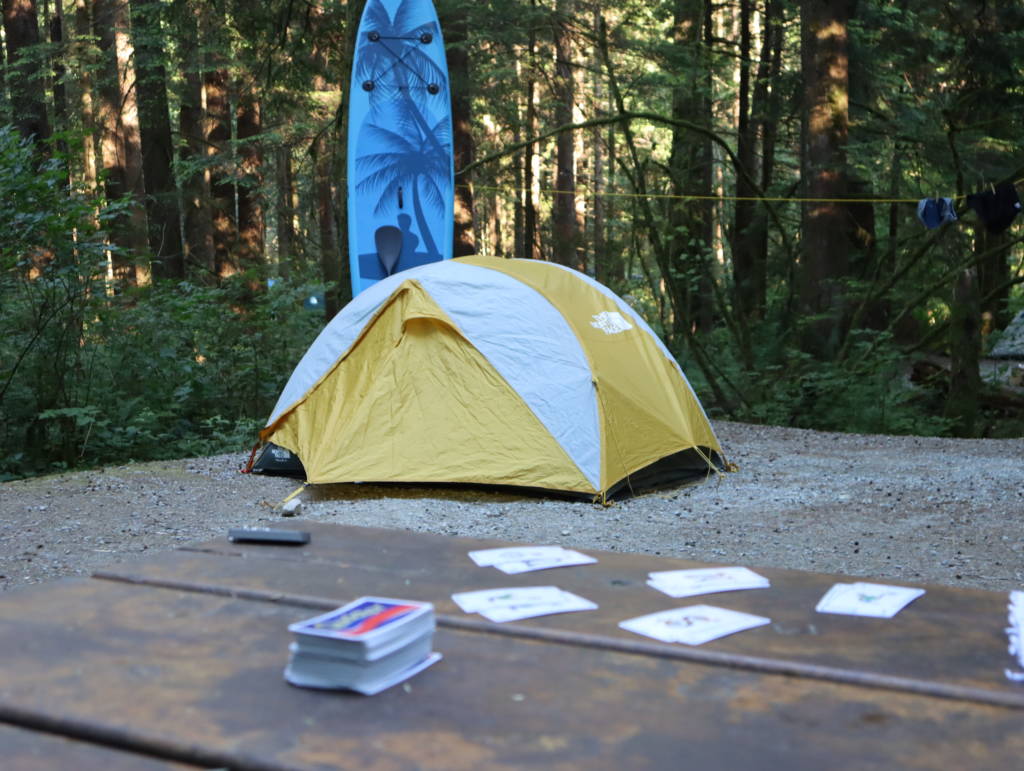 1. Alouette Campground ($35/night)
The largest campground in Golden Ears, with 206 campsites, which are accommodating of both tents and RV campers. This campsite has flush toilets, hot showers (free), a playground, drinking water, and a sani-dump nearby which can be used for a fee of $5 (only can be paid in $1 and $2 coins). Pro tip: avoid campsites A16 to A19 if you can because they are near the sewage field and can be smelly if the wind shifts just right.
There is a short trail that leads you to Campers Beach which is a beautiful beach with a rocky shore but a grassy, shaded area just behind the rocky beach that is a great place to relax for the day.
The campground is forested and each campsite is equally nice, with semi-privacy. Keep in mind that this campsite is full all summer long so it will be a fun, bustling atmosphere.
This campsite is open for reservations between mid-May and mid-September. From the beginning of April to mid-May the campsites are first come first serve. Mid-September through March the campsite is closed.
2. Gold Creek Campground ($35/night)
The next campground after Allouette, which is very similar but slightly smaller with 148 sites, is Gold Creek. This campground has tent sites and RV sites alike, as well as some walk-in sites. There are flush toilets, hot showers (free), drinking water, and lake access (Campers Beach) via a short trail. There is a sani-dump closer to Alouette Campground which is $5 and can be paid with $1 and $2 coins.
The sites are forested and semi-private and are usually full and bustling in the summer months. There are also a handful of wheelchair-accessible campsites here.
The only real difference between Gold Creek and Alouette Campground is that Gold Creek is open year-round. Reservable camping is from April to mid-October and the rest of the year it is first come first served at a reduced rate of $13/night. Flush toilets close in the winter leaving only pit toilets available and the park gates are closed from 5:30 pm to 8 am daily so keep that in mind for planning purposes.
3. North Beach Campground ($23/night)
North Beach Campground is slightly smaller at only 55 tent or RV campsites and a bit more rugged as it does not have showers or flush toilets.
This campground is a bit quieter than the other two and it has access to a fantastic beach area called North Beach. This campground is also the closest to the trailhead for most hikes.
Amenities available are water and pit toilets. You can use the sani-dump near Alouette Campground ($5 which can be paid for by $1 and $2 coins). If you need a shower, you can try walking over to the Gold Creek campground and using the amenities there.
The campground is open and reservable from mid-May to mid-September.
4. Group Camping
There is a group campsite near Alouette and Gold Creek campgrounds that can accommodate 15 to 50 people. The prices range from $50 to $150 a night depending on how many people there are and what their ages are. These campsites can be booked up to a year in advance.
Backcountry Camping
Backcountry camping is camping where you have to hike into the campsite and camp ruggedly and remotely. In Golden Ears there are no campfires and no garbage removal at backcountry campgrounds, though there are pit toilets.
You must purchase a $5 per person per night backcountry camping permit and carry it with you at all times. You can purchase up to two weeks in advance of your trip through BC Parks/Discover Camping.
Be sure to read BC Parks guide to backcountry camping responsibility before you go.
1. Alder Flats
This is the first campsite you come across on your way to Golden Ears summit. The hike to get there isn't too strenuous, with a nice gradual elevation gain the majority of the time. You can set up your gear here and finish the trip to Golden Ears. This is where the trail starts to get steep and it will be a relief to have less weight to carry.
There is a pit toilet and tent pads here but no bear hangs or caches so be prepared to create your own bear hang in a tree. The last dependable source of water is about .5km before the campsite on the trail so keep that in mind for hydration and cooking purposes. There is usually snow on the ground through April.
2. Panorama Ridge
This is the second campsite on the Golden Ears trail and this one is near the summit. It is only used in the peak season (summer) when there is a pit toilet set up and the tent pads are no longer covered in snow.
There are no bear hangs or caches and very few trees to hang food but campers tend to put their scented things inside the emergency shelter at the campground. There is no water here unless there is residual snow, the last source of dependable water is just before the Alder Flats campground, about 6km from the Panorama Ridge camp.
Be sure to make it to the summit when arriving in the afternoon because it can be foggy in the morning.
This campsite can get kind of trashed so be sure to pack it and pack it out and take a few extra pieces of trash with you if you are feeling kind towards mother nature.
3. Viewpoint Beach
This trail is located on the East Canyon trail. Instead of turning left to cross the bridge, stay straight to find the beachy campsite.
There is a pit toilet but no tent pads and no bear hang/cache so be prepared to hang your own food/scented items. There is rarely snow here so you can go here year-round if you are prepared to brave the cold in the winter.
4. Halfmoon Beach
This campsite is another 5km or so past Viewpoint Beach on the East Canyon Trail. This part of the trail can get a bit more rugged but is still mostly flat so though it's a long day, it won't be too much of a leg burner.
The campsite itself has a pit toilet but no tent pads and no bear hangs/caches to be prepared to hang your own food.
Marine Camping
There are some sites along Alouette and Pitt Lake that are similar to backcountry camping but are only accessible by boat. They have pit toilets, tent pads, and campfires that are permitted below the high water mark, but they do not have mooring facilities, garbage removal, or bear caches/hangs so backcountry responsibility applies.
The camping fees are $5 per person per night and can be paid online through Discover Camping. Be sure to keep your proof of payment on you at all times. You can also come here for a day trip if you are keen to escape the crowds and have enough time.
The Campsites
West Shore: Moyer Creek
North Shore: The Narrows, Alouette River
East Shore of Pitt Lake: Raven Creek, Osprey Creek south and north
Day Use Lake Access
Alouette Lake is the body of water within Golden Ears Park. The water is clean and clear, and though it is cold, it is great for swimming in the summer. The mountains surrounding you make for an even more idyllic experience.
Though motorboats are allowed on Alouette Lake, the lake is large enough to allow motorboats and paddlers to coexist peacefully. The water is most still in the morning so if you are a paddler I would recommend going then, if you are looking to windsurf, the afternoon is likely better.
Please note that there are no lifeguards at Golden Ears Provincial Park.
1. Alouette Lake (South Beach)
The first lake access you come to in Golden Ears Park is the south beach access, commonly referred to just as Alouette Lake. This area has two large parking lots but they still fill up quickly on sunny weekends.
There are flush toilets in the summer months, many picnic benches, and a small concession stand in the summer that also rents canoes and kayaks starting at $30/hour and can be rented overnight for marine camping opportunities. There is also a paved area and path so wheelchairs can access the lake facilitates.
The beach area around the lake is rocky so be sure to bring chairs to sit on if you want to be right next to the water. A little behind the beach there is a sand/grass/dirt area that is softer to sit on if you only have a towel and behind that, you can find a plethora of picnic benches to use. There isn't too much shade to be found here either so an umbrella might also be a smart item to bring.
There is a boat launch at the north end of the parking lot which is accessible between May and September and can get quite busy so be sure to be polite to your fellow boaters. Be sure to avoid the dam at the south end of the lake, it is very obvious and easy to stay away from.
This is the only lake access you can drive directly to. Overall, this is a gorgeous place to spend a summer day and I highly recommended it.
2. Campers Beach
This beach is easily accessible for both Alouette and Gold Creek campers but can also be accessed for day use if you are willing to walk a little bit. Park at either Gold Creek or West Canyon parking lots and follow a 10-minute trail to this sweet little beach.
The beach itself is rocky and exposed to the sun but just behind that is a nice grassy area with picnic tables, trees for shade, and pit toilets tucked away in the woods.
The beach here is quieter than the main South Beach access and there is no boat launch so you will not have as much motor boat commotion.
An excellent spot to hang out for the day.
3. North Beach
This beach is the water access for the North Beach Campground but can be accessed for day use as well via a 15-minute walk through the forest from the Gold Creek parking lot.
There is a large sandy/rocky area with shrubs and trees at the edge for those looking to escape the sun though I would still recommend bringing beach chairs and an umbrella for the best experience.
There are pit toilets at the beach but be sure to pack out any garbage.
Other Activities
1. Boating and Paddling
There is a boat launch at the north end of South Beach access for motorboats between May and September. Windsurfing and waterskiing are popular sports done here as well as paddling (canoeing, kayaking, and paddleboarding). Kayaks and canoes can be rented at a kiosk at the South Beach access area starting at $30/hour during the hottest months.
Though motorized boats are allowed, the lake is large and accommodates both motorboats and paddlers comfortably. If you want to paddle, try to go in the morning before the wind picks up.
It is possible to park overnight at the South Beach access for those planning on boating to one of the backcountry marine sites listed above and camping overnight.
2. Fishing
In relation to boating, fishing is allowed at Alouette Lake, Mike Lake, and Gold Creek with the proper license.
3. Horseback Riding
One unique thing about Golden Ears is that it is very accommodating to horses. Near the entrance of the park, you will find a parking lot with a corral and many trails leading from there to explore; including Menzies Trail, Alouette Mountain Fire Lookout Trail, Mike Lake Trail, Allco Trail, and several more adding up to over 20km of horse-friendly trails. These are multi-use trails so be sure to watch out for hikers and bikers.
4. Mountain Biking
The main trails that are good for mountain bikers are Menzies Trail, East Canyon Trail, and the Eric Dunning Trail.
Conclusion
Golden Ears is a great getaway from Vancouver or wherever you live. It is a little oasis so get out and explore the trails, water, or camping, but just be sure to arrive and/or book early! Tell me about your Golden Ears experience in the comments, happy exploring!
Welcome to Alpine Feeling! My name is Talon, and I am a Vancouver local who loves hiking and all things outdoors. I am here to do my best to provide you with outdoor guides to the Vancouver area and beyond.