There is something so satisfying about bringing a beverage as a reward to drink on the top of a mountain. While you are soaking in those views you can relax and enjoy a cold beer on a hot day or sit on a hot coffee on a cold day, or whatever suits you best!
I have found that certain items are better in different situations and I have gone through my favorite reward drinks and weighed the pros and cons and thought about the best time and place for each one. I hope this list helps you pick out the best reward for you!
Best Drink Rewards to Bring Hiking
1. Beer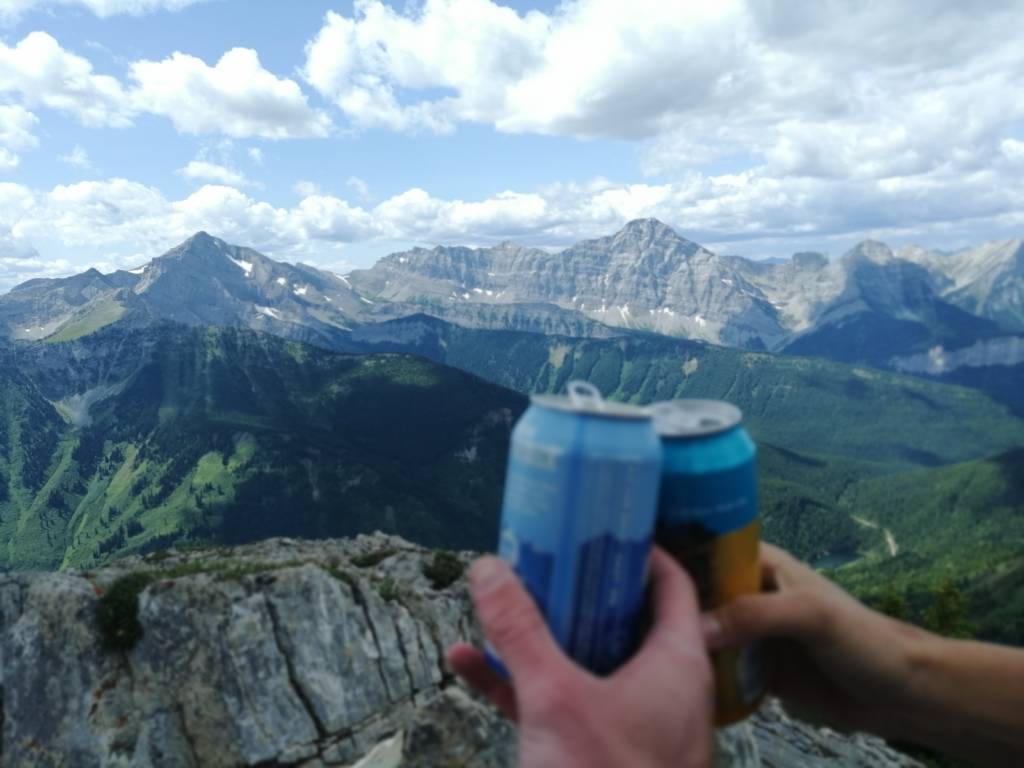 Tried and true, a nice cold beer at the top of a mountain is always a winner, especially in the summer. However, by the time you reach the top, your beer probably won't be cold anymore, so I recommend either also packing up a small cold pack to keep your beer in or bringing something that is okay tasting even if it's not super cold.
One trick with beer is that the colder it is served, the less you can taste. So if you are drinking bud light that advertises that it is best served in a frosted glass at zero degrees, that's because the quality of the beer isn't very good, and it is going to taste bad at room temperature. I think a locally brewed IPA or pale ale is a great choice.
If you are bringing a cold pack, I love a good sour or wheat beer at the top of a mountain, it's so refreshing.
Vodka or gin seltzers (like a White Claw) or spiked teas are a very popular and refreshing day hiking drink as well.
I would not bring beer on a multiday trek. The weight in your pack is not going to feel good and ultimately the beer is going to be warm and shaken up.
2. Wine or Champagne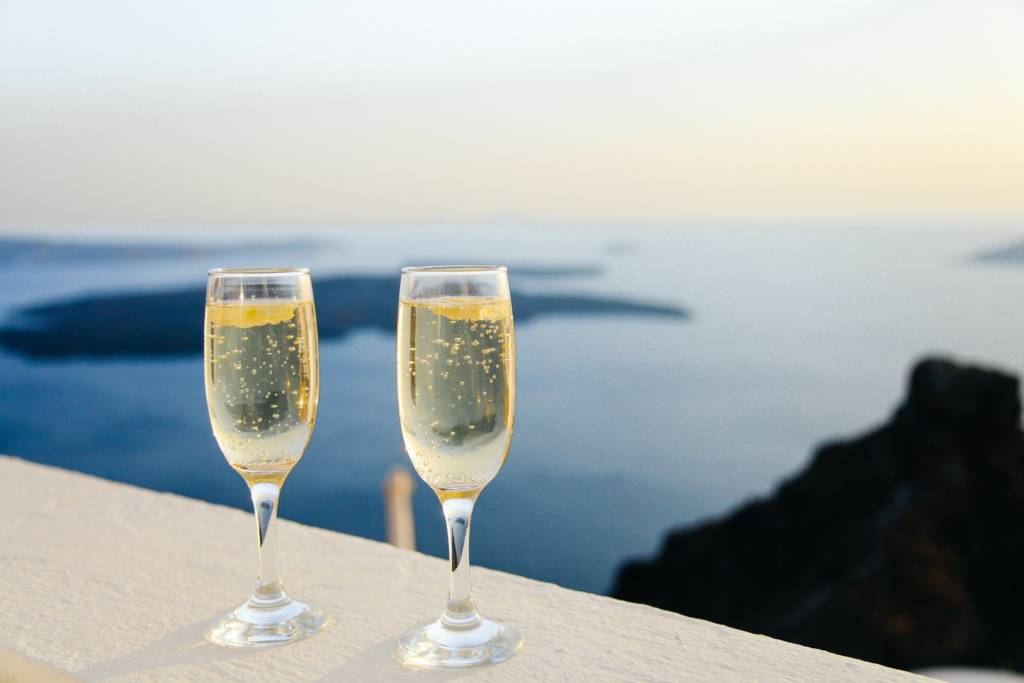 This one varies. A travel-sized red wine can be nice for an overnight hike – no need to chill it, and it warms you up a little before snuggling into your tent for the night.
White wine can be kept in a cold thermos, since it isn't carbonated, the altitude change will not seal the thermos shut like a beer would. I personally would choose a beer at the end of a hot summer hike but I know lots of people prefer white wine as a refeshent.
Champagne is something well worth the extra weight if you are having a big celebration like an anniversary, birthday, or even a wedding! Just be aware that the altitude change could make that cork extra taut and just be careful you are pointing it away from people when you pull it out. I love champagne and could drink it at any temperature!
Wine or champagne are also great if you are planning on making a hike into a romantic date with a picnic. Remember that it will have some weight so probably best to bring the whole bottle on a shorter hike.
3. Whiskey (or other liquor)
Those little mini bottles of whiskey (or other alcohol of choice) are a great, lightweight, choice for a multiday hike. Much like red wine, it's a nice warming drink to settle you into the night. The best part is they don't weigh much or take up much space in your pack. Keep in mind that you will not have access to ice so you can either have it neat or mixed with warm or cold water or try making some of the concoctions below.
3.1 Hot Toddy or Spiked Cocoa/Coffee

A hot toddy will up your whiskey game! Take one of those mini whiskey bottles, a little packet of honey, and sliced lemon with you. Put this all on your mug with some hot water and you have a great evening/cold day drink. If this is for a day hike you can put all the ingredients in a thermos before you go and enjoy it right away, and if it's for a multi-day hike, heat the water on your camp stove.

Another hot drink option is if you are out backpacking and have your camp stove with you you can heat up some water and add in coffee or hot chocolate powder and spike it with a mini bottle of whiskey, Baileys, or Kahlua. If you are just going for the day, heat up your drink before leaving home and keep it in a temperature-controlled thermos.
3.2 Backpacker "Cocktails"

If whiskey is not your thing, and you prefer drinking something else plain with a bit of water, congrats! Go with that! However, there are some cringy backpacker "cocktails" out there that are not fantastic but can be fun when you are drinking them after a long day of multi-day hiking and you are happy to just be out enjoying the outdoors.

The main choice is to bring a powdered drink like powdered lemonade or iced tea from brands like Crystal Light. Examples would be lemonade powder + tequila = backpacker Margarita, pineapple juice powder + Malibu = backpacker Pina Colada, variety of tea powder + bourbon = spiked sweet tea.
Remember, you will not have ice in the backcountry either so they will only be as cold as the water you gathered that day. It's up to you if you want to try these funny little concoctions!
4. Hot Chocolate
A fabulous choice for a winter wonderland snowshoe. Wandering through big trees covered in snow makes you feel like you are transported into one of your childhood Claymation movies like Frosty the Snowman or Rudolf the Red-Nosed Reindeer and a little bit of hot cocoa will really cement the mood. Baileys or peppermint schnapps are great additions.
If you are in the backcountry, hot cocoa powder takes up minimal weight and space and can be easily added to boiled water from your campstove.
5. Coffee
Coffee is one of my favorite winter day hike options, I just brew some coffee in the morning and put it in a thermos, and it's so warm, soothing, and satisfactory to drink your morning coffee on the top of a mountain. Up your game by adding some Baileys or whiskey if you are into that!
If you are in the backcountry, just like with the hot chocolate you can bring instant coffee powder or some people will deal with the weight of the beans and make cowboy coffee in their jet boil instead.
6. Tea
This one is for all you non-alcohol and non-coffee drinkers out there who want a warm-up drink on your cold day hike. Tea is so light so it's a great option on a multiday hike as well (just boil some water).
Did you know you can make tea out of things you find in nature too? Like pine needles and nettles? It's fun to experiment but be sure what you are experimenting with is edible first.
Conclusion
Sometimes there is nothing more satisfying than a good old Gatorade or Coca-Cola for that sugar boost at the end of a hike, bring whatever you like, or nothing at all! Maybe your treat is a cookie or a bag of chips, but I find they aren't quite as idyllic as a drink. Find my favorite hiking lunches here to accompany your drink as well.
Have fun, drink responsibly and clean up after yourself as usual. Let me know if you have any other favorites in the comments and ff course, happy hiking!
Welcome to Alpine Feeling! My name is Talon, and I am a Vancouver local who loves hiking and all things outdoors. I am here to do my best to provide you with outdoor guides to the Vancouver area and beyond.