Is Hiking as a First Date a Good Idea?
Is hiking a good first date idea? In most situations, no, it isn't. Is it a great date further on in your relationship? Yes! Let's talk about it.
The biggest thing to consider is that it's kind of freaky to go into the woods with a stranger. Any first date should be somewhere public, and somewhere that allows either person to have an easy out. Take a walk around a popular city park if you still want to be outside. If you happen to already know the other person quite well, such as a long time friend who has just become something more, then hiking may be appropriate.
Another thing to consider about hiking is that there isn't much to do out there other than admiring the view and talking! If you already have a good repour with your date I am sure you have plenty to talk about, but if this is really fresh and you run out of things to talk about one hour in and it turns out you don't like each other, it might be a little awkward. This falls into the "make sure there is an easy out" part of a first date.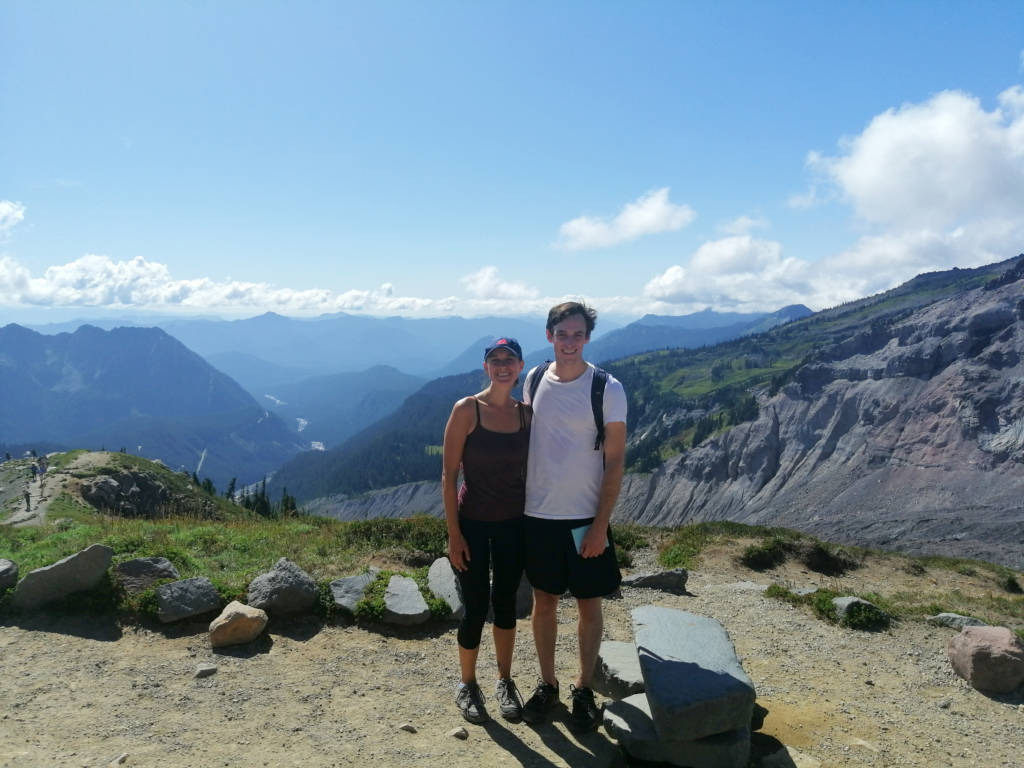 Hiking as a Second, Third, Fourth, and On Date
If you are considering hiking as a date later on in your relationship, you should still consider a few things before setting out.
The first step is to make sure your date enjoys hiking and is physically fit enough for the date. It can be embarrassing for someone to be exhausted on their first date. On that note, be sure to pick a hike that isn't too strenuous or too technical if you do not know your date's fitness level or hiking experience. I would recommend picking a few different hikes and sending your date the links for them to choose which one they would prefer, or let them suggest one themselves.
Another downside to a long strenuous hike is that that usually means getting sweaty and dirty and that can be embarrassing to someone in a new relationship.
On the other side of things, consider that your date might be MORE experienced in hiking than you, and just because you suggested it, don't assume they don't know anything about hiking and allow them space to tell you about their personal hiking experiences.
Romantic Hiking Date Ideas
If you have opted to go hiking as a date, here are some ways to spice up your hiking date as well to make it more romantic or exciting.
1. Make it a Sunset/Sunrise Hike
This means you have to get up early or stay out late but you will be rewarded with a very romantic moment. Remember that this means hiking in the dark so pick a hike that doesn't have many technical parts. Be sure your date is equipped with a headlamp and warm sweater and bring a blanket to sit on and maybe even some candles for some extra romance while you watch the sunset or rise.
2. Bring a Picnic
It's normal to bring a lunch with you on a hike, but try making it extra special by bringing a blanket and fill your backpack with fancy goodies. You can get a small soft-sided cooler to put in the bottom of your bag with some ice if you need to keep things cold. Bring a small chopping board and a knife and make a fancy backcountry charcuterie board is a great choice.
3. Pop Some Bubbly (or other beverage)
Hike up a bottle of champagne or wine and bring some soft-sided wine glasses to make it special. Other options are hot chocolate or coffee or even a hot toddy for a cold day. There are many different options for a special moment with something to sip while sitting on top of a mountain.
4. Hike to a Swimming Hole
This might not be as glamorous of an option as the last few but this adds a little something special to your hike (make sure your date is comfortable with it first). Take a hike out to a lake or waterfall and spend the day swimming and sunbathing (If you live near Vancouver, BC you can find my list of best swimming spots to hike to here). Another fantastic option is to hike to a hot spring if you have one nearby where you live. Hot springs are extra magical.
5. Go Geocaching
If you haven't heard of geocaching before it's basically miniature treasure hunting. People hide small treasure boxes all over the world and enter the GPS coordinates of the boxes location, often the GPS will only lead you to a clue and then you have to find the next clue from that clue and so on until you find the treasure.
Some treasure boxes are just a logbook where you add your name, but some of them have small trinkets that people can leave and exchange. It's fun to ask your date to bring a small trinket to leave in the box and tell a story about it. A small trinket might be a small army man or a glitter pencil, almost anything small and of minimal value. Then talk about which item you choose take out and take home with you.
To go geocaching just download the official app! Sometimes geocaching can lead you into pretty remote areas and if you go after those treasures you should probably wait to do this until you and your date trust each other enough. On the other hand, there are geocaches hidden in places like city parks as well for a more casual and public option. Geocaching in the city or other public places could actually be a great first date option for an adventurous person. You are usually still outside, but still in a populated area and there is an easy out.
6. Make a Scavenger Hunt (or other game)
Adding onto the geocache theme, you can play a fun game while hiking such as making a scavenger hunt or bingo for the forest. This can include anything from different types of plants and animals to various hiking stereotypes you might see on the trail such as the mansplainer, the thru-hiker, and the cute couple on a date (wink wink). The winner/loser can buy the first round of beers afterward!
Hiking Date Tips
If you have just been invited on a hiking date and you are uncertain how to proceed, here are a few things to consider before setting out.
Only agree to what you are comfortable with. If someone suggests a hike that is 15km long with 1200m of elevation gain, that is going to be an all-day very hard hike. If this isn't something you are comfortable with for any reason then reject it. I would suggest going on the AllTrails app or website and changing the search settings to something you are comfortable with, then reading the recent reviews and counter-suggesting the hike you have found to your date. If you are in the Vancouver, BC area then stay right here on alpinefeeling.com and click around for some great hiking ideas.
It is much sexier to do something you are confident in a new relationship than to try to do something you are uncomfortable with to try to impress your date. Challenging each other can come later in your relationship.
Go prepared, being prepared is sexy! Especially to an avid hiker (you can find what's in my pack in the summertime here and in the wintertime here, and my guide to start hiking for cheap here). Similar to not doing a hike you are uncomfortable with, make sure you have the hiking essentials in your pack. Bonus points if you do some research about the area and show your date some of your sexy brains too!
Being prepared also involves telling somewhere where you are going. This is true for ANY time you go out into the wilderness.
Clothing can be important on the first few dates in any situation. Hiking can be hot and sweaty and you should be prepared in your clothing, just like you are prepared with what's in your pack. Be sure to consider the sweat factor and choose moisture-wicking clothes. Have you ever taken off your backpack to find your back completely drenched in sweat and the back of your cotton T-shirt is suddenly a different color? Yeah, it's kind of gross. Stretchy material with some nylon or spandex in it is a good idea so that your date can cuddle you and you don't have to be worried about sweating on them.
Conclusion
Hiking can be fun and exciting and it's exhilarating to discover new places in a new relationship. However, it is only fun if both people are having fun. Check-in on your date for their comfort level and bring some extra goodies for them to remind them you are thinking about them.
A lot of these rules can be applied to a friend who is new to hiking as well. Consider comfort levels and don't let your love for hiking overpower everything else.
Ultimately, don't hike as a first date unless it's under unusual circumstances.
Be prepared with gear and clothing, but also with fun talking topics and maybe even some games! Don't be afraid of the silences either, part of hiking is just soaking up every park of nature, including the silence. Be polite on the trail and practice good trail etiquette. All of these things will leave your date impressed!
More than anything, have fun and happy hiking!
Welcome to Alpine Feeling! My name is Talon, and I am a Vancouver local who loves hiking and all things outdoors. I am here to do my best to provide you with outdoor guides to the Vancouver area and beyond.