There is something so refreshing and satisfactory about going for a swim on a hot day after having to hike to the swimming spot first. There are a lot of glacial-fed lakes near Vancouver that are stunning blue but they are freezing, and there are other mountain lakes that are still cold, but not as cold as the glacial ones and are better for bringing a floaty and spending the day. The rivers and waterfalls are always going to be cold as well but frequently have excellent sunbathing rocks for warming up.
There are all sorts of different hike levels here as well from easy to hard, short or long, and at the bottom of this article, I have included some "honorable mentions" which are beautiful lakes that you can drive directly to. There's something for everyone on this list!
This list is organized by distance from Vancouver, first heading north, and then heading east. Each description includes hike details and what type of water/experience you will find at the swimming hole.
I also must say that hiking to lakes is one of my favorite activities on a cloudy day as well because a lot of the time the lake is still stunning, and you are not missing out on mountain views (unless I have explicitly said that there are views to be seen from the hike in question).
Hikes to Swimming Spots near Vancouver
Swimming Spots North of Vancouver
1. Mystery Lake, Mount Seymour, North Vancouver
Mystery Lake is just a short 2.5km hike uphill at Mount Seymour and one of the best small lakes for swimming on the North Shore in my opinion. This lake is cool but not freezing and you can bring a floaty with you and spend the day relaxing and swimming in July, August, and September. Though this lake is popular, there will still be plenty of space to spread out and find a free spot along the shoreline.
If you want to extend the hike you can make your way to DePencier Bluffs, Mount Seymour peak(s), or Mystery Peak, though Mystery Peak is kind of boring, and make this a full-day excursion.
Though the hike is short, it can still be rocky and muddy so be sure to still wear decent shoes, even if you are just going to be relaxing by the water most of the day.
2. 30 Foot Pool, Lynn Canyon, North Vancouver
This is a very well known swimming spot in Lynn Canyon. It is only a short 1km walk or so to take a dip in this deep, light blue water. The water is very cold but the river is lined with big stones that are great to layout on and warm up on.
If you want to extend the hike you can continue to walk around the entire park and see the falls and suspension bridge and even go further out to Rice Lake (though no swimming here). There are some dangerous spots along this river so only swim where it is allowed, most dangerous places are marked as no swimming.
3. Cabin Lake, Cypress Mountain, West Vancouver
This is only a 4km or so hike but it is very steep up to the lake with about 350m of elevation gain in a short time. This isn't a glacial lake so you don't get those blue waters but it's a great place for a dip during July, August, or September.
Extend the hike up to Yew Lookout or Eagleridge Bluffs for some good views in addition to your swim.
4. Whyte Lake, Horseshoe Bay
Whyte Lake is a 5km hike with about 200m of elevation gain that leads to a small lake. This lake has a little dock and gets to be somewhat warm, at least for BC standards. There is a small rope swing on the far side of the lake as well.
The real attraction of this hike is the incredible green forest you walk through on the way to the lake. The lake does not freeze over, but it is up to you to determine how much gall you have for a winter or shoulder season dip.
5. Deeks and Brunswick Lakes, Lions Bay
A hike with the option to swim in two lakes! If you make it to Brunswick Lake it's an 18.5km hike with 1200m of elevation gain, so it is a tough hike but you can also stop just at Deeks Lake which is closer to 12km with 1000m of elevation gain, also tough. It's always nice to know that you can have an earlier final destination if you so choose. Both lakes are great to swim in but Brunswick Lake is a bit more idyllic.
You can start hiking this trail as early as April, but the lakes will be cold and potentially have some ice on them. They can also be buggy in the early season so consider that when you are planning a trip.
6. Watersprite Lake, Squamish
This is a 20km trail has about 800m of elevation gain, and the gain is well distributed throughout the hike so it is very enjoyable the entire time. The views along the way are stunning and the lake at the end is a gorgeous blue and is surrounded by big craggy peaks.
You can hike this snow-free as early as May, but the lake will still be largely frozen over until June and the water will always be cold. Your willingness to take an ice plunge should be considered if you want to swim and hike in the early season. There are nice big boulders around the lake to layout on and warm up.
There is also a campsite and a small cabin here if you want to stay overnight.
Please note that the road to this trailhead is VERY rough and it requires a 4×4 vehicle.
7. Garibaldi Lake, Squamish
Garibaldi Lake is one of the best-known lakes in the area and it is well-deserving of the clout. This 20km hike has about 1000m of elevation gain and brings you to an incredibly blue glacial lake. The water is cold but feels so good after a long hike through the forest on a hot day.
There are a few other smaller lakes along the way that you can make as your final destination as well if you would rather have a slightly shorter hike but still want to enjoy a great swim.
Garibaldi Lake has a campsite making it a great spot to just hang out and relax and do some backcountry camping. If you choose you can extend the hike up to Panorama Ridge, Black Tusk, or another surrounding peak for an aerial view of the lake and the surrounding mountains. Usually, these hikes are done in two days including a night spent at the Garibaldi Lake campground but there is potential to do them in one day, as an up to 30km hike.
This hike is snow-free as early as April, but the lake will still be icy and very cold; you can make it to the surrounding peaks starting in June, which is probably a more realistic time to swim in the lake anyway.
8. Elfin Lakes, Squamish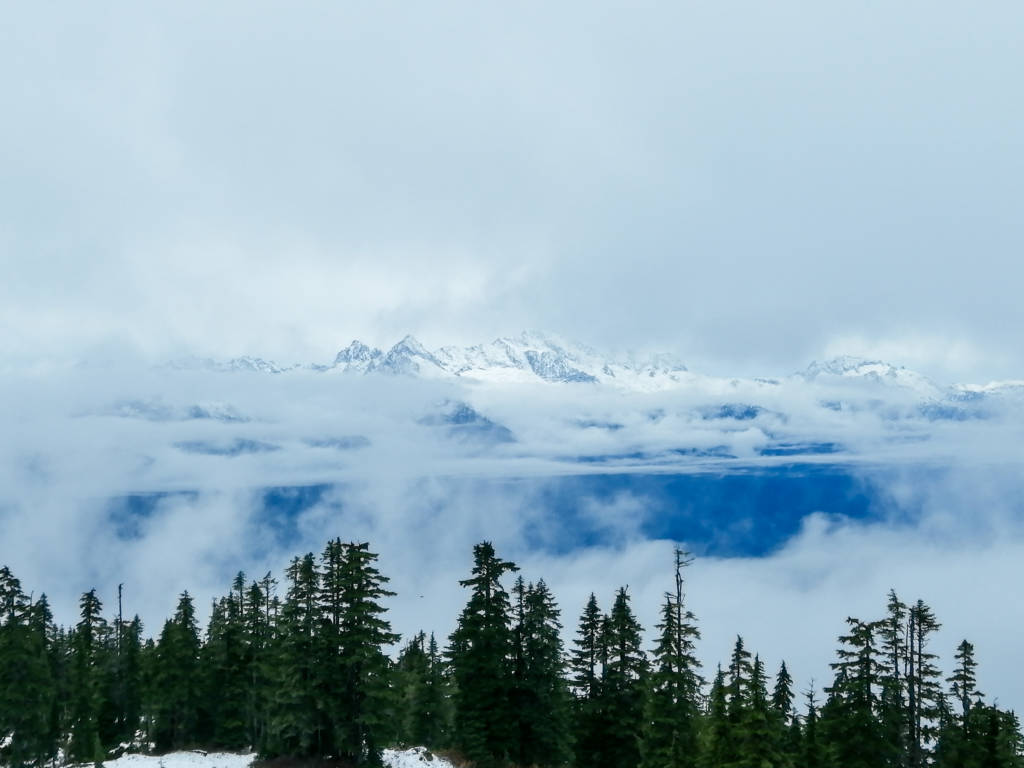 This 20km hike has about 850m of elevation gain and a nice gradual incline the entire way. Along the way and at the end of the hike you will be rewarded with stunning mountain views and Elfin Lakes, which includes a series of small lakes, each with different assigned purposes. If you want to swim be sure to do so in the lake that is designated swimming (and not drinking), each lake has a sign so it's easy to figure out.
You can do this hike as early as June, but of course, the water will be warmer the later in the year you go. The water is pretty shallow so it can be slightly warmer than say, Garibaldi Lake.
If you want to make this a multiday trek and reach an even more secluded lake you can go to Mamquam Lake. Both of these areas have campsites and Elfin has an amazing shelter with a sleeping attic.
9. Wedgemount Lake, Whistler
This is a killer leg burner of a hike at 13km with 1400m of elevation gain but your destination is a stunning blue glacial lake ready for a cold swim. You can also find a glacier and a waterfall to admire here. This is a seriously tough hike so don't underestimate it if you choose to go. If it suits you better you can stay overnight at the campground or in the small hut making this a two-day excursion.
10. Cheakamus Lake, Whistler
This is a fairly easy hike that is about 14km in length and has some hills with about 400m of elevation gain. This hike takes you out to the gorgeous clear turquoise lake where you can swim, though the water will be chilly. The lake first appears at about 3km into the hike so you can shorten the trip if you so desire, though continuing along the lakeside reveals some fantastic views and more spots to relax and swim. You can start doing this hike in April, but the water will still be very cold.
Please note that the road to the trailhead is a rough dirt road so a 4×4 vehicle would be preferred but otherwise, just be prepared to go slow.
Swimming Spots East of Vancouver
11. Lower Falls, Golden Ears Provincial Park
Golden Ears has lots of places to go swimming but one that you have to hike to is Lower Falls. This is a 5.5km trail with minimal elevation gain. The trail is wide and largely flat so it's easy for all skill levels. The falls at the end has large deep pools which are cold but still popular for swimming and even some cliff jumping. The water is incredibly clear and beautiful.
The trail follows the river the whole way there and there are several spots you can stop off to relax by the river if the falls are too busy for you.
This trail is frequently snow-free year-round, so if you want to see the falls without all the people you can head out there in the winter months, but if you want to go swimming wait until it's a hot summer day. For a further hiking excursion, I would recommend adding Upper Falls to your trip, though there isn't a natural pool to swim in here, it is still stunning.
12. Hoover Lake, Mission
This is an 8km trail with 400m of elevation gain. The lake here is not glacier-fed so it can get quite warm, especially in July and August. People bring floaties here and relax by the water all day.
If you go a little past the lake you can find a lookout with a view of Stave Lake.
13. Pierce Lake, Chilliwack
There are two lakes on the Pierce Lake trail, to get to the second one it is 16km with 1600m of elevation gain and you can continue to the Mount McFarland peak by adding another 3km and 200m of elevation gain.
The peak and the lakes are well worth the incredibly steep slog at the beginning of this hike. After reaching the first lake the trail starts to even out and become more interesting, with boulder fields, wildflowers, and some waterfalls.
This is an all-day hike unless you choose to make it a two-day hike by camping at the lakes, which is a possibility as well.
The view from Mount McFarland is stunning and the lakes are also gorgeous and fabulous for a (cold) swim. If you dare to take on this challenging hike you will be well rewarded.
14. Mount Cheam, Chilliwack
Cheam is one of the most popular hikes in the Fraser Valley area and it is clear why it is after you have climbed it. This is an 8.5km trail with nearly 700m of elevation gain. The terrain is nicely varied so though there are some difficult parts it is countered by some easy parts and the views of Mount Baker, the Cascades, and the Fraser Valley are very rewarding.
About halfway up you can find a small blue lake that people use to cool off in after a hot summer day hike, making the whole day extra fun and rewarding.
If you want an alternate route you can choose the steeper trail to Lady Peak
Please note that the road to this trailhead is VERY rough, crossing over 100 water bars. I'd recommend a 4×4 vehicle to tackle this road.
15. Lindeman Lake, Chilliwack
This 3.5km trail with 300m of elevation gain leads you to a stunning blue/green lake. This is a highly popular spot and for good reason! This trail can be hiked all year round but go in the summer for a swim. The water is very cold but it's worth it for a quick dip in such an idyllic place. This is a great place to pack a picnic for and spend the whole day!
16. Flora Lake and Greendrop Lake, Chilliwack
This is an extension of the Lindeman Lake trail above. If you choose you can venture out further from Lindeman to Greendrop Lake with an added 7.5km, or Flora Lake for an added 12km.
You can also make a loop of the entire thing for a total of 18.5km with 1500m of elevation gain. The hike to Flora Peak and on to Flora Lake is challenging and steep and the way to Greendrop is a more gradual elevation gain. The entire loop is very difficult with constantly changing terrain that keeps you alert but is also exhausting. You can do this as a two-day option as well.
All the lakes and peaks are beautiful and worth a swim, though the water will of course be cold. You can make it to Lindeman Lake year-round, but the other lakes and peaks only become snow-free in June.
17. Williamson Lake, Chilliwack
This is only a 6km trail but has 550m of elevation gain in a very short distance making this quite a challenging hike. The destination of Williamson Lake is stunning and well worth the challenge. There are wildflowers and meadows and some small waterfalls, not to mention the gorgeous lake.
This hike is accessible in July, August, and September, but the water is cold year-round.
Please note that the drive to this trailhead is rough and requires a sturdy 4×4 vehicle. If you have a smaller vehicle or the road is just too scary, you can park down lower and add an extra 4km or so onto either end of the trail as you walk up the road instead.
Honorable Mentions (Drive To Swimming Lakes)
These lakes don't get to be on the main list because you can drive directly to all of them, but they are all great places to go for a swim in a natural environment and they all have hikes you can do around the lake or nearby.
If you want to know more about these lakes you can read about my favorite paddleboarding places near Vancouver here, which are also all fantastic swimming holes. You might also be interested in my favorite waterfalls near Vancouver which you can find here (not all of which are suitable for swimming)
Alouette Lake – This gorgeous lake is in Golden Ears Provincial Park and it's a great place to go for the day or to camp for a few days. The water is clear and serene and though it is very cold it is a great place to swim or paddle and to just spend the whole day on the lakeshore. There are lots of popular trails in Golden Ears Provincial Park to explore as well.
Buntzen Lake – this Lake in Anmore is incredibly popular in the summer, and for good reason. On a weekend you have to arrive early in the morning to get a parking spot but after you arrive you can relax in the sun and go for a swim or paddle at this gorgeous clean lake. You can walk around the entire lake for about 12km if you desire. Some other alternate hike options include Diez Vistas or Swan Falls.
Sasamat Lake and White Pine Beach – Sasamat Lake in Belcarra has a beautiful floating bridge and a nice long loop that takes you around the lake with some gorgeous mountain views if you want to go for a hike. There are several spots you can drive to and swim from including White Pine Beach.
Cultus Lake – this is a favorite getaway for Vancouverites near Chilliwack and the place continues to grow year after year. There are several docks and even a waterslide park to enjoy all summer long. There are some fun hikes nearby as well, including Teapot Hill.
Killarney Lake – This lake is on Bowen Island and you can take a small hike to it from the ferry or you can drive there. You will also likely pass this lake if you choose to hike up to Mount Garnder, whichever way you arrive there it's a great spot for a dip.
Browning Lake – this is a popular swimming and fishing spot just off of the Sea to Sky Hwy south of Squamish. Even though you are close to the highway you still feel somewhat secluded here and the water is a great temperature for swimming in the summer. You can do the Jurassic Ridge hike from the park if you want to get in some exercise and views.
Alice Lake – This lake is north of Squamish and is an excellent spot for swimming and has a nice grassy area for relaxing. There are some lovely hikes nearby through the forest if you want to go on a wander while you are there.
Brohm Lake and Cat Lake – these two spots are next to each other on the same road just north of Squamish and are both great places to relax and spend the day swimming, paddling, or sunbathing throughout the summer. Cat Lake requires a short walk through the woods to access it.
I hope you enjoy the beautiful summer weather and get out for a nice refreshing swim somewhere in the Vancouver area. If you aren't a fan of swimming, maybe you prefer wildflowers? Check out my favorite wildflower hikes here, or maybe you are hiking in the winter and aren't ready to swim, find my year-round hikes here or my favorite snowshoe trails here.
Have I missed any amazing lakes or hikes that you think should be on this list? Or did you try one of these hikes and love or hate it? Let me know in the comments! Happy hiking (and swimming)!
Welcome to Alpine Feeling! My name is Talon, and I am a Vancouver local who loves hiking and all things outdoors. I am here to do my best to provide you with outdoor guides to the Vancouver area and beyond.