If you are an absolute summit junkie like I am, winter may get you feeling a little bummed out about hiking and just longing for that feeling of walking yourself up the side of a mountain.
Snowshoeing is a great option for getting that alpine feeling fix, but it's not always viable, so we have to look for options to do closer to sea level. Though it might not have that same thrill, the earth beneath our feet and the forest canopy overhead always helps to appease that hiking need to some extent.
Looking online myself for new winter hikes I have found long lists of every hike you can do around the lower mainland with every low-level trail combo people can think of that won't have snow on them, and honestly, sometimes these hikes can be super boring so this is the list of my absolute favorite snow-free hikes near Vancouver.
A lot of these are classic hikes and many of you may be annoyed that you know most of them, but they are popular because they are the best! I know many of you avid hikers will also roll your eyes at the easiness of many of these hikes and will instead consider them walks in the park, and I agree on many of them, but that little nature walk can bring a lot of joy to hikers during the off-season. Many of my trail suggestions have two or three options for a well-known area. Hopefully, you can find a new trail in a familiar place listed below.
Please note that it does snow in Vancouver, so if there has been sea-level snow, these hikes will have snow on them as well. The majority of the year, they are clear, please check the conditions before you go, and as it is Vancouver, be prepared for wet and muddy conditions.
The Best Snow-Free Year-Round Hikes Near Vancouver
1. Lighthouse Park, West Vancouver
Lighthouse Park is a great place to go any time of year, the rock formations by the sea are beautiful to relax on and read a book in the sun, and they are mysterious and beautiful in the fog and rain. There are many different trails (up to 6km) and lookouts so I would recommend making your way around, but keep a map open on your phone to check where you are every once in a while.
I recommend turning left onto the Salal Loop as soon as you walk through the metal gate and continuing on the Arbutus Trail until you hit the ocean/lighthouse and then following the Shore Pine Trail to the Juniper Loop to the parking lot again. You can read my entire review and guide here. If you go on or just after a rainy day be prepared for mud, waterproof shoes are strongly recommended.
2. Quarry Rock, Deep Cove (Closed due to COVID-19)
Quarry Rock is a nice short hike at 3.7 km which has a great reward for effort ratio. This hike begins from the cute town of Deep Cove, east of North Van, and is accessible by transit from Vancouver. It can get very busy in the summer so this is a hike I always prefer to do in the winter, midweek if possible! However, a sunny winter day will still draw a lot of people out to Quarry rock and I don't blame them.
Please take extra care to leave no trace on this trail, the large number of people it sees each day takes its toll. There are several ways to make it to Quarry Rock if you want a quieter or longer expedition (see my full guide here). Make it a full day by exploring the two blocks of Deep Cove, my favorite spots are Honey Doughnuts and Bluhouse Market and Café.
3. Capilano Canyon, North Vancouver
Capilano Canyon which is also known as the Capilano River Regional Park or the Cleveland Dam is one of my favorite rainy day walks. This trail area has many different options so it's possible to do anything from a 2km to 8km trail. You can do the classic Capilano Canyon loop, at only 3km or add some walking time by continuing down Capilano Pacific Trail for an extra 3km detour. Be sure to research where you want to start the hike and put in the correct location on google maps as there are several starting points.
The views are of the river and the trees, which are more vibrant in the rain. It's a great place to just wander around and see what little gems you can find, but it is easy to get turned around to make sure you keep a map up on your phone or read my full guide here. Be sure to wear proper footwear as there can be big puddles on the trails after/during rain.
4. Lynn Canyon, North Vancouver
Lynn Canyon is well known for its suspension bridge and plunging waters. The longer loop around the park is 2.7km with a small elevation gain but plenty of stairs to keep your legs working. It is a classic hike that most Vancouverites have done.
To make it more interesting you can add some extra km by adding on the Rice Lake Loop (adds about 4km) or adding on the Twin Falls Loop (adds about 5km). There's great tree cover in Lynn Canyon and no summit views so it's great on a rainy day.
There is also a large free parking lot and plenty of signage in this area. There are various spots you can begin the Lynn Canyon Loop so consult a map before heading out.
5. Norvan Falls, North Vancouver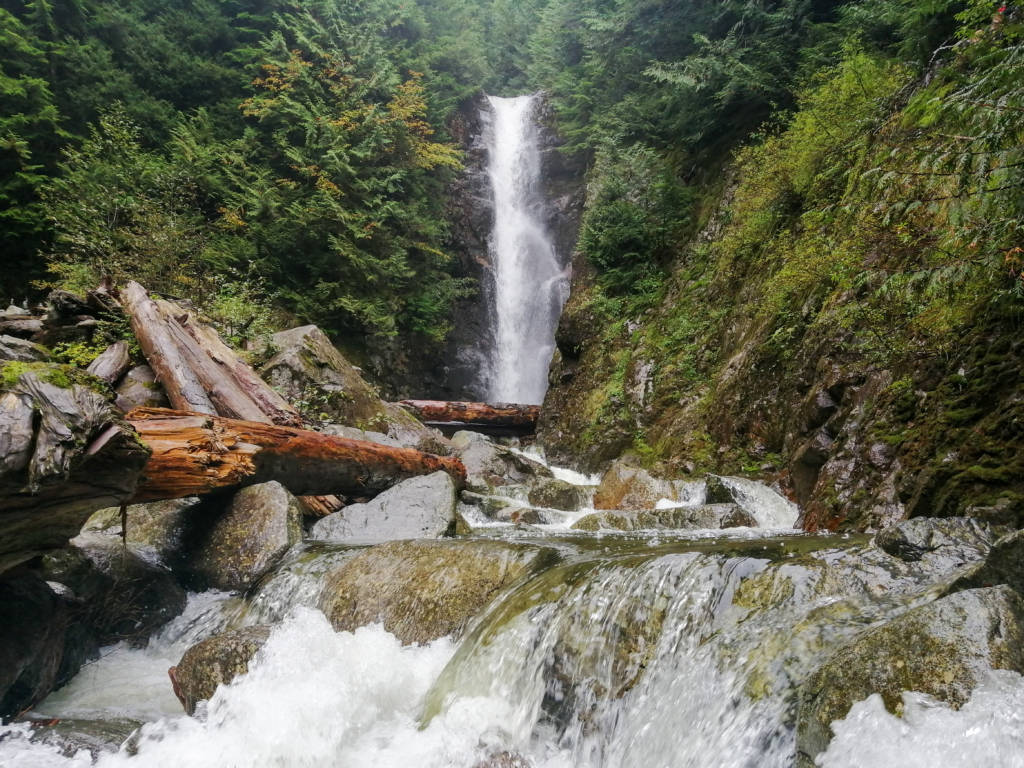 Norvan Falls is a 14 km trail with minimal elevation gain within Lynn Valley. Walking through dense forest and across streams will lead you to a towering waterfall. There are a few slightly different options to get there, just consult the map at the front of the park and decide which way you prefer.
The trail can get very muddy so consider recent weather and wear proper footwear. Also note that since this forest is quite dense that if there is a snowfall in Vancouver, the snow on this trail is unlikely to melt and there is a chance it will not be accessible during a cold/snowy winter without proper snow gear. Check trail conditions before you go.
6. Kennedy Falls, North Vancouver
Kennedy Falls via Cedar Tree Trail is a 12km out and back trail with about 500m elevation gain and a moderate rating. This trail begins at the Mount Fromme parking lot, the lot is small, but be patient, turnover is decently fast. The parking lot has a 3 hour time limit and the trail typically takes 3 to 4 hours to complete. I haven't gotten a ticket before but you could park in the nearby neighborhood and walk a little extra just in case.
This trail is in a dense forest so if it has snowed heavily and/or been very cold this trail will remain snowy and icy for a while longer than the ground in the city and after/ during a big rain the trail will be very muddy and the stream crossings may be difficult to complete. Be sure to go with well-treaded waterproof shoes.
This trail is a good workout with its many hills and has a waterfall reward at the end. When you get the the big cedar (not the stump) make sure you stay left and go uphill and follow the diamond markers and not downhill towards the river.
7. Seymour Lake, North Vancouver
There are a few different ways to get to Seymour Lake, either by Fishermans Trial or the Seymour Valley Trail, or some combination of the two. The Seymour Valley Trail is 24 km of paved car-free ground. Excellent for bikes, rollerblades, strollers, and even wheelchairs for the first short while before it starts to get some steep hills.
Fishermans Trail is a dirt trail. It is possible to make a loop of the two as well. It is mostly just a nice long peaceful walk in the forest, but Seymour Lake does prove some nice views and a good spot to stop for lunch as a reward. If you are walking/running the trail be aware of cyclists.
8. Brothers Creek, North Vancouver
Brothers Creek Loop is a popular trail and in the summer I would recommend the Blue Gentian and Lost Lake via Brothers Creek trail which is 8.5km long and has 400m of elevation gain. In the winter, the area with the lakes gets a lot of snow and you can bring snowshoes or microspkies with you if you want to complete it, but you can also cut the trail short and follow the classic Brothers Creek Loop which is shorter but still beautiful.
You can still encounter snow near the top of this hike, and in that case, I would recommend doing the loop clockwise so that you can see the waterfall. The forest here turns a bright green after rain and take some time and do some mushroom spotting on this trail.
9. Whyte Lake, Horseshoe Bay
Whyte Lake is a 5.5 km hike with about 200m of elevation gain. This hike starts right by the highway, which usually is a bad sign for me, but this hike quickly plunges you into beautiful trees that are dripping in moss and bright forest greens and you will forget about the city and the highway. The lake at the end has a nice dock and a little trail that leads you to the other side. A great year-round and rainy day hike, just make sure you wear water-resistant shoes!
10. Burnaby Mountain, Burnaby
Burnaby Mountain has a multitude of trails that end at Simon Fraser University. Park at the base of the mountain and start wandering your way up. The trails aren't super long but they are steep and a good leg burner.
On the west side of the mountain there is a big field with beautiful totem poles and a view of the city and surrounding mountains which is called the Burnaby Mountain Conservation Area, please note that this area can be driven to, so don't be disappointed when you summit and realize you could have just gone there in your car.
Note that if there has been a recent snowfall, the snow will be thicker and last longer at the top of Burnaby Mountain.
11. Jug Island, Belcarra
At Belcarra Regional Park you can find the hike to Jug Island, a 5km out and back trail with 200m elevation gain that leads you out to a little beach with views of the North Shore. The trail is largely forested so is fine on a rainy day, but wear proper footwear for mud. This can be a very busy hike so go on a weekday if you can.
If you want to extend this hike, once you hit the beginning of the hike again, you can continue along the shore in the opposite direction down Admiralty Point Trail and add another mostly flat 5km to your trip.
One tip I would offer is if you are getting to this trailhead with google maps, do not enter "Jug Island Trailhead", make the destination "Belcarra Picnic Area".
12. Buntzen Lake, Anmore
Buntzen Lake is a hotspot in the summer, the parking lot is packed by early morning on a sunny weekend and it is difficult to access the lake in any other way. For this reason, I much prefer this hike in the winter.
This hike takes you directly around the lake for 12 km with a small amount of elevation gain. On the opposite end of the lake is a nice dock with a picnic area if you want to bring lunch. It's largely forested so it's good for a rainy day, but it's nice to do on a sunny day to see the mountains as a backdrop to this beautiful lake.
Another option at Buntzen Lake is to take the detour to Swan Falls, it takes you along the east side of the lake and then climbs steeply to the falls. This part is challenging and may be dangerous depending on conditions so please be prepared if you choose to make this detour.
13. Upper Falls via East Canyon, Golden Ears
This one is a bit of a risk to put on here because Golden Ears can get snow, and will hold that snow if it is cold. They will sometimes shut the gates instead of plowing roads, so be sure you check conditions before heading to Golden Ears.
Upper Falls via East Canyon takes you up an easy incline through the forest, keep an eye out on the left for a boulder that's about 3 feet high and a trail maker as the sign to duck off the trail towards upper falls. It is really easy to miss, and there isn't great cell service out there so I would recommend downloading the map and following along on GPS.
The Upper Falls are stunning, try to go in the morning to get the most sun. You can then get back on the main trail and loop around the bridge at the top and head down the other side of the river, or just turn back if there is too much snow.
This loop is a total of about 10km with 400m elevation gain if you make it the entire way. It is also possible to turn back and duck down another badly marked and not very well-maintained trail to Lower Falls/Gold Creek, but I would recommend just doing Lower Falls on another day and taking the well-groomed trail, which is mostly flat and runs along the river.
14. Stawamus Chief, Squamish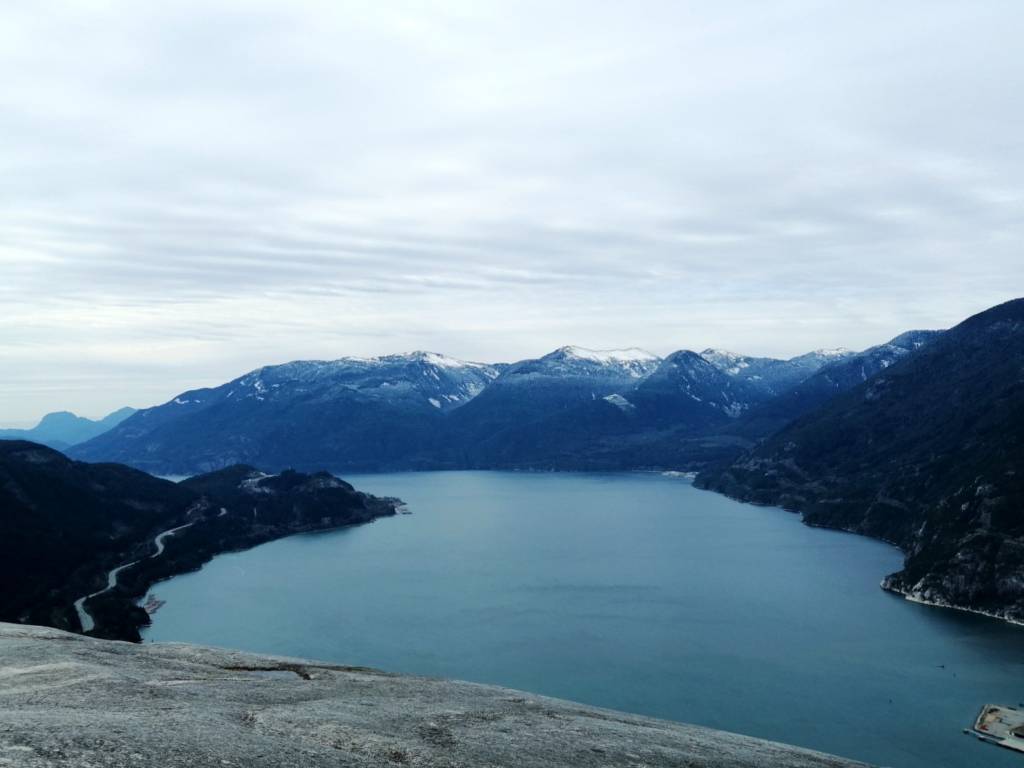 The Chief is a bit of a risk to put on this list because it absolutely can have snow on it, but a lot of the year it does not. In the winter it can be very icy so be prepared with microspikes or at least boots with very good traction. This is a very popular trail off the Sea to Sky Hwy that can be up to 6km, depending on how many of the three peaks you choose to visit. The 500 to 600m of elevation gain are quite strenuous on this short trail and are largely on wooden or rock stairs.
The view at the top is of the ocean, the islands, and the mountains. I think this hike is especially nice in the winter because the snow-capped mountains in the distance really give something extra to the view, plus there are usually fewer people around. Check The Chief webcams and recent trail reports before you go to check for snow.
I wouldn't recommend doing this hike when there is snow, as it can be quite slippery on the big open rock at the top.
15. Tunnel Bluffs, Lions Bay
Like The Chief, this is another very popular hike near Vancouver that may be a risk to put on this list. It is usually snow free throughout the year but can get icy, and if not icy, it will definitely be muddy so go prepared and do your research before you head out.
This trail has changed in the recent years. It used to be a shorter by steeper hike that started at a viewpoint off the Sea to Sky Hwy but now that parking area is a maximum 30 minute stopping area and they actively tow cars that are there longer. Now you can start at the Magnesia Creek Trailhead for a 11km hike with 600m of elevation gain. The majority of the elevation gain is in the first 2km on an old logging road but then it flattens out into a nice stroll through the woods until you hit the viewpoint which give stunning views of the ocean, islands, and mountains.
The parking at Magnesia Creek is very limited and if it is full you can park at the local elementary school. Instead of walking back to the trailhead through the winding neighborhood, there is a small trail that cuts through the main Tunnel Bluffs trail on the east side of the parking lot.
16. Browning Lake and Jurassic Ridge
At Murrin Park just off the Sea to Sky Hwy there is a short 2.5km loop with under 200m of elevation gain that gives you stunning views of the Howe Sound year round.
There are some steep and muddy parts so be sure to take your time, pace yourself, and wear proper footwear for hiking. Be sure to download a map before you go, as there are some intersecting trails. This short trail will leave you with a surprisingly decent workout and some great views. There is even a little bench at the top where you can stop to take it all in for awhile.
17. Mount Crumpit, Squamish
This 5km trail with minimal elevation gain will take you through beautiful forest and will give you views of the back of The Chief. Though this hikes stats seem easy it is still a moderate hike with some decent steep inclines to get a good workout in.
This little loop is in a popular mountain biking area so of course, watch out of bikers, but probably more importantly note that it is easy to get on the wrong trail so be sure to download a map before you go out and have it easily at hand (there is little cell service so be sure to have it prepped beforehand).
18. Lindeman Lake, Chilliwack
Lindeman Lake is a popular trail east of Vancouver, and I don't blame people for flocking here. This short 3.5km hike with 250m of elevation gain will lead you to a beautiful clear blue lake.
There are still some challenging parts about this trail so you can still get a workout in. The trail is wooded and rocky so be careful with your step.
In the summer there are multiple other trails nearby, which means it will be even busier, so a sunny winter day would be a great time to visit.
19. Teapot Hill, Cultus Lake
This one is kind of far out of the city but it is too cute not to include. A quick 6km, 300m elevation gain hike on the southeast side of Cultus Lake will take you into an enchanting forest filled with teapots!
This is a fun hike to take kids on that might usually get bored out in the woods, but allows them the chance to count teapots or maybe even make a scavenger hunt or bingo out of different varieties and colors of teapots. Of course, you can do this as an adult too, growing up doesn't mean you have to stop acting like a kid!
City Parks
Even though there are usually more people and the trails are well-groomed, these parks listed all have at least 5km of walking trails that still take you somewhere beautiful if you aren't up for a drive out of the city or dealing with rocks, roots, and mud.
1. Stanley Park (Vancouver) – yes this is a classic, no hidden gem here, but a gem nonetheless. The Seawall around Stanley Park is about 9km and has minimal elevation gain. The views are beautiful and it makes for a decent workout due to the length. I love to do this walk on a sunny winter day because it is quieter than in the summer. In the winter parking fees are also greatly reduced if you choose to drive. Make sure you bring layers because the shady part of the park can be very cold.
2. Central Park (Burnaby)– another favorite of mine in Burnaby. The Terry Fox loop is 5km and takes you through lush forest and past a great duck pond. It's fun to explore here and is great in all weather and seasons.
3. Burnaby Lake (Burnaby) – another Burnaby gem. The walk around Burnaby Lake is about 6km, can be modified to meet your needs and has many starting spots. Explore the wetlands and enjoy this walk on a crisp sunny day.
4. Pacific Spirit Regional Park (Vancouver) – near UBC this is a massive park with gorgeous flora year-round. Pop down to Wreck Beach for some ocean scenery (please note this is a popular nude beach), or head over to UBC Bontanical Gardens (fee) and do the TreeWalk (fee).
5. Deer Lake (Burnaby) – another Burnaby nature preserve with many different trail options. Pro-tip: stop by the Burnaby Village Museum (free) to step back in time for a minute and experience this living museum on the edge of Deer Lake Park.
6. Port Moody Shoreline Trail (Port Moody) – As its name suggests, this is a trail that runs along the shoreline of Port Moody. I'd recommend starting and ending at Rocky Point Park where there a large free parking lot and afterward you can treat yourself to several different great craft beers from the ever-growing "Brewery Row" or stop into Rocky Point Ice Cream (they even have several different vegan ice cream options).
7. Mundy Park (Coquitlam) – a series of forested trails for those living in/near Coquitlam, featuring a small lake.
8. Derby Reach Regional Park (Langley) – a park with forests, mountain views, picnic areas, big fields, and up to 9km of walking trails, this park has it all. It's a perfect winter walk because there can be a large number of mosquitos in the summer so check it out on a sunny winter day.
Just writing this post has me itching for some steep inclines, scrambles, and mountain top views, but until summer comes again, I will take all that I can get from these trails listed above. If you are feeling like conquering a snowshoe trail near Vancouver check out my guide here. If the weather is starting to turn towards spring, check out my best spring summit hikes here.
Do you have any favorite year-round snow-free hikes near Vancouver that aren't on the list? Comment below!
Welcome to Alpine Feeling! My name is Talon, and I am a Vancouver local who loves hiking and all things outdoors. I am here to do my best to provide you with outdoor guides to the Vancouver area and beyond.