Please note that snow levels change every year, consider recent weather patterns, read trail reports, and bring snow safety gear if you are uncertain of the conditions.
Spring is such a funny time of year for hiking. It's starting to get warm and my bones are just itching to get out and start summiting mountains, but the mountains are still covered in snow and will be until midsummer. Some of the mountains lose snow faster than others and those are the mountains we are exploring in this article today!
If you are like me and have been hiking low elevation snow-free hikes all winter you are probably on the search for mountain summit trails that are snow-free or at least snow-free enough that you can trek them in just your hiking boots.
Everything on this list takes you up the side of a mountain and onto a summit or an alpine lake (sorry, the title of the article is a little misleading because these aren't all summits but I couldn't think of anything else to call it, and they all have stunning views). Be prepared for a good climb, it's time to get those legs working again!
One thing to consider about spring hiking is that there will be a lot of mud from snowmelt and there may be overgrown branches and blown down trees.
Along with the warmer weather and damp conditions come bugs! Bugs have to be one of the worst parts about hiking for me but get a good repellant on, and hopefully, you will be okay. I find most of these hikes will have dried out and will be pretty bug-free by August/September. For now, don't let the bugs keep you from enjoying the outdoors!
Of course, be warned that these hikes are not guaranteed to be snow-free, always consider the winter snowfall, weather, and check recent trail reports. Be prepared to hit snow and have to turn around or bring snow gear. Do your research before you go as always.
Most of these hikes are near Squamish or Maple Ridge, I find most of the North Shore summit trails that are snow-free early in the year aren't worth it.
If you are looking for more hikes that you can do in the spring but are maybe a little closer to home or don't require as much elevation gain, you can find my guide for the best year-round snow-free hikes here. There are some fantastic hikes on this list as well and are great for warming up your hiking legs after the winter months.
I have organized the list of hikes below by the earliest that they are normally snow-free, starting in March and going through June. I have also created a separate list from hikes specifically that are snow-free in June here.
The Best Spring Hikes near Vancouver
(organized by earliest to latest snow-free date)
1. The Stawamus Chief, Squamish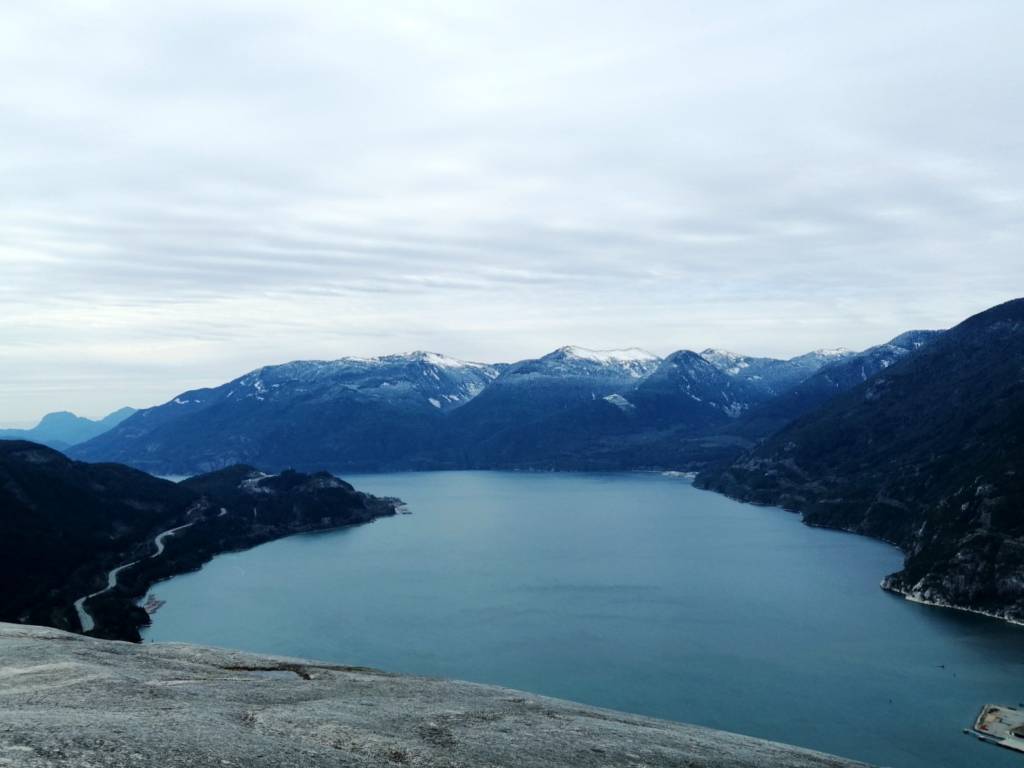 One of the most classic hikes near Vancouver. This stair filled hike is short at a max distance of 6km but with nearly 800m of elevation gain in that time it makes for a real leg burner, but an overall fun hike. There are three peaks to choose from and you can choose to just do one and make your hike shorter as well or do all three for a longer day.
The views are of the Howe Sound and surrounding mountains. This hike is so famous because it is worth it! There is potential to hike the chief year round because it starts at sea level so there isn't too much snow accumulation; however, it can be quite icy at the top, and the recommended time to start hiking this trail is in March or April. On the day you want to hike I would recommend checking the Chief webcam to see what the snow conditions are like, as well as the recent weather report.
2. Tunnel Bluffs, Lions Bay
This is a stunner of a hike now starts at the Magnesia Creek Trailhead (don't park on the Sea to Sky Hwy you will get towed) and it comes in at 11km with an elevation gain of 600m. The elevation gain is mostly accomplished in the first two kilometers which can be a drag, but then it flattens out and opens to beautiful views of the Howe Sound and surrounding islands at the viewpoint.
This hike can be done year-round if there hasn't been any low-level snowfall but it can be icy throughout the winter, and it will definitely be muddy if there isn't snow. I'd recommend hiking this trail starting in March or April, allowing the trail to dry out a bit, consider the recent weather before you set out.
Be aware that the parking is limited at the trailhead but you can park at the local Elementary School and take a short connector trail to reach the main route.
3. Diez Vistas, Anmore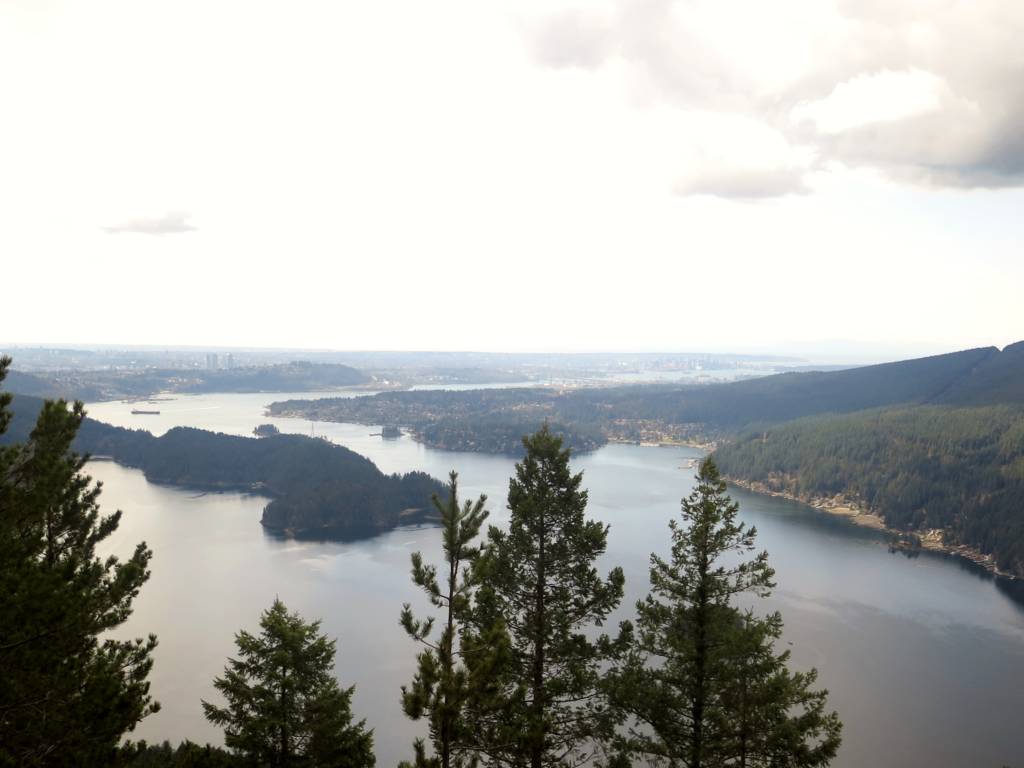 This hike starts at Buntzen Lake and travels 13km along the peaks surrounding the lake with an elevation gain of 650m. You can opt to make this hike shorter by making it an out and back trail by turning left at the trailhead and heading straight upwards until you hit the first vista and then turn around.
The trail of ten views (Diez Vistas in Spanish) is a great choice for a shoulder season because Buntzen Lake becomes incredibly busy during the summer and it's hard to find parking and tranquility. In the winter there may be residual snow in the peaks of this trail so it could be dangerous. In the spring you will find views of the city and ocean, and overall less people than the summer (though it is always a popular trail).
I would recommend hiking this trail in April, though it can be completed year-round with proper gear.
4. Sea to Summit, Squamish
This trail takes you to the top of the Sea to Sky Gondola. There are two options to do this trail that are quite different. There is the short version, which is under 4km but takes you straight up and just under the gondola, it's tough, and some people like it, but it's not for me.
The other option starts at the same place as the Stawamus Chief hike, you start up the same stairs then turn off to the right (there is clear signage), this trail is about 11km long, and there is an option to change its course again near the end to make it an easier hike but adds another 5km. There are many options and you can choose which is best for you.
Overall, on most of these options the elevation gain is about 900m. At the top, you can enjoy a beautiful viewing platform and some refreshments. You can choose to take the gondola down for a fee or walk back. There are further hiking trails at the top if you have the energy to go further but you would likely have to wait until later in the summer to do them anyway.
This hike is best done as early as April or May. Check to see if the gondola and trails are open before you go, as there have been some issues with vandalism to the gondola lines which shut the whole area down.
5. Golden Ears Trail, Maple Ridge
This hike is nearly 22km with 1700m of elevation gain and it is grueling for most of the second half. The good news is that the surrounding mountain views are incredible and the hike can be done as early as May. I would recommend packing microspikes until late summer just in case.
Golden Ears is temperate enough that is doesn't get a lot of snow and it melts early. Of course, if the Vancouver area has gotten a lot of low-level snow late in the winter season, you might have to put off this hike a little bit (and that is true for all hikes that are accessible in early spring). I'd recommended checking online for recent trail reports before you go.
This hike is frequently done as a two-day trip and there is a nice backcountry campground with tent pads that are first come first serve but require a permit that you can get online ($5/pp as of 2020). If you are ready for a long hard day of (very worthwhile) hiking you can absolutely accomplish this summit in a single day.
If you aren't up for the whole hike or snow is blocking your way, there are also stunning views from the first campsite, Alder Flats.
6. Evans Peak, Maple Ridge
Evans Peak located in Golden Ears Provincial Park takes you up a 10.5km trail with 950m of elevation gain to some fabulous mountain and valley views. Golden Ears loses snow quickly in the summer due to low elevation so this hike could be done as early as May but be sure to check recent trail reports before you go.
There are lots of loose rocks and steep parts with ropes to help you along which make it a hard but also a fun hike. Be sure to download a map before you go as the trail turn off can be hard to find.
7. Garibaldi Lake, Squamish
Garibaldi Lake is a stunning blue alpine lake near Squamish. The trail is a 20km long round trip with 1000m of elevation gain. Though this hike is long the elevation gain is on a pretty gradual slope making this hike achievable to most people with some hiking experience and a moderate level of fitness as long as you can manage a long moving time.
You should be mostly snow-free to Garibaldi Lake by April or May, and to extend to any of the surrounding peaks (such as Panorama Ridge and Black Tusk) you will have to wait until June. Garibaldi Lake may still be frozen in April so keep that in mind if you were thinking about taking a dip upon arrival.
The Garibaldi Lake trailhead is at the Rubble Creek parking lot which is easily accessible north or Squamish. This is a popular trail so please be as respectful as possible to nature and your fellow hiker.
8. Watersprite Lake, Squamish
Watersprite Lake is a gorgeous alpine lake with big craggy mountain views along the way. This hike is about 20km with 750m of elevation gain and can usually be hiked starting in May.
The end of the hike may still have some snow and the lake may still be frozen over early in the summer season (keep that in mind if you intend to swim, find more swimming hikes here). The views are stunning year round! You can even snowshoe this trail in the winter but I would only recommend it for very experienced adventurers with all of the necessary backcountry gear.
This trail a nice gradual climb with varying terrain and views until the end where there are some small scrambles and can be quite muddy. There are a small shelter and campground at the end if you choose to stay overnight.
Please note that the road to get to the trailhead is VERY rough and I would only recommend going in a car equipped with four-wheel drive; a small car would get stuck.
9. South Needle, North Vancouver
South Needle is a tough hike coming in at 14km with 1400m of elevation gain. This is a higher peak so your best bet for summiting without too much snow or ice wouldn't be until June but I think you could risk it a little earlier if you are well prepared. If you tackle this climb you will be rewarded with mountain and city views.
You can also complete this hike by traveling through the Lower Seymour Conservation area, which is a flatter hike at the beginning and then gets very steep at the end. This way isn't as well travelled either, and bring a map for either. You choice depends on your hiking style. This area might also be overgrown on an early season hike.
Another great thing about this hike is that you can access it by bus from Vancouver! You can read more about it on my list of hikes reachable by bus in Metro Vancouver here.
11. Elk Mountain, Chilliwack
Elk Mountain is an 8.5km trail with about 750m of elevation gain. The trail keeps getting steeper as you near the top so be sure to preserve your energy for the last push. When you reach the ridge you will find incredible views of Mount Baker and the North Cascades as well as views of the Fraser Valley.
This trail has a small parking lot, so arrive early on a nice weekend. The road to get the trailhead is dirt but it is fairly well maintained so most vehicles should be able to access it.
This trail is usually snow-free at the end of May/beginning of June and is also an excellent snowshoe trail in the winter. If you want to keep hiking you can continue along the ridge to Mount Thurston, though there will be snow here until later in the summer.
10. Flora Peak, Chilliwack
Flora Peak is a grind of a hike at 12km with 1300m of elevation gain, but it is well worth it for the incredible mountain views at the peak and along the ridge. This hike starts at the same place as Lindeman lake but takes you off to the right instead of towards the lake. Usually this hike is snow free by June.
There's is also the option of lengthening this hike by making it into a loop that includes the Flora Lake trail and the Greendrop Lake trail, which will take you past Lindeman Lake. This loop is 19km with about the same amount of elevation gain, and Flora Peak still being the highest point on the hike. This is a stunning loop but it is difficult and you will be crossing many varieties of terrain. The direction you choose is likely relevant to if you prefer conquering the steepest bits going down or going up (conquer Flora Peak first if you like the steep bit going up).
Also a reminder that you can find other year-round hikes that you can do in the spring here.
Do you have any Spring hiking go-to's that I should try that aren't on this list? Did you try any of these and love/hate them? Let me know in the comments! Happy hiking!
Welcome to Alpine Feeling! My name is Talon, and I am a Vancouver local who loves hiking and all things outdoors. I am here to do my best to provide you with outdoor guides to the Vancouver area and beyond.