Paddleboarding is such a fun activity that you can do all year round! Once you get the hang of it and get some warm water booties you can paddleboard in the winter without having to worry about falling in. In the summer is great to paddle around lakes and the ocean and jump in the water to cool off. It's an activity almost anyone can do and have fun with!
Below I have listed some fabulous places to paddleboard in and around Vancouver and discussed some things to know about renting or buying paddleboard, as well as some general tips, including things you need to have on your board legally and things you should have for a good time.
Where to Rent Paddleboards in and near Vancouver
There are lots of places around Vancouver and the lower mainland where you can rent paddleboards. Usually, these rentals come with anything you may need like a paddle and life jacket.
Paddleboarding is still pretty new to the market and prices can vary a lot. The best pricing I have seen in Vancouver is at Vancouver Water Adventures which has paddleboard rentals for $30 for 2 hours (2021). Of course, if you are renting hourly you want to rent locally so you can get the most out of your time.
In Deep Cove, you can rent paddleboards for $45 for 2 hours (2021) at Deep Cove Kayak. For the Port Moody/Coquitlam area, your best bet is Rocky Point Kayak for paddleboard rentals for $30 for 2 hours (2021) Day rentals are $55 or $60 for those further away adventures. There are many places that do rentals so first decide where you are going to go, then check out paddleboard rentals in that area. If you are going somewhere remote you will likely have to rent for the full day.
One tip I have before renting is to consider how many paddleboards you will actually need. A lot of the time when I go paddleboarding with a friend we only end up using one board. We set up on the beach and one person stays with our things and reads and sunbathes while the other one paddles around on the water. It's a nice activity to do alone.
However, at other times, when we have gone on big paddleboarding excursions when we have all our things on the board and travel together. Think about what your day will look like, there's no point in renting two boards if you are going to only use one at a time.
Tips for Buying a Paddleboard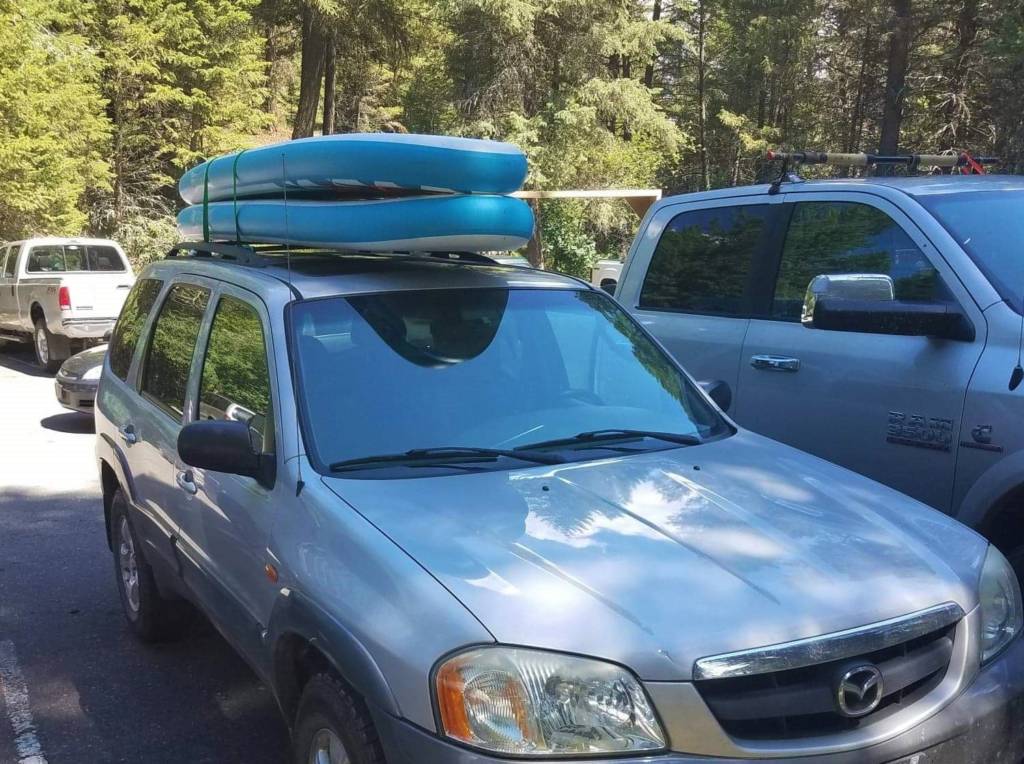 If you want to buy a new paddleboard they range from $500 to $2000, depending on what you are looking for. You can either buy an inflatable paddleboard or a hard-topped one. For most people, an inflatable board on the cheaper side will generally be just fine.
I am currently using the Lightweight Jellyfish Board by Vancouver Life. We love to support a local small business, plus it is high quality and lighter than most SUPs making it easier to carry. It is also on sale right now for $400 (that's 50% off)!
Other things you may need include a life jacket and whistle, a leash if you like them, a paddle, and potentially roof racks and straps to tie down the board if you decide on a hard paddleboard. The boards usually come with a pump.
We prefer to pump up our paddleboards at home and then strap them to the roof of the car so we can jump straight into the water when we arrive at the lake or ocean. Of course, you can pump up the boards at the beach as well if that's what you are equipped for but they can take some time and energy to inflate.
The inflatable paddleboards usually come with a large backpack that you can store the deflated board in and then carry it to the beach if you are a ways away or want to take public transport there.
Tips for Paddleboarding
Gear: Legally you are supposed to have a life jacket or inflatable life belt on you while paddleboarding in BC. You are also supposed to have a whistle or noise maker and a 15-meter piece of floating rope. It is normally okay to have these strapped onto your paddleboard and procure them if asked by law enforcement.
Another good piece of gear to have is a leash, which is basically a rope that is attached around your ankle and then attached to the tail of your board in case you fall off and the board starts to float away rapidly, the leash will catch it before it gets too far. A leash is especially useful in the ocean and river as waves and current will move the board a lot faster than in a lake.
Bring with You: One thing I like to always bring is a waterproof bag whether that is a dry bag or simply a plastic ziplock bag, it's nice to have something to store your valuables in on your board. If you are going to be out and about and not have a beach spot with someone holding your things it's nice to have basics with you like your wallet, sunglasses, snacks, small towel, phone, keys, sunscreen, and sometimes I even bring a book! I also will bring a pair of sandals and tie them to the board.
Another trick to the dry bag is to fill it with air before closing it. That way, if it gets dropped in the water it will float.
Starting to Paddle: Paddleboarding is quite simple, just stand up and paddle! Start in shallow water, a lake preferably if you are brand new to the sport, and put your feet in a central location on the board, shoulder-width apart, and keep your knees loose. Keep one handle on the top of the paddle and the other hand halfway down the rod, the paddle should be angled forward, then engage your core and push back in the water.
I'd definitely recommend starting out on your knees if you are not comfortable with your balance yet. I like to paddleboard on my knees all the time when I am feeling lazy and I have gone paddleboarding a lot, so no one will look at you funny for doing this.
Keep an eye out for waves and boat wake, the best way to not get knocked off your board by waves is to just sit or kneel on your board until they have passed. If it's a stormy day where the water is rough I would not recommend paddleboarding at all. If you want to keep standing while there are waves, be sure to point your board into the waves, so you hit them head-on; if your board is parallel to the waves it is easier to get flipped.
Always try to stay near the shore, the current in the middle of the lake or ocean can be stronger than you think, and if you go to far out and are too tired for the return journey that could be dangerous.
Where to go Paddleboarding near Vancouver
Vancouver
1. False Creek, Vancouver
False Creek is the inlet that flows between downtown Vancouver and the Olympic Village/Granville Island and ends at Science World. This is a fun little spot to explore the city from a new perspective and the water is fairly protected so it isn't too choppy. I would recommend parking and getting in at Science World or Granville Island or from somewhere in Olympic Village. Be sure to watch out for the water taxis!
2. Kits Beach, Jericho Beach, Spanish Banks and More, Vancouver
Any of the beaches along Kitsilano and Point Grey and along Stanley Park are great places to pop your paddleboard in the water. These are popular places all summer long for locals and tourists alike to relax and swim and get a tan. Be sure to go on a calm day as this is an open ocean so it can be wavy. Each beach has different amenities and they are all close to the city so you can find anything you need, the only tricky part would be finding parking.
3. Deep Cove, North Vancouver
Deep Cove is a cute little town in the easternmost part of North Vancouver. It is famous for its quaint two-block town and the Quarry Rock hike, but you can also paddle here.
If you walk to the water's edge at the bottom of the town there is a paddleboard and kayak rental store to your right. They rent paddleboards for $45 for 2 hours and you can spend some time paddling around in the ocean. Stay by the shore and discover little beaches and sightsee some beautiful oceanside homes with stunning mountains as your backdrop. Take some time and explore Deep Cove before or after you go as well!
Parking can be limited but there is street parking or a large parking lot in Panorama Park or just off of Rockcliff Road.
East of Vancouver
4. Alouette Lake, Golden Ears Provincial Park
This is a gorgeous lake near Maple Ridge. The water is chilly year-round, but beautiful and clear. Powerboats are allowed on this lake but it's popular for paddlers as well, and the lake is large enough for the two different activities to live peacefully together, nevertheless, it's best to stay close to the shore. Try to paddle first thing in the morning as the wind tends to pick up in the afternoon.
The beach is average and a bit rocky but there is a large grassy area with BBQ areas, picnic benches, and flush toilets during the summer months. There is a large parking lot but it fills up fast on a hot summer weekend. You can walk into Campers Beach or North Beach for a quieter experience.
The mountains around the lake are stunning and there are some incredible hikes to be done in the park as well. The campsites here are excellent if you want to stay a few days. This is an incredible little oasis away that is only 45 minutes away from the city, though you will feel much further away than that.
5. Pitt Lake, Pitt Meadows
Pitt Lake is a massive lake north of Coquitlam. The water is quite cold but it is a great place to go for a paddle. There are kayak and canoe rentals there and a big parking lot making it easily accessible. The lake can be shallow so be aware of your surroundings so that your fin doesn't get stuck.
The best part about Pitt Lake is that as you paddle around the perimeter you can find all sorts of hidden gems like secluded beaches and cliff jumping rocks. There are several short hikes you can paddle to as well that will take you to waterfalls and other small lakes.
Motorboats are allowed on this lake but the lake is large enough that they don't cause too much of a commotion for paddlers. There is a dock that serves as a boat launch but not much else so there isn't really anywhere to layout near the parking lot.
6. Buntzen Lake, Port Moody
Buntzen Lake is definitely a local favorite spot in the summer months and therefore the parking lot can be packed early on nice summer weekends. The crowdedness of this lake is well earned! It is a beautiful, clean lake surrounded by mountains and thick forest.
There is a great trail that goes all the way around the lake, about 12km long, which makes for a great detour if you are looking for walking instead of paddling.
There is a boat launch, but motorboats are not allowed, so you don't have to worry about boat wake tipping you off your board. There's also a dock, washroom, and picnic benches.
7. Sasamat Lake, Belcarra
Sasamat Lake is a large lake but has one main spot to set up for the day which is White Pine Beach. The beach is actually sandy and there are also picnic benches, a washroom, and even a concession booth in the summer. The beach can be bustling and parking can fill up quickly on a hot summer weekend so be sure to arrive early. There is also a great walking trail along the edge of the lake and there are some smaller, more secluded beaches along the way which you can also discover by paddling along the shoreline.
Motorboats are not allowed on this lake so it makes it a great place to relax and not worry about boat wake while you are out paddling.
8. Rocky Point Park, Port Moody
This is a sweet little park in Port Moody, there is a large grassy area that is great to lay on a blanket in or toss a ball around. There is an ice cream shop that is amazing, some small kiosks selling things like fish and chips and hamburgers, and this is the home to brewery row, where you can sample many different craft breweries all within a few blocks of each other. There are also washroom facilities and a parking lot.
Pop your paddleboard into the ocean along the edge of the park and enjoy the atmosphere and the beautiful mountains.
9. Admiralty Pont and Jug Island
Admiralty Point Park in Belcarra is a great place to get in some saltwater paddling. Put your board in near the parking lot and paddle inland towards Jug Island (a small piece of land that is also popular to hike to). Admire the beautiful Belcarra houses and forests as you travel.
Note that as of 2021 the parking lot at Admiralty point it paid.
10. Cultus Lake
Cultus Lake has a special place in my heart, and though it is further from Vancouver it is a wonderful place to paddle around and relax. There are a big dock and many amenities in this little town that comes alive in the summer months. The water is pretty warm and the atmosphere is fun and light.
Motorboats are allowed on this lake but it is still possible to find quiet areas to paddle and enjoy peaceful waters.
11. Jones Lake/Wahleach Lake, Chilliwack
This lake is quite the adventure to get to, but if you are up for it, there is a big reward. This lake is about a 2-hour drive from Vancouver and is at the end of a long forest road that needs a 4 x 4 vehicle to access and can be washed out at times.
The lake itself is beautiful and there are massive views of Mount Cheam and others. Camping is available at this lake if you want to stay a few days and take in the views.
The lake can be quite shallow in places so motorboats are not recommended, but not prohibited either so you may be sharing the lake with wake-making boats.
Squamish
12. Porteau Cove
On the way to Squamish, you will come across a beach area with a large dock just off the Sea to Sky Hwy which is Porteau Cove. It is a very pretty spot and has a cute little campground as well if you want to stay for a few days. This can be a very popular place on a sunny summer weekend so be sure to arrive early. Once you are there paddle out into the Howe Sound and enjoy the amazing mountain views all around you.
There are also flush toilets and a picnic area at this park.
This is a very popular place for diving so watch out for the divers as you paddle around.
13. Cat Lake
This is a small lake north of Squamish at the end of a gravel road with a short walk to get into it so it is not the most easily accessible lake, but it is still very popular. There is a small campsite which can get kind of rowdy, though the Squamish municipality is trying to make it more family accessible by adding in a better lounging area. There are currently not very many facilities for the public.
The water can get quite warm in the summer and there are no motorboats so it's a great spot to float or paddle. It's very common to see the water filled with floaties and there isn't very far to go to expect this to be a lazy day paddling around, not a big workout or long journey via paddleboard.
14. Alice Lake
This provincial park is just north of Squamish and a favorite for lounging, swimming, or hiking in the summer. It has a big open grassy area and sand as well. The lake is clear and pretty warm and the mountains in the background are stunning. There's definitely a reason this is a favorite for locals.
There are no motorized boats on this lake so paddling around is serene.
There is also a campsite, hiking trails, flush toilets, a large parking lot, a playground, and picnic tables for use.
15. Brohm Lake
Just north of Squamish, this lake is similar to Cat Lake, though a little easier to access with a parking lot at the lake. The lake is surrounded by large rock outcroppings where people sunbathe and set up for the day rather than a sandy or grassy plot. The water is warmer and there are no motorboats allowed. The lake is small so you can't go very far but it's fun for playing around on the paddleboard.
The water is clear, still, and warm which makes this a very busy spot. Be sure to arrive early if you are going on a sunny weekend. There are also some nice hiking trails around if you want to explore.
16. Browning Lake
This is a very easily accessible lake just off the Sea to Sky Hwy south of Squamish. If you have ever driven between Vancouver and Squamish you will have spotted this lake on the west side of the highway. Though it is close to the highway it is still relaxed and fun to spend the day at. There isn't much for a beach but there are some picnic tables dotted around.
The water is decently warm and it doesn't allow motorboats so the water is smooth for paddling. The lake is somewhat small so you won't be able to go on any grand adventures but it's nice for chilling on the water for the day.
17. Bowen Island
Bowen Island is not in Squamish but it is *kind of* on the way. This small island is located only a short 20-minute ferry ride from Horseshoe Bay. Bowen Island is a great place for a day trip getaway and they have paddleboard rentals available from Bowen Island Sea Kayaking which is located close to the ferry terminal.
You can read more about getting to Bowen Island and things to do there here. Paddle around this tranquil little island and sweet community for a few hours and feel like you are eons away from the city, though you are actually very close.
Conclusion
Since Vancouver is on the ocean there are SO many places to explore on the water, get out there and enjoy it! If you love the water you should also check out my list of best lakes to hike to for swimming here. These are a few of my favorites paddling places but if you have more places that you think should be on this list, or if you tried one of these and loved or hated it let me know in the comments! Happy paddling!
Welcome to Alpine Feeling! My name is Talon, and I am a Vancouver local who loves hiking and all things outdoors. I am here to do my best to provide you with outdoor guides to the Vancouver area and beyond.