Bowen Island is a small piece of land north of Vancouver. It is easily accessible from Vancouver, and you can even do the entire trip without a car making it an excellent day trip, especially in the summer when the town bursts with life.
As soon as you get to Bowen Island you feel like you are so far removed from the city, even though it's only about an hour trip away. The small quaint village vibe on the ocean makes you feel instantly relaxed.
In this guide, you will find food and drinks, hiking, and other activities to do on the island. I think the best way to spend the morning on Bowen is by grabbing a coffee, taking a nice hike, then grabbing a cold beer while you enjoy the view of the ocean.
Listen to me talk about Bowen Island with Destinations Beyond Expectations by clicking here.
Getting There
The first step to getting to Bowen Island is getting to the Horseshoe Bay ferry terminal. It's either a 30-minute drive on Highway 1 West or you can take a 1 hour bus.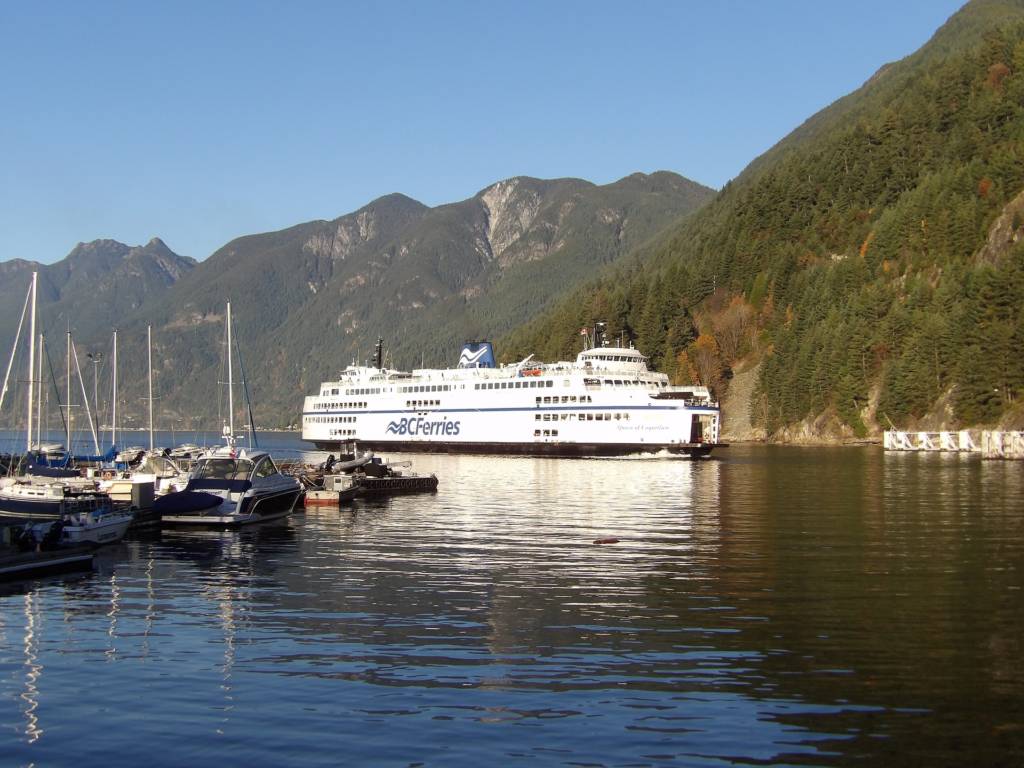 Driving: At Horseshoe Bay, if you have opted to drive, most of the parking in the town of Horseshoe Bay is free but is max 2 hours and you will need more time than that so your two main options are either park at the ferry terminus parking lot, which is about $17/day (2020). The other option is to park further up the hill on Marine Drive at the Park and Ride which is free on the weekdays (though might be full on a nice summer day) and it's about a 15-minute walk to the ferry terminal. You can also park at Baden Powell Trailhead which is a little further and always free, as long as it isn't completely full of cars.
Transit: You can either take the 257 or 250 bus that leaves from downtown Vancouver regularly. The bus takes approximately 1-hour ad drops you off right by the ferry terminal. Make sure you leave early in case the bus is delayed, you don't want to miss your intended ferry.
The Ferry to Bowen Island: costs $10.50 per walk-on passenger round trip (2021), it takes 20 minutes to cross, and a ferry leaves every hour or so. You don't need to book this ferry, and as a walk-on passenger, you shouldn't have to worry about getting on (as long as you are on time for the ferry you want).
If you have some time to spare after buying your ticket you can take a stroll around the small town of Horseshoe Bay. You can pick up some basic items that you might have forgotten or stop for a coffee or ice cream (though I would recommend waiting until you get to Bowen for food and drinks). There are a pier and marina next to the ferry that is nice to wander down and try to spot the most expensive boat in the water.
Be sure to keep an eye on your watch and listen for boarding warnings from the ferry terminal so that you don't miss your chance to board. The 20-minute ferry ride is sweet and short that allows you beautiful views of the surrounding mountains.
Get off the ferry at Bowen Island/Snug Cove and you will be almost immediately engulfed in the quaint town. It's incredible how fast you feel like you have traveled far from the city, though it's so close.
Hikes on Bowen Island
There is a map of the trails in a small kiosk at the Ferry Terminal on your left when you arrive at Bowen Island if you want to consult that before heading out. Bowen Island rarely gets snow so these should all be accessible year-round.
These are the top three hikes on Bowen Island, starting with an easy 1km option to a long option at 16km, there's something for everyone.
1. Dorman Point (easy)
This hike is only 1 km but has some steep parts so it will get your heart rate up a bit. This trail starts very close to the ferry terminal and leads you to views of Howe Sound and the mainland. It is a beautiful short hike for those that want to explore the nature of Bowen Island but only for about an hour or so.
2. Killarney Lake (moderate)
This is a 9km loop around a lake that takes about 2.5 hours to complete. You don't have to do the whole loop either, you can simply do a short walk, maybe go for a swim, enjoy the beach and picnic tables, and relax.
This hike has little elevation gain but will still take time due to distance, so this is your midrange hike on this list. This hike is in Crippen Regional Park which is very close to the ferry terminus.
3. Mount Gardner (hard)
This is your Bowen Island hike if you want to be on the trail for the whole day. It's the most challenging option and is definitely an uphill slog in places.
This hike has two start points. If you have decided to drive to Bowen Island you can drive to the trailhead which makes the loop 10km; however, if you have walked on the ferry you have to add on the walk to the trailhead, which follows the same trail to Killarney Lake, so it's a pleasant flat walk, but it adds another 6km to the hike.
The long version will take 5 to 6 hours and has 800m of elevation gain. You will be rewarded with 360 views of the ocean, surrounding islands, and mainland mountains (and sometimes even Mount Baker) on a clear day.
Food and Drinks on Bowen Island
Before your hike, you may want to stop by one of these places for a coffee or snack or after you finish your hike you may want to treat yourself at one of the quaint pubs or restaurants on the island. Almost every establishment on Bowen Island has a patio or outside area where you can enjoy the views of the ocean so you can't go wrong picking a place on a summer day.
The town is tiny, only a few blocks long, but it is built on a hill so keep that in mind for your glute muscles. Many of these places close in the winter or have reduced hours, even in the summer some of these places only stay open for certain days or limited hours so I'd recommend looking online before you go to avoid disappointment.
Bowen Island Pub or Doc Morgan's – these are your classic pub options with burgers, good beer, and fish and chips. Doc Morgan's has the best patio in town that overlooks the marina and gets a lot of sun.
Tell Your Friends Café – this cute little café is just a short walk to your right as you get off the ferry. This is a great spot to stop for your caffeine fix or a little healthy snack before heading out on your hike. (closed Tuesday and Thursdays – check their hours before you go).
Copper Spirit Distillery – a fun little place to stop by and enjoy some unique cocktails with locally distilled spirits (hours are limited so check before you go).
Snug Café – a cozy family-run café that serves breakfast, lunch, and coffee. You can feel the family and local atmosphere as you walk in as this is one of Bowen Islands oldest buildings.
Tuscany Restaurant, Barcelona Tapa, and Rustique Bistro – I am so sorry to these restaurants for bunching them altogether. I have chosen to do so because even though the cuisine is all different (Italian, Spanish, and French) they all give you a similar dining ambiance and the price points are about the same.
At any of these three places, you will find exquisite food and drink as well as a beautiful patio and dining room. These are your choices if you want a fantastic lunch or dinner dining experience.
Branch on Bowen – If you are sitting on the beach at Bowen Island on a sunny summer day you are going to want some ice cream to accompany you. Branch is the place you want to go. They serve Earnest Icecream alongside housemade tacos and they also have a cute gift shop. The store is right by the ferry terminal and the beach so it's a great place to stop by on your way in or out of town.
Things to do on Bowen Island that aren't Hiking or Eating:
Hiking and eating are the highlights of Bowen Island to me but there are a few other activities you can engage in as well.
Art – there are plenty of little art galleries to pop into in town, just wander around and explore any you come across
Shopping – there are a lot of shops selling sweet little local items – one great place is Branch (listed above because it also sells icecream!)
Kayak or SUP – you can rent kayaks and standup paddleboards in the summer near the ferry terminal from Bowen Island Sea Kayaking. Pricing as of 2020 is $55 for a single kayak for the day, $82 for a double kayak, $30 for a stand-up paddleboard. They also offer a variety of tours and lessons.
Do Yoga – Nectar Yoga is a retreat that also takes day visitors to do yoga in one of the domes surrounded by nature. This is a little off the beaten path so be prepared to drive or take the bus to it.
Farmers Market – this small "trunk" market takes place at the Bowen Island Community School Parking Lot. It is held on Saturdays in the summer between 10 am and noon.
Cycling – bring your bike or rent an e-bike from Bowen eBikes which is located very close to the ferry terminal. The island is 12km long and on a bike, you can make it to the other side much easier than on foot (though be prepared for hills!) You can explore some of the offerings on the other side of the island where it is much quieter such as Cape Roger and other beaches.
Explore the Other Side of the Island – just like what I wrote above for cycling the beaches on the other side of Bowen Island are much quieter and fun to explore. If cycling is not for you and you did not drive your car, there is a taxi service on the island, or you can take the bus! There is a bus that drives across the island that is linked to TransLink, you can use your compass card on it, which I think is just fabulous.
Sit on the Beach – if you don't want to go to the other side of the island to explore the quiet beaches, there are some available with easy access near the ferry terminal/town. These are not white sand beaches, but they are still nice to sit on for a while and relax or play in the ocean. Note that these beaches get shady earlier in the day because they are on the east side of the island.
Wrap-up
For me, the perfect day on Bowen Island would include a great hike, ice cream on the beach, and a beer on a sunny patio. Design your personalized trip and enjoy this quaint little oasis so near yet so removed from Vancouver.
When you are tired and full you can simply walk back onto the ferry you want to catch and head home (they leave every hour and 10 minutes or so).
Of course, if you want to make this a multi-day getaway, there are some lovely and unique places to rest your head. Which include adorable AirBnBs, oceanside inns, and even a yoga retreat. I can't even begin to start listing them because there are too many unique and beautiful stays to showcase fairly.
Enjoy your incredible getaway to Bowen Island.
Welcome to Alpine Feeling! My name is Talon, and I am a Vancouver local who loves hiking and all things outdoors. I am here to do my best to provide you with outdoor guides to the Vancouver area and beyond.