32 Places to Stop on the Coast Mountain Circle (Vancouver to Lillooet to Hope) AKA the Lillooet Loop, the Lillooet Stretch, or the Duffey Loop
The Coast Mountain Circle is a wonderful way to explore much of what southwestern BC has to offer, including the stunning Sea to Sky Highway, countless mountain views, and the powerful Fraser River.
You can drive this circle in one day (about 6 hours without stops) if you are more in it for the scenes from behind the steering wheel, or you can do this road trip for up to 5 days. I think 2 to 3 days is the sweet spot (if you want to do a lot of hiking, plan for a longer trip).
Below you will find a list of all of the places I love on this trip that I think are worthwhile. Some are quick stops just off the road and some are longer excursions like hikes or drives that take you off course (these are marked as detours, so if you are keen on just driving the whole thing in one day, I would avoid these).
This road trip can be done year-round but keep in mind that if you go in the winter, you may not be able to access many of the hikes, though the roads will likely be clear unless you decide to go during a snowstorm. In the summer, I would check for wildfires as there can be highway closures due to fires that get out of hand.
I have decided to start this road trip in Vancouver, head north on the Sea to Sky Highway, and do the entire trip clockwise. Of course, if you want to do the trip in the opposite direction, that will be just as enjoyable, perhaps even more enjoyable as you are often driving into the mountains in that direction.
I am skipping over everything you might want to see in the Vancouver area as that is its own entity but if you are keen, you can see my recommendations for the best hikes in North Vancouver here, West Vancouver here, and everything between West Vancouver and Squamish here.
The majority of the stops are free, as they are simply part of nature, I have included a ($) in the title for those that cost money. At the bottom, I have included condensed lists of some of my favorite places for hiking, camping, roadside attraction, etc. if you just want a quick view guide.
Vancouver to Whistler (Sea to Sky Highway)
1. Porteau Cove
This is a very simple stop on the west side of Highway 1. It is a beautiful dock with a small campsite and gorgeous views of the Howe Sound and the surrounding mountains. This is a popular spot for divers as the sea life is so diverse here.
These views are a beautiful way to start out your trip. Just breath in the ocean air, take in the views, and get into that road-tripping mood. There are lots of pull-outs on the west side of the highway for views (just be careful pulling off to look as you will be on the opposite side of the road).
2. Britannia Mine Museum ($)
Going to an old mining site might seem boring, but the people at Britannia Beach have done a great job making this a very interactive and engaging experience. You can take a tour into the old mine and the mill, learn all about minerals and mining life in the past and even pan for gold.
If you are just on the road for the scenic mountain views you may choose to skip this one, but if you are interested in learning what this area of BC was like between 1888 and 1974, this will be a great historical experience for you.
As of 2021, the rate is $37CAD for adults with discounts for students, children, seniors, and families. All of the tours are included, and it will take about 2 hours to explore the whole place. Book online ahead of time to avoid disappointment.
3. Shannon Falls
Do not miss these beautiful falls. They are just off the highway, you can see them from certain places on the road, but they are so much more impressive close up.
The falls are on the east side of the highway so it is easy to pull off into the large parking lot and take the short walk straight up to the viewpoint, you can also take a short trail to get a higher vantage point if you are keen, and I would recommend it as you get even closer to falls. These falls will be strongest in the spring.
There is also a picnic area and a small concession stand that sells things like souvenirs and ice cream in the summer.
4. Sea to Sky Gondola ($)
This gondola is right next to Shannon Falls, so it is easy to check them both out from the same stop. The gondola can take you quickly up the side of the mountain for stunning views of Squamish, the Howe Sound, the islands, the Garibaldi Mountains, and more. At the top, you will find a suspension bridge, a skywalk, a cafe, a bar, a playground, and many trails if you are up for any level of hiking.
This is a beautiful exertion, especially if you are short on time and cannot hike up one of the local trails for this view (read more about hiking in Squamish below). As of 2021, the rate is $60 per adult with discounts for booking online in advance, seniors, students, children, and families. I would recommend booking online to avoid disappointment and though they are open daily, there have been some problems with vandalism in the past that lead to long closures so be sure to check to see if they are open before you go.
5. Squamish
The town of Squamish is built for those who live to be outside. You will find laidback shops here aimed at rock climbers, bikers, hikers, and more. You will also find some great places to stop and eat if you are feeling peckish.
If you want coffee, Counterpart Coffee (just north of downtown) is fantastic, though they are opened limited hours. If you are keen on coffee and a bite to eat I enjoy Zephyr Cafe (vegan), The Ledge, and Cloudburst Cafe (just north of downtown).
If it's a bit later in the day I love Howe Sound Brew Pub (classic pub food and a brewery), The Copper Coil (Southwestern), and Saha Eatery (Middle Eastern) for places on the main strip.
If you are keen on a very good beer I would head a bit north to Backcountry Brewing, they brew some of the best beer I have ever tasted and have good pizza if you are hungry. If you are willing to go a bit out of the way, Fergies Cafe offers incredible brunch in a beautiful setting.
There are SO many fantastic places to eat in Squamish that you can't really go wrong, you will surely be satisfied wherever you end up. This town certainly has good taste buds. Check out the estuary at the end of downtown for a short walk to help settle the stomach.
Squamish is also a good place to stay with plenty of options for hotels, Airbnbs, and some camping as well (check out Alice Lake north of Squamish if you are camping, try to book in advance).
6. Detour: Hiking in Squamish
As I said above, Squamish is one of the best bases for checking out all of the outdoor activities. I, unfortunately, am not much of a biker or rock climber but the people at Squamish Adventure Centre will definitely be able to help you out in that area if you are interested. They are located just at the entrance of town on the east side of the highway, which should be hard to miss.
As for hiking, that is something I know a lot about. There are so many great trails around here. The Stawamus Chief is a good choice for those looking for a workout and some views but only have a few hours to spare, and if you are looking for all-day (or multi-day) epic alpine treks you could check out Garibaldi Lake or Elfin Lakes.
There's plenty of hikes/walks on the easy side, such as a walk around Alice Lake or Smoke Bluffs and anything you want in between. Please read my guide to hiking in Squamish here for more information.
7. Brandywine Falls
This is a must-stop for me. Just north of Squamish, you will find a parking lot on the east side of the highway and a short and easy trail (only about 10 minutes walk one way, and accessible for all) to a lookout over stunning plunging falls. These are some of my absolute favorite falls in the area and I stop by whenever I can.
Unfortunately, these falls are closed in the winter, please do not try to go in during the snowy months, this is a notorious place to get towed.
8. Detour: Alexander Falls
These falls are a bit out of the way, and if you have already stopped at Shannon Falls, and Brandywine falls and are feeling a bit burnt out from stopping, it's okay to keep going, but if you do take the detour (and extra 40 minutes driving round trip) you will be rewarded with massive beautiful falls!
The road is a forest service road so it might be a bit bumpy and if you choose to go in the winter, the road will not be plowed and you may have trouble accessing them in a regular car (even in a 4WD you will have to walk in somewhat with snowshoes).
9. Whistler Train Wreck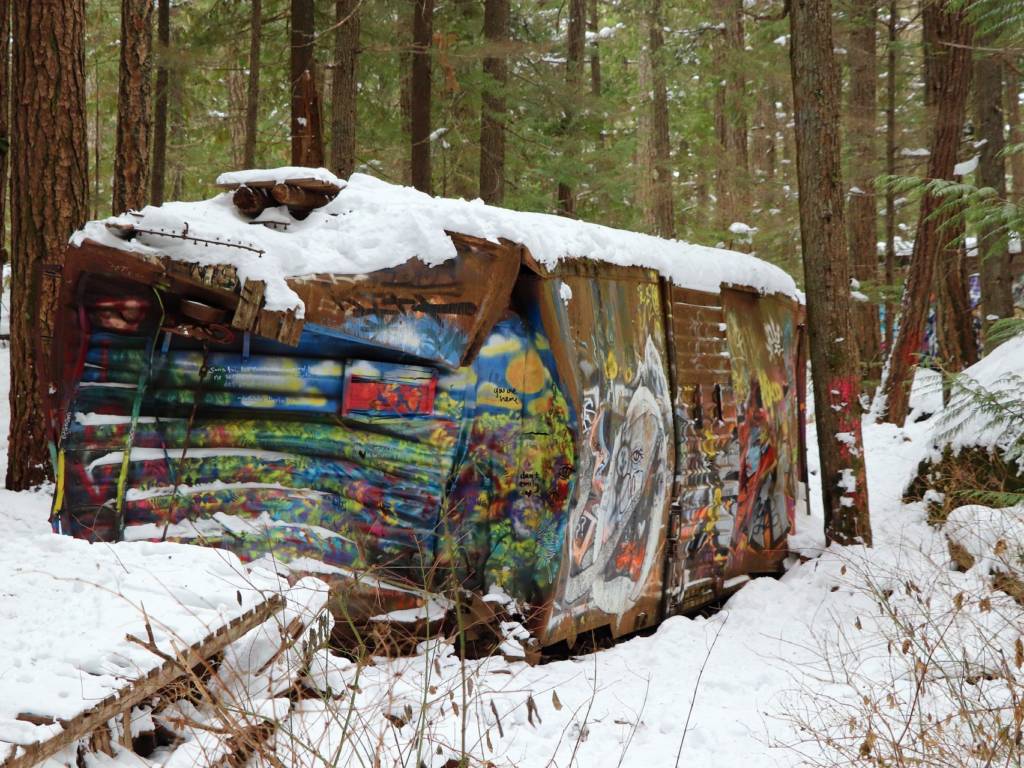 This is a short 2.5km trail with minimal elevation gain that should take about an hour to complete. The trailhead is just off of the highway and will lead you past a stunning blue glacial river and to an old train wreck that has been graffitied with all sorts of beautiful murals. This is certainly a fun stop and a good way to stretch your legs. This is also a great snowshoe trail in the winter!
10. Whistler
The resort town of Whistler is well known internationally so I am not going to go too in-depth on what there is to offer here. There are plenty of places to stay (though expensive) and more than enough dining experiences, spas, and attractions.
Take the gondola up the mountain for beautiful views in the summer or winter and find lots of alpine trails to explore. There are also lots of short trails that you can take from town to learn about the First Nations and flora and fauna local to the area. The people at the Whistler Visitor Centre will definitely help you out with anything you need.
Though this place is so well known, do not pass it off as a tourist trap (though things will be more expensive), if you have never been to Whistler I highly recommend stopping and at least taking a walk through the village and enjoying the mountain vibes, it is famous for a reason.
Whistler to Lillooet
11. Nairn Falls
More waterfalls! The waterfalls in BC are endless and they are all special. These ones are a beautiful cloudy blue that is common with glacial water. The walk to get to the falls takes you along the river and is about 2.5km with minimal elevation gain and should only take about an hour. Nearby you can also find a campsite if you want to stay in the area overnight.
12. Pemberton
Pemberton is an ever-growing town at the base of some beautiful mountains (climb Mount Currie if you are up for it). Stop here for an overnight stay or for some refreshments.
Some great food choices are Mount Currie Coffee Co. (for you caffeine and snack fix), Town Square (very good pub food), Stay Wild Health Food Store (for a healthy restock on groceries or to get something from their juice/lunch bar), Mile One (tasty pub food), Barn Nork Thai (Thai food), The Hwy Cafe (incredible vegan burgers, wraps, breakfasts, and soft-serve ice cream!), and Pemberton Brewing Co.
You can also stop at the Downtown Community Barn for a place to have a very scenic picnic lunch (though there are often events here so it may be closed to the public), or swing by the farmers market on Fridays in the summer. Note that you will likely lose cell service after Pemberton and will not get it back until Lillooet.
13. Lillooet Lake
Lillooet Lake is actually closer to Pemberton than Lillooet but it is a large clear lake that is just off the road if you want to stop for a quick picture, or you can stop and swim or paddle for the day. Keep an eye out for signs for the turn off as it can be easy to miss as you are enjoying the scenery
14. Detour: Joffre Lakes Hike
This must be one of Canada's most iconic hikes. It starts near Pemberton and is only moderately challenging at 8km with 500m of elevation gain. The hike takes you past three stunning blue lakes, and due to the ease of access to these lakes they were overrun and the trail was getting trashed.
As of 2021 BC Parks has put into place a day pass system to limit the number of people who could hike here per day, it is unclear if this will continue indefinitely but for now, be sure to book your pass online through BC Parks at 7 am the day before you intend to hike.
This trail is certainly well-loved for a reason and you will not be disappointed. You can backcountry camp here, and you can do this trail in the winter on snowshoes, but the lakes will be snowed over.
15. Duffey Lake
This lake is picture perfect with the big mountains in the background, there are a few spots to pull off and go for a swim or a paddle but there isn't much of a beach or day-use area so it's best to just stop and admire the beauty. Definitely make this quick pit stop on the side of the highway to take in the views.
16. Seton Lake Viewpoint
This is probably one of the most iconic views on the Coast Mountain Circle and you will likely have seen pictures of it on Instagram or other social media. A short (10 minute) walk uphill will take you to a lookout over a strong bend in the highway with beautiful blue water and mountains on the other side of the road. Take it all in for a few minutes and get some pictures.
You can find the trailhead just off the highway, or put "Seton Lake View" into your GPS for good measure (please note that there is no cell service between Pemberton and Lillooet). The stop is just a pull-off on the side of the highway and it is not marked, the trail can be found on the other side of the road, just a little dirt path that is fairly easy to follow, but it is also unmarked.
17. Lillooet
Lillooet is a small town built on the Fraser River. This town is dry and deserty but still surrounded by mountains. There isn't a ton to do here but there is some excellent cycling or rafting if you are into that. For more information, you can visit the Lillooet Museum which doubles as a tourist information centre.
Some good places to get some refreshments are Fort Berens Winery (a beautiful winery with farm to table eats), Abundance Artisan Bakery (a go-to place for baked goods and coffee), Lillooet Brewing Company (new as of 2021, this brewery focuses on local produce and protecting wildlife), and if you are in town on Friday, you will be able to see all that the local farms have to offer at the farmers market.
Lillooet to Hope (two options)
There are two main options to get from Lillooet to Lytton (which is about halfway to Hope), both are beautiful choices so it is up to you.
You can take highway 12, which goes along the river and through the desert mountains and is a bit faster (though the drive is right on the side of a cliff so it is also thrilling), or the slightly longer way which takes Highway 99 to Highway 1 and showcases more grassland and canyons (if you take this route you can stop at Historic Hat Creek Ranch if you are keen on some gold rush history).
The two roads converge at Lytton where you will take Highway 1 the rest of the way to Hope.
18. Tuckkwiowhum Village ($)
Get the full First Nations of Tuckkwiowhum experience here. Explore a teepee village (and even camp in one!), take a guided tour (book in advance, as of 2021 they are run on Tuesdays and Saturdays at 10 am and 2 pm for $25 per person), or do a self-guided tour (no booking necessary, $15 per person, discount for youth). Learn all about how the First Nations lived before European settlers arrived.
19. Hell's Gate ($)
The next big stop after Lillooet is Hell's Gate. This is the place where the canyon is the most narrow along the Fraser River and you can see the true power of this life source that provides the lower mainland with so many resources. There is a tram ride that takes you across the canyon as well as a museum, and suspension bridge.
The cost for the whole experience is $31 per adult as of 2021, with discounts for students, children, seniors, and groups over 8. If this is something you would like to experience I would recommend booking online ahead of time to avoid disappointment.
This place also has rumors of the paranormal, and you can raft through it starting at Boston Bar, depending on what kind of a thrill you are looking for.
20. Old Alexandra Bridge
This beautiful bridge is another place for those that love a stunning photo op. There is a short walk to get to the bridge which is about 1.5km round trip and follows an old road so it is fairly accessible for most, the walking should only take about 30 minutes round trip, but be sure to calculate in some extra time for photo taking. This is a beautiful spot to get that perfect trip photo and to stretch your legs.
21. Yale ($)
This is a historic gold rush town museum. If you skipped Britannia Mine and Historic Hat Creek, this is likely your last chance to get some history into your road trip.
This preserved gold rush town lets you see how people lived in the late 1800s. You can visit the old-timey general store, saloon, church, Chinese boarding house, and even pan for gold.
Rates are currently $8 per adult with discounts for students, children, seniors, and families.
22. Hope
This town is surrounded by incredible sheer mountains and is a good place to stock up on supplies or stop for lunch. I personally like the Owl Street Cafe for lunch, which offers simple sandwiches, salads, and soups along with coffee but with high-quality ingredients making everything very tasty. Don't expect any giant supermarkets but you can get the basics for the rest of your trip here.
23. Detour: Othello Tunnels
Instead of heading west and back towards Vancouver, you can take a short detour east on Highway 5 (Coquihalla), it adds on an extra 30 minutes of driving round trip, and about 1 hour to enjoy the park. This is certainly a worthwhile detour.
In Coquihalla Canyon Park you will find an old railroad track that has been carved out of the side of the mountain. To add to the awe of this engineering feat you will find blue water rushing through the lush green canyon.
From the parking lot, there is an easy, mostly flat walk that is about 2km to see the main part of the park. You can shorten this trail if you are not up for the whole thing.
The park is closed in the winter and can close sporadically if there has been a rockslide in the area so be sure to check on BC Parks before you go to avoid disappointment.
24. Detour: Manning Park
This is quite a long detour and is best if you want to camp for a night or two somewhere beautiful. This stunning provincial park is a 45-minute drive southeast from Hope on Highway 3 (Crowsnest Highway). There is exceptional hiking here as well as a beautiful lake.
Manning Park is a great place to get off the road for a few days and decompress, I would highly recommend booking a campsite in advance as this place is popular, and read my full guide here to find out the best places to camp and hike.
On your way in, you may want to stop by the Rhododendron Flats for a quick walk through some beautiful flowers (late spring/early summer is the best time to see them).
Hope to Vancouver (two options)
From Hope you can head west on Highway 7, which is a bit more scenic and low, or Highway 1 which is a bit faster, both have some stops along the way and they closely parallel each other at the beginning before diverging, I will be sure to note below if it is an easy detour or not from your chosen route.
25. Flood Falls (Highway 1)
These tall narrow falls are stunning in the spring, but if you want to go in the winter, late summer, or fall, they will be all but a trickle. So be sure to consider the time of the year and how much snowmelt there may have been recently to supplement these falls.
There is easy (but not very well marked) parking just shortly off the highway and it is an easy 1km roundtrip walk to see the falls.
26. Bridal Veil Falls (Highway 1)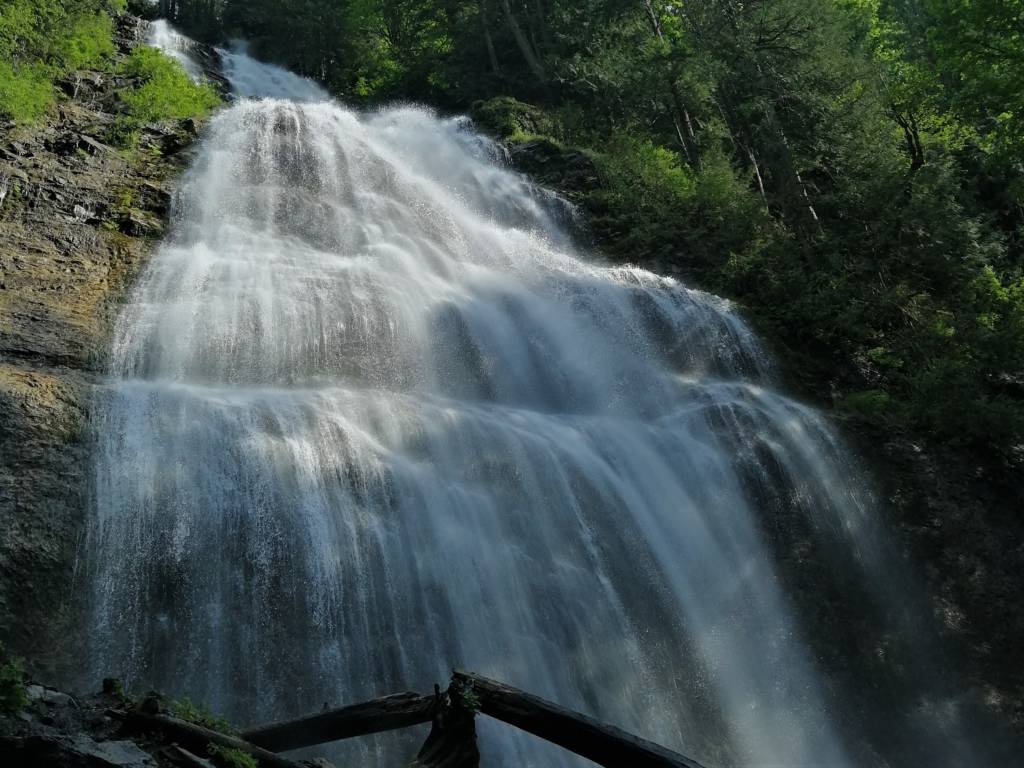 These are beautiful fanning falls are at the end of a short 1km roundtrip walk, which is slightly uphill. Like all waterfalls, the best time to see it is spring when it is the strongest, but these falls are usually around all year. The park is closed in the winter and the park can also close randomly due to flooding so be sure to check on BC Parks before you go.
If the park is closed, it is common for people to park outside the gate and walk in.
From here you should decide if you want to switch to Highway 7 (Harrison Hot Spring and Golden Ears) or stay on Highway 1 (Fraser Valley)
27. Harrison Hot Springs (Highway 7) ($)
Harrison Hot Springs is a town on the edge of Harrison lakes which, you guessed it, is built on a hot spring. There are some hikes nearby and the lake is fantastic for a swim or paddle, but the main attraction is sitting in the therapeutic waters.
There are two main ways to access the hot springs and both are commercialized. There are public pools that are similar to a public swimming pool with a few different options for various temperatures. This is $10 per person (2021) with discounts for children and seniors and there are additional fees if you want to rent a locker or a towel. Be sure to check if they are open before going.
The second option is much more expensive and luxurious but well worth it, especially if you are looking for somewhere to stay for the night rather than continuing on to Vancouver. You can stay at the Harrison Hot Spring Resort which starts at about $180 per night (2021), depending on what time of the year and what day of the week you are there. It is significantly more expensive during peak periods.
Included with the room you get full access to their luxurious hot spring pools which are only available to overnight guests. This is definitely a great way to decompress at the end of your trip.
You can also try to seek out the natural source for the hot springs though they will not be the most relaxing springs as you will find the wellhouse and pump there that filters water to the town.
Note that they are a few cafes and restaurants in town but overall limited amenities, get anything you need as far as groceries, etc. before entering the town.
28. Fraser Valley (Highway 1)
The Fraser Valley (mainly Abbotsford and Chilliwack) is known for its abundance of farms. If you are traveling in the Spring you can stop for the tulip festivals, in the summer you can find sunflower fields or u-pick berries, and in the fall you can find pumpkin patches, corn mazes, and apple picking. There is a large variety of all of these at different price points and with different attractions.
Alongside the farms, you will find some incredible farm-fresh foods to sample at local restaurants, breweries, and wineries. Some of my favorites include Field House Brewing, Trading Post Brewing, Birchwood Dairy (ice cream), Restaurant62 (farm to table), Singletree Winery, and much more.
29. Detour: Hiking in the Fraser Valley (Highway 1)
There are so many great hikes in the Chilliwack area, a lot of them include quite long detours off the highway, but I would recommend checking out my comprehensive list here if you are keen on some killer views.
30. Detour: Cultus Lake (Highway 1)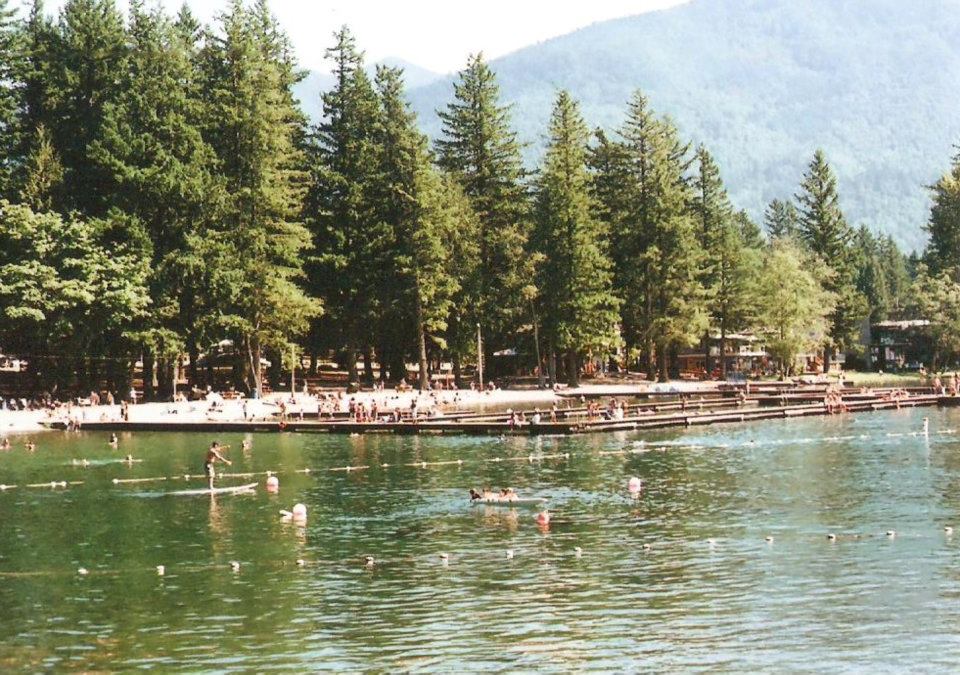 If you are looking to extend your trip a bit longer Cultus Lake is southeast of Chilliwack and is a fantastic place to camp or rent a cabin on the water. The lake is so refreshing to swim or paddle in and there is a small town and a waterpark. This is a great destination for families, couples, and friend groups, it's hard not to love it here.
31. Detour: Cascade Falls (Highway 7)
This detour is about a 20-minute drive off the highway one way and then a short walk to some stunning falls. These falls hit a pool of beautiful blue water and then continue to cascade down through the lush forest; you can even swim in some of the pools below.
Over the falls there is a big suspension bridge that is a great way to view them and to get a great photo! Definitely a worthwhile detour in my opinion.
32. Detour: Golden Ears Park (Highway 7)
Much like Cultus Lake, this is a fantastic spot to stop and camp for a day or two if you aren't quite ready to head back to Vancouver if you have chosen to travel on Highway 7.
This park is so stunning and there is a beautiful lake and fantastic hiking. Be sure to book a campsite before you go as they tend to fill up quickly. To find out more about Golden Ears, you can read my comprehensive guide here.
Summary/Quick Guides
Free options:
(towns and long hikes are not included)
Porteau Cove (1), Shannon Falls (3), Brandywine Falls (7), Alexander Falls (8), Whistler Train Wreck (9), Nairn Falls (11), Lillooet Lake (13), Duffey Lake (15), Seton Lake + Lookout (16), Old Alexandra Bridge (20), Othello Tunnels (23), Flood Falls (25), Bridal Veil Falls (26), Cultus Lake (30), Cascade Falls (31)
Best Hiking Locations:
Squamish (6), Whistler (10), Mount Currie (12), Joffre Lakes (14), Manning Park (24), Fraser Valley (29), Golden Ears (32)
Quick roadside stops only:
Porteau Cove (1), Shannon Falls (3), Brandywine Falls (20-minute walk) (7), Lillooet Lake (13), Duffey Lake (15), Seton Lake (20-minute walk) (16), Alexandra Bridge (20-minute walk), Flood Falls (15-minute walk), Bridalveil Falls (15-minute walk)
Don't Miss it:
(my personal opinion, not including longer detours)
Shannon Falls (3), Brandywine Falls (7), Whistler (10), Lillooet Lake (13), Duffey Lake (15), Seton Lake Viewpoint (16), Alexandra Bridge (20), Yale (21), Othello Tunnels (23), Flood Falls (in the spring) (25), Bridal Veil Falls (26), Cascade Falls (31)
Towns:
(places to stay/restock/stop for refreshments)
Squamish (5), Whistler (10), Pemberton (12), Lillooet (17), Hope (22), Fraser Valley (Chilliwack/Abbotsford) (28)
Best Campsites Along the way:
(try to book in advance) (listed in order of which you come across them if you are starting in Vancouver and going clockwise)
Porteau Cove (1), Alice Lake (near Squamish (5)), Cat Lake (near Squamish (5), a short walk into the campground, no drive-in sites), Nairn Falls (11), Lillooet Lake (13) (has Driftwood Bay, Lizzie Bay, and Twin One Creek), Cottonwood (just before Lilloete (17)), Tuckkwiowhum Village (you can camp in a teepee here!) (near Boston Bar), Emory Creek (near Yale (21)), Manning Park (24), Cultus Lake (many) (30), Golden Ears (32)
This is such a fun road trip, if I have missed something you love, please let me know in the comments! Happy travels!
Welcome to Alpine Feeling! My name is Talon, and I am a Vancouver local who loves hiking and all things outdoors. I am here to do my best to provide you with outdoor guides to the Vancouver area and beyond.