If you have ever experienced a field full of alpine wildflowers you know how magical that moment is and you want to find them again and again. Hiking through a barrage of colorful flowers is amazing and adds a little something extra to that mountain scenery.
When we think of flowers we usually think of spring and early blooms that usually die by late summer in the heat. This is not true when it comes to alpine flowers. High up in the mountains the weather is completely different. Snow often doesn't melt until July and the temperatures are overall colder than sea level. This environmental difference allows wildflowers to hit their peak bloom in July, August, and September. If you are looking to hike sooner than July you can find my best hike for June here and spring here.
Though it's hard to say exactly when the best time is to find wildflowers, as it shifts slightly from year to year, hiking somewhere in the middle, like August, is usually your best bet. In late September and October, there can be stunning orange and red flowers and leaves along the path too, but that's for a different article.
Of course, be respectful of the flowers and do not walk through them or pick them. Take only pictures. Many of these areas are sensitive and cannot grow with too much human interaction, so we have to be careful around them to ensure they are there for many years to come!
Unfortunately, the North Shore mountains do not have the most wildflower activity, the terrain usually does not support large meadows that grow flowers in abundance. Yes, you can find small patches of wildflowers here and there, but not the breathtaking ones you can find elsewhere. Therefore, this list will largely be focused on areas that are all over an hour's drive away from the city, which includes North to Squamish and Whistler, East to Chilliwack and Manning Park, and South to Mount Baker.
The Best Wildflower Hikes near Vancouver
Best Wildflower Hikes to the North (Squamish and Whistler)
1. Mount Seymour, North Vancouver
I wanted to include at least one North Shore mountain on this list, and even though there are no giant wildflower fields on this hike, this is the place I have probably seen the most wildflowers close to Vancouver.
Mount Seymour is an 8km hike with 600m of elevation gain. There are three peaks you can complete, each with unique views, and if you choose to stop at the first peak you will get great views of the city and the ocean, though if you continue on you will get big mountain views.
This trail has big rounded stones as you start to reach the summit and the wildflowers growing near them is a really beautiful sight in its own right. There are not too many, but keep your eyes open for them during July and August.
2. Garibaldi Lake/Taylor Meadows/Panorama Ridge/Black Tusk, Squamish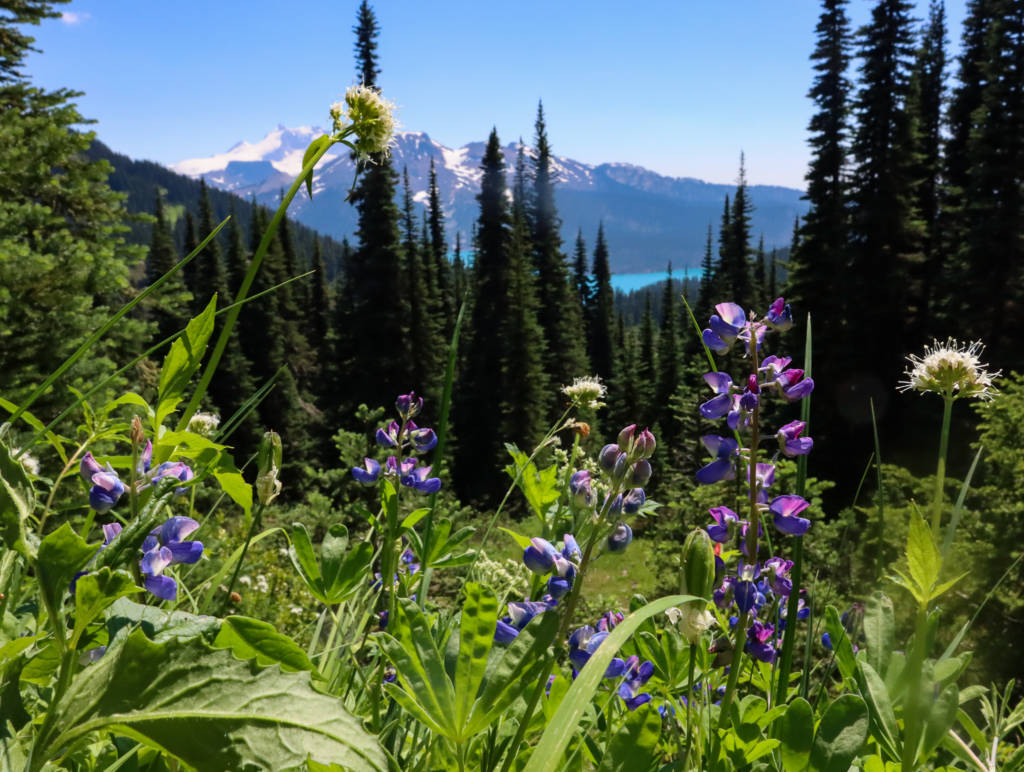 Garibaldi Lake is a 20km trail with 1000m of elevation gain which can be extended to add the trail to Black Tusk, Panorama Ridge, and several other peaks nearby for another added 10 to 14 km and 600m of elevation gain or so depending on which extension you choose. This is a popular hike to do in two days and you can camp at Garibaldi Lake or nearby Taylor Meadows.
If you choose to only do Garibaldi Lake, you can often do this hike snow-free as early as April, but to see wildflowers you should go in July, August, or September. To see the best wildflower meadows you should take the detour to Taylor Meadows and at least start the trail that heads out towards Black Tusk/Panorama Ridge to see the famous large field of flowers and tall grasses. If you are headed to one of the peaks, you will pass through wildflowers no matter what, as long as you go in summer.
3. Brandywine Meadows, Whistler
This 11km trail has 800m of elevation gain and takes you to a beautiful meadow, just as the name implies. The wildflowers usually bloom here in late August/early September, though you can start hiking it in July.
This trail can be rough with slippery rocks, mud, and some steep sections but it is well worth it in the end. You can add another 5km and 600m of elevation gain if you continue past the meadows and summit Brandywine Meadows.
The road to get here is also rough and a 4WD vehicle is recommended.
Of course, stop at the gorgeous Brandywine falls as you are driving home, they are always stunning.
4. High Note Trail, Whistler
This 10.5km trail with 800m of elevation gain is accessed via gondola from Whistler village. The gondola costs $65/per person which makes this quite the expensive hike (considering most hiking is free). If you want to go hiking for more than one day it's worth it to buy a season's pass. The gondola starts in Whistler Village and is a great choice especially for people who are staying in Whistler and do not have a vehicle.
Though I tend to cringe at hikes that I have to pay for, this one is stunning, and the gondola ride is beautiful as well. The High Note Trail goes through many fields of wildflowers in July, August, and September (August is best) and has amazing views around every corner including ones of Cheakamus Lake.
Another great perk about this trail is that it is a point to point so you don't have to backtrack, and you get to take a different gondola down. New views all day long!
Be sure to bring sun protection and bug repellant on this hike as there are many open areas and the mosquitos can be relentless depending on the day.
5. Overlord Trail to Lakeside Loop, Whistler
If you are looking for an easier hike that also leaves from the top of the gondola at Whistler, you can venture out on this 6km trail with only 300m of elevation gain. The Lakeside Loop boasts some beautiful wildflowers that bloom earlier in the season, usually June or July. The same info applies here as the hike above when it comes to the gondola prices and location. Though an easier hike, the trail is still beautiful with mountain views and lakes to explore.
6. Rainbow Lake, Whistler
This hike is 17km long with 850m of elevation gain and brings you to a lake with big beautiful mountain views. The hike along the way is fun with different terrain and views along the way including a waterfall. This hike can be done snow-free starting in July but the best time to see the wildflowers is in August.
If you continue just .5km past the lake you will find a massive field of wildflowers. There are others along the way, but this field is worth the short detour.
This is a well-maintained hike and the trailhead is easily accessible by car. The elevation gain is well spread out so this could be a quicker hike for some but plan to spend some time out there just to take in the sights and explore. Please note that you cannot swim anywhere on this hike as is it is a protected watershed.
Best Wildflower Hikes to the East (Fraser Valley and Manning Park)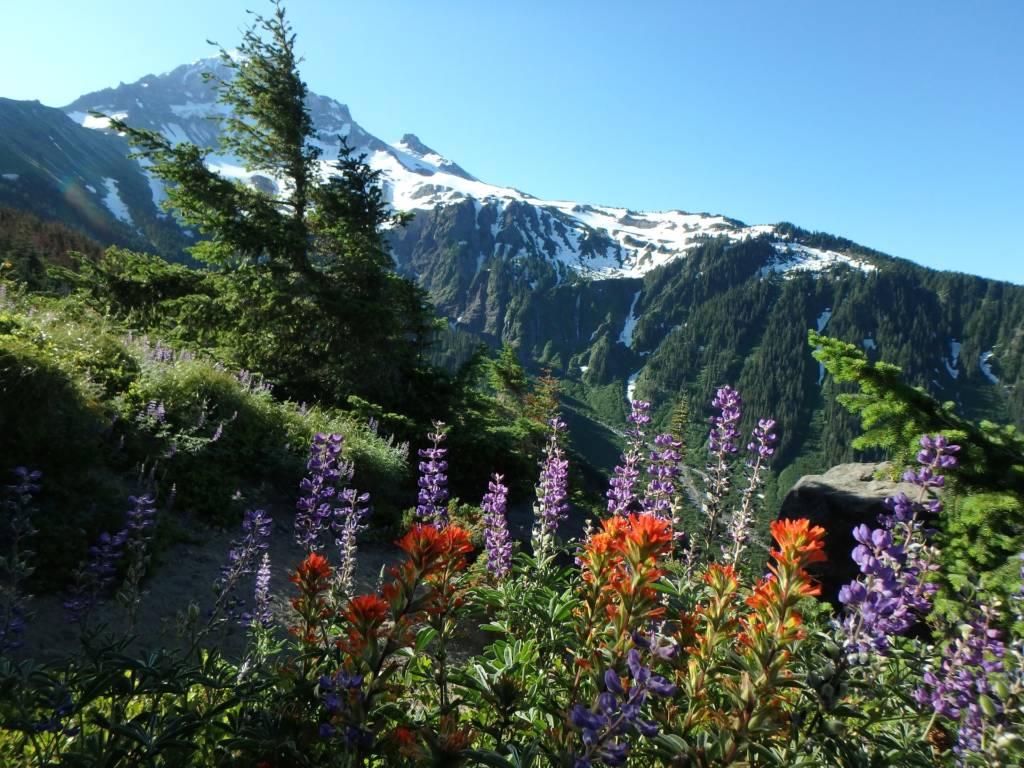 7. Mount Cheam, Chilliwack
Mount Cheam is an 8.5km trail with 700m of elevation gain. For some, this will be a moderate hike and for others, it will be difficult. There are some steep parts and some flat parts but there are stunning views. This is one of the best hikes in the area and has an incredible reward for effort ratio. Find big 360-degree mountain views at the top and more views along the way, making this a thoroughly enjoyable hike.
There are big wildflower meadows along the way that are best seen in August and September, making the hike even more idyllic. July is the earliest you can hike this trail without snow.
This is a very popular hike so be extra careful to leave no trace and to not feed or engage with wildlife. If you can, go on a weekday for a smaller crowd.
Be sure to bring bug repellant and sun protection, as well as an extra layer for the peak, where it can be cold and windy, and you don't want to let being cold distract you from the gorgeous views.
If you are going to this trail please note that driving there is not easy. This old forest road is unmaintained and it requires a 4×4 vehicle to travel on it. Cars are frequently getting wrecked or getting flat tires along this road so please only go in a solid vehicle and take your time.
8. Lady Peak, Chilliwack
Lady Peak is a diversion from the Mount Cheam Hike that I have described above. This hike is shorter, at 7km, but overall harder and steeper with 800m of elevation gain. This trail has the same, if not more incredible, views as Cheam and passes through wildflowers that are best seen in August and September.
Keep an eye out for the trail turn-off as it can be easy to miss. You can do both Cheam and Lady Peak in one day if you are up for a challenge and you can decide which one you like more. Lady Peak is for the more adventurous hiker as it is tougher with more scrambles and rougher terrain.
The same things apply here as they do in my description above of Mount Cheam. Be sure to drive in a 4×4 vehicle, bring sun protection, bug repellant, and warm layers for the peak.
9. Elk Mountain, Chilliwack
This is an 8.5km trail with 850m of elevation gain. Elk Mountain is a challenging trail and it is steep most of the time, making it a great leg burner. This trail is quite popular year-round (snowshoeing in the winter) so arrive early for a parking spot. Come prepared with good bug spray that also deters flies and be aware that the road can be muddy and filled with potholes. Once you get to the trail it is well maintained and easy to follow.
Nearing the end you will find gorgeous wildflowers in bloom in July and August and even into September. There are two peaks, both are beautiful but if you push on to the second you will find stunning 360 views of the surrounding mountains and Mount Baker.
If you are up for it you can add another 6km to the trail if you choose to push on to Mount Thurston for even more views and trail time. If you are up for an even bigger adventure and can organize with two cars, you can keep going along the Gloria Trail which ends on Allan Road for a total of 18km (or do it in the opposite direction).
10. Mount MacFarlane/Pierce Lake, Chilliwack
This is a tough but worthwhile hike at 20km with 1800m of elevation gain to the peak of Mount MacFarlane. If you choose to stop at Upper Pierce Lake as your final destination you shave off about 3km and 300m of elevation gain. I think it's worth it to push yourself to the peak for the incredible 360 views of the surrounding mountain and the Fraser Valley.
The first half of this hike is a grind and I would recommend bringing poles or finding a discarded stick to help you on your way to the lower lake. After the first lake, the trail becomes more enjoyable with varied terrain including wildflowers that are best seen in August and September, though you may catch some in July as well.
Other features on the trail between the two lakes are boulder fields, stream crossings, and a waterfall. Once you reach Upper Pierce Lake you can relax and swim and go home or you can continue upwards towards the Mount MacFarland summit for some stunning views.
11. Skyline Trail, Manning Park
Manning Park is, unfortunately, quite a long drive from Vancouver (over two hours) but it is well worth it. It also makes for a great weekend camping trip and if you live in the Fraser Valley area, Manning Park is easily accessible. Though it is far away it has some of the best flora in the area and has to be put on this list.
There are a few options for Skyline Trail, you can take Skyline 1 and loop back around through Strawberry Flats for a 20km hike with about 800m of elevation gain, or you can continue on to Skyline 2 for a longer hike that can extend for quite a long time depending on what your destination is, and is usually a two-day trek. I would recommend looking at a trail map on Manning Park's website to help you determine which trail combination is best for you.
Be sure to include Skyline 1 in your trail plans as it is a gorgeous trail with beautiful mountain views. The mountains are rough and craggy and standout from the soft forest. The wildflowers typically bloom in July and August and hit their peak in late July.
12. Three Brothers Mountain and Heather Trail, Manning Park
This trail is about 20km long with 850m of elevation gain which allows for backcountry camping if desired. There is potential to do this hike in June but the best wildflowers bloom in July and August. Near the end, the trail gets quite strenuous but it is still achievable for most hikers.
You will be rewarded with beautiful meadows and mountain views, definitely check it out.
13. Poland Lake Trail, Manning Park
This is a 15km hike with 700m of elevation gain which is nicely dispersed so the trail is only moderately difficult. The elevation gain is all within the first 5km and then it flattens out. The end mountain views are stunning and there is a gorgeous lake if you want to go swimming (though it will be cold). You can return along the Memaloose trail if you desire for some different scenery. Backcountry camping is also available.
You can find wildflowers blooming here in July and August.
14. Short Flower Walks in Manning Park
There are several short forest walks that have incredible flower viewing in Manning Park but since they are so short I felt like I couldn't make a post for each one as this is a hiking article and these aren't exactly hiking out into the wilderness. These would be great options for kids and people who are not able to take long hikes, or as a nice detour for someone who wants to see some beautiful flowers.
Rhododendron Flats is a short .5km trail that is, as the name implies, covered in rhododendrons that bloom in mid-June. This is quite a beautiful detour if you are in the area during the right time of the year.
Paintbrush Trail is a 1.5km walk that starts after a drive that takes you into the sub-alpine. This is still a hilly trail so you will get a short workout in. In late May and June, you can see the spring bloom which consists of yellow and white flowers such as avalanche lilies, and then there is a second summer bloom in July and August consisting of the purple and red flowers we are more accustomed to in an alpine meadow.
Rein Orchid is a .5km trail where you can see rein orchids (they are small and do not look like tropical orchids so keep a keen eye out) and other wetland flowers in July. Also, keep an eye out for beaver activity! This walk is on the way to Lightning Lakes Campground so if you are staying there make sure you stop by this little gem.
Viewpoint Trail is the beginning of the Heather Trail above. It is a short walk out to a lookout where you can see a meadow filled with flowers, deer, and even marmots!
15. Three Falls Trail, Manning Park
This is a 9km trail with 300m of elevation gain, and as the name implies it takes you to three falls. This hike has some steep parts so it's not just a walk in the park but still achievable for most hiking skill levels.
Another aptly named part of this hike is that it travels through Strawberry Flats where you can find wild strawberries, as well as other wild berries such as blueberries and blackberries. This area is also, of course, filled with wildflowers. The best time to see flowers and berries is in July and August.
Best Wildflower Hikes to the South (Mount Baker Wilderness)
Mount Baker can be quite the drive (over two hours) depending on what area of Metro Vancouver you live in but it has some of the most stunning wildflowers I have seen. Honestly, you will see wildflowers on almost every hike in the Mount Baker Wilderness in August and usually September and July. I have just listed a few of my favorites here but you can't really go wrong.
I am a huge Mount Baker Wilderness advocate for hiking for anyone willing to cross the border for an epic hike. Another note about Mount Baker is that many of the parking lots require different passes, usually a pass that covers all of Washington State Parks, I always forget and have never bought one and find I can usually park further down the road where it isn't required. Most of these passes are quite cheap so if you remember to pick one up at a ranger station I would recommend you do so, the money goes right back into maintaining the parks.
16. Skyline Divide, Mount Baker Wilderness
This is a classic Mount Baker area hike coming in at 13km with 800m of elevation gain. The first half of the trail is forested and then it opens up to the most beautiful ridge which you continue to follow to a viewpoint. This trail can go on for a very long time if you choose, but stop when you reach a high point. The views of Mount Baker are beautiful.
The wildflowers here are all along the ridge and are in the best bloom in August; however, fall flowers are abundant here as well that can last into October.
The road to get to the trailhead is not fun. There are lots of potholes and you will likely be car sick from swerving and bumping so much, if you are willing to risk it and drive very slow you could probably make it in a 2WD car, though I highly recommend a 4WD vehicle.
If you want a similar trail that is less crowded I would recommend checking out nearby Cougar Divide.
17. Excelsior Pass, Mount Baker Wilderness
This trail is tough, it is 14km with 1100m of elevation gain. The reward is well worth it in the end. Once you break out into the meadows you can see beautiful mountain views all around you and the flowers bloom during August and September to make it extra special. The 360 views are some of the best I have ever seen.
One great part about this trail is that it starts just off Mt. Baker Hwy so there isn't any tough forest road driving. However, of course, you pay that back with more elevation gain.
You can also access Excelsior Peak via Damfino Lakes which is at the end of a long, unmaintained forest road. At least once I have been blocked from accessing this hike due to large fallen trees blocking the road so check recent trail and road reports before trying this less-traveled option.
18. Heliotrope Ridge, Mount Baker Wilderness
This 9.5km trail with 600m of elevation gain is most famous for its massive glacier that you can get up close and personal with but along the way you will pass through meadows of wildflowers and often will catch marmots sunbathing as well. This is a fantastic hike with everything you could ask for. You can continue to trek up past the glacier but I wouldn't recommend it unless you are fully prepared with gear for steep and slippery shale.
The trail is at the end of a long forest road so consider that as well when you are preparing to drive there.
19. Yellow Aster Butte, Mount Baker Wilderness
This is a 14km hike with 850m of elevation gain. The beginning and end of the hike are both tough grinds but the middle is beautiful and serene. There are views all along the way and the end is well worth the last slog uphill that brings to the summit with stunning mountain views all around you.
On the way up you can find flowers growing on either side of the trail, which are bright and colorful in August, and then as fall approaches, there are more flowers in stunning red and orange. The hike is named after a flower so it's hard to go wrong here!
If you want to make this a two day trip there is a small but sweet campsite about halfway up if you want to camp.
Though the road up is rough I would highly recommend taking this trail. An alternative route would be continuing the trail to Tomyhoi, which is equally as beautiful, but longer and harder.
20. Chain Lakes Loop, Mount Baker Wilderness
This 10.5km loop goes up and down between a series of alpine lakes and through meadows of wildflowers with an elevation gain of 600m. This is a stunning hike where you get to explore many lakes and there are big views of Mount Shuksan. For wildflower spotting, I would recommend going in August or September.
A great thing about this trail is that there is no forest road driving! It is paved the majority of the time. Arriving at a hike not car sick always feels good. Be sure to start at Artists Point and go counterclockwise to continue choosing the easier option for your body.
21. Hannegan Peak, Mount Baker Wilderness
This 15.5km trail has nearly 1000m of elevation gain but gives you amazing mountain views, especially of Mount Shuksan.
During July and August, you can find wildflowers along the ridge and wild blueberries as well! Other sights include several stream crossings and a multitude of waterfalls. A stunning hike throughout.
The elevation gain is nice and gradual until the end so though this is a tough hike you shouldn't have to struggle too much with steep slopes until you are nearly summiting.
22. Winchester Mountain Trail, Mount Baker Wilderness
This is the final Mount Baker trail I am going to share on this post though there are many more to explore. This one is easier and shorter than the others though the drive up is long and rough. This trail is only 5km with 400m of elevation gain but it is stunning within that short distance.
The wildflowers are in bloom in August and September and you will also be rewarded with 360-degree mountain and lake views. The hike is stunning throughout and one of the best reward to effort ratios out there. Though, if you include the drive in as part of the effort, the ratio might change a bit… Overall, a stunning hike well worth checking out.
Do you disagree with me that there is a lack of wildflowers in the North Shore Mountains? Do you think there is some important flora dominate hike I forgot on this list? Please let me know in the comments, I would love to check them out and reconsider! Or maybe you tried one of these hikes and was blown away by the beauty, tell me all about it below. Enjoy the wildflowers and happy hiking!
Welcome to Alpine Feeling! My name is Talon, and I am a Vancouver local who loves hiking and all things outdoors. I am here to do my best to provide you with outdoor guides to the Vancouver area and beyond.