People in Vancouver are very outdoorsy but the weather in Vancouver doesn't always seem to support that outdoorsy lifestyle, considering it rains about 50% of the year. The trick is finding the places you can be outdoorsy in the rain and I have complied a list of fantastic places to enjoy the outdoors in bad weather.
The trick to enjoying the outdoors in the rain is simply following the advice of every mother that raised children in cold climates of "there is no such thing as bad weather only bad clothing". So if you want to put on your rain jacket and boots and layer up for the rain, you will be rewarded. There are far fewer people on the trails and the landscape takes on a whole new beauty in the rain.
The hikes listed below are mostly low-level hikes that can usually be done year-round. The lower elevation hikes have better tree coverage and you won't have an obstructed summit view at the end. The viewpoint on these trails is usually water-based like a lake, waterfall, or river which looks pretty in any weather (find the best waterfalls here).
If you are from Vancouver and you haven't already embraced the rain I suggest doing so and enjoying this beautiful part of the world for more than just the three months of summer. I hope these hikes can help the rain lover and the rain skeptic find some new places to enjoy in all weather!
The Best Hikes to do in the Rain Near Vancouver
1. Lighthouse Park, West Vancouver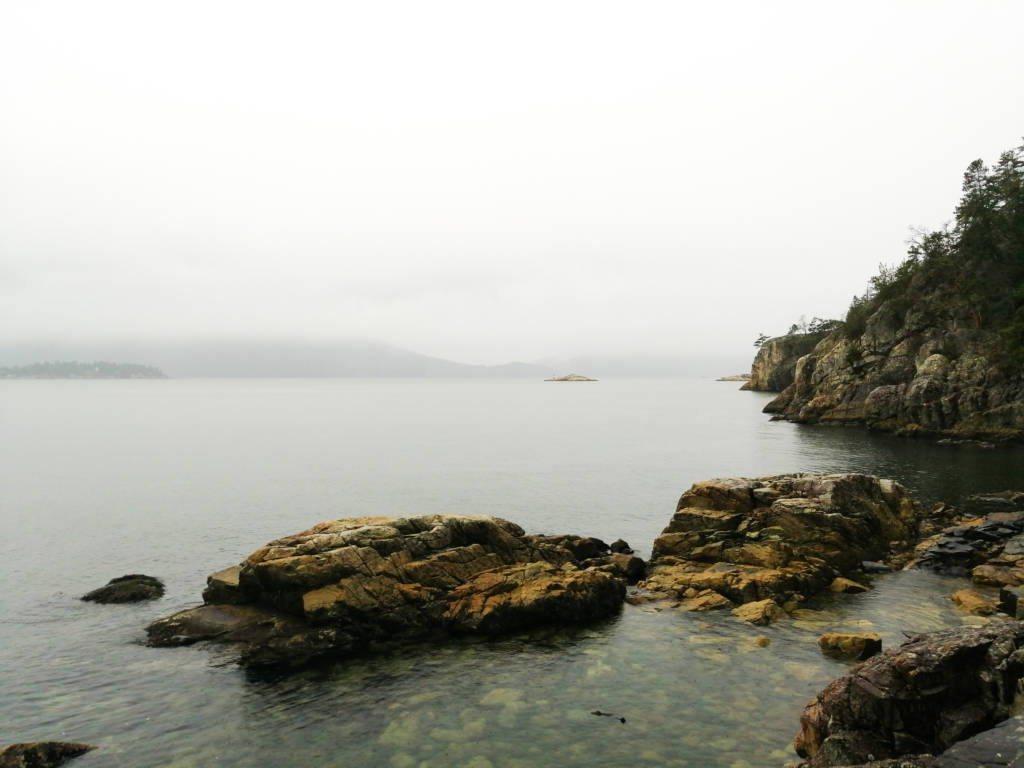 Lighthouse Park is stunning in the rain. The rock formations engulfed in fog and the waves crashing a bit harder than usual with the lighthouse making its presence known in the distance, all makes for some beautiful scenery.
Though the area is largely forested, some of the trails turn into little streams when it rains hard so I would recommend wearing some solid waterproof shoes when you go.
There are many different trails, the biggest loop is about 5km with little elevation gain, but you can do much shorter loops as well. I recommend turning left onto the Salal Loop as soon as you walk through the metal gate and continuing on the Arbutus Trail until you hit the ocean/lighthouse and then following the Shore Pine Trail to the Juniper Loop to the parking lot again. You can read my entire review and guide here.
2. Quarry Rock, Deep Cove
Quarry Rock is a nice short hike at 3.7 km which has a great reward for effort ratio. This hike begins at the cute town of Deep Cove and wanders through the forest, up and down, and over many man-made stairs and bridges that suit the landscape well. Though the trail overall has minimal elevation gain the stairs will still get your heart rate up.
The trail is forested so you will be protected from the rain and the lookout which boasts views of the ocean, Deep Cove, and the city. This view will still be beautiful unless there is extreme fog. This trail is very popular so take great care to leave no trace, and if you go on a rainy day you will be rewarded with a much quieter trail. If you want an alternate route read my full guide here.
3. Capilano Canyon, North Vancouver
Capilano Canyon which is also known as the Capilano River Regional Park or the Cleveland Dam is one of my favorite rainy day walks. This trail area has many different options so it's possible to do anything from a 2km to 8km trail. The views are of the river and the trees, which are more vibrant in the rain. Be sure to wear proper footwear as there can be big puddles on the trails after/during rain.
You can do the classic Capilano Canyon loop, at only 3km or add some walking time by continuing down Capilano Pacific Trail for a 3km detour. There are a lot of intersecting trails and lots of little gems you can find by just wandering around but be sure to keep google maps open so you can find your way back to your car when you are ready to go. You can read my full guide to my favorite Capilano Canyon loops here.
4. Lynn Canyon, North Vancouver
Lynn Canyon is well known for its suspension bridge and plunging waters. The loop around the park is 2.7km with a small elevation gain but plenty of stairs to keep your legs working.
If you want to add some moving time try adding on the Rice Lake Loop (adds about 4km) or the Twin Falls Loop (adds about 5km) to get some more outdoor time.
Any of these trails are mostly forested and you will be rewarded with beautiful greens, plunging river water, and an overall much quieter park than in the summer.
5. NorVan Falls, North Vancouver
NorVan Falls is a 14km trail with minimal elevation gain that will reward you with a towering waterfall. This trail is mostly forested but can get quite muddy after/during rain. There are a few slightly different options to get there, just consult the map at the front of the park and decide which way you prefer.
If you are doing this hike in the winter please note that there is a chance of running into compact snow. The forest is so dense that sometimes the snow will hang around here much longer than in the city because of the lack of sunlight/warmth to melt it. Check recent trail reports before you go to check if about snow.
7. Brothers Creek, North Vancouver
Brothers Creek Loop is a popular trail but I would recommend Blue Gentian and Lost Lake via Brothers Creek Trail which is 8.5km long and has 400m of elevation gain. This option is basically an extension of the original loop. This largely forested trail has some beautiful flora that pops in the rain and leads you to two different lakes.
The lake area can often be snowed in the winter so be prepared with good shoes or microspikes if you choose to make this trip after a big snow. You can also cut over mid-hike and head back down on the loop and skip the lake area if you so choose, which is the best choice in the winter months to avoid snow.
8. Whyte Lake, Horseshoe Bay
Whyte Lake is a 5.5 km hike with about 200m of elevation gain, and is another favorite of mine on a rainy day. This hike quickly plunges you into beautiful trees that are dripping in moss and bright forest greens and you will be engrossed by the beauty of the forest very quickly.
Though the trees provide good shelter be prepared for mud and puddles. The lake at the end has a nice dock and a little trail that leads you to the other side. The dock is exposed to the elements, which on a hot day it's great for a picnic, but on a rainy day it's still worth checking out.
9. Minnekhada Regional Park, Coquitlam
The outside loop at Minnekhada Regional Park in Coquitlam is about 7km long with only 250m of elevation gain. This trail takes you on a short detour to Addington Lookout and High Knoll. This is a nicely forested park in most places which will allow you to gain some protection from the rain as you walk. It is a wetland so look for wildlife and be sure you wear solid waterproof shoes.
10. Jug Island, Belcarra
At Belcarra Regional Park you can find the hike to Jug Island, a 5km out and back trail with 200m elevation gain that leads you out to a little beach with views of the North Shore. The trail is largely forested so it is a great choice on a rainy day, it can get muddy but the first half of the trail is well compact and decent for drainage.
This is a popular hike so coming here on a rainy day will allow you to have a much quieter trail. The beach at the end is mostly exposed but you can nestle in under the trees at the edge of the beach if you want to hang out for a little bit.
Be sure to get directions to Belcarra Picnic Area instead of the Jug Island Trailhead when you are driving there. The trailhead does not have a parking lot and the parking area at the park is blocked off by a fence.
11. Buntzen Lake, Anmore
Buntzen Lake is very popular in the summer, the parking lot is packed by early morning on a sunny weekend and it is difficult to access the lake in any other way. For this reason, I much prefer this hike in the rain or winter. The hike goes around the edge of the lake for 12km with only some small hills to tackle. It's largely forested and the mountains and trees are quite pretty in the fog.
12. Upper Falls via East Canyon/Lower Falls, Golden Ears
There are so many great hikes in Golden Ears Provincial Park and plenty that are low elevation, forested, and don't have mountain top views to be ruined by clouds on a bad weather day. One of my favorite of these hikes is Upper Falls and Lower Falls. These are two separate hikes but also can be made into one.
To get to Upper Falls you walk up a forested hill with a steady incline until you find a medium-sized rock on your left which marks the detour to Upper Falls. This rock is very hard to see so I would recommend downloading a map and following along on GPS (there is little to no cell service out here so be prepared for that).
The side trail to Upper Falls is not well maintained and can become muddy and slippery in the rain but the falls are very beautiful.
Once you get back on the main trail you can follow it up and over a bridge then down the other side of the river. This entire loop is about 10km with 400m of elevation gain.
Another option is taking the well-maintained trail to Lower Falls, which is also beautiful, and the trail is mostly forested but does have some exposed spots. Once you reach these falls you can just turn back and go to your car or look very closely for another badly marked trail that will be muddy and slippery in the rain that cuts across to the trail that leads to Upper Falls. Ideally, in the rain, these should probably be two separate hikes because of the loose mud.
Another note is that if you are going to Golden Ears in the winter it can get snow and if it snows a lot, the park will simply remain closed and they will not plow roads. It can snow more in Golden Ears than in the city so check online before heading out.
13. Teapot Hill, Cultus Lake
This one is kind of far out from the city but it is too cute not to include. A quick 6km, 300m elevation gain hike on the southeast side of Cultus Lake will take you into an enchanting forest filled with teapots! It's mostly forested and it's a fun hike for kids and adults with child-like wonder! I remember being extra enthralled with the forest in the rain when I was a kid, it was always a bit more alluring, and you will find some magic on this trail.
Don't let the rain in Vancouver get you down, and remember there are always good ways to explore the outdoors in any weather! I hope you enjoy some of these trails, let me know in the comments if you try any of them out and if you have any new trails for me to try in the rain! Happy hiking!
Welcome to Alpine Feeling! My name is Talon, and I am a Vancouver local who loves hiking and all things outdoors. I am here to do my best to provide you with outdoor guides to the Vancouver area and beyond.