Do you ever look at people's Instagram photos and wonder where they took that photo with the stunning view? Well, most of these hikes are well known and I have made a list of them here so you can find your insta-worthy view.
Most of these hikes are well worth it, even though they are busy, and if you are new to Vancouver I would recommend doing all of these hikes at least once, if not just for the ability to chat about them whenever they come up in conversation.
I have not arranged these hikes in the order of most iconic, but by which ones are closest to furthest from Vancouver.
The Most Iconic Hikes near Vancouver
1. Quarry Rock, Deep Cove
This is a short hike that starts at the charming town of Deep Cove in eastern North Vancouver. This hike is only 3.7 km long with some hills and stairs to conquer making this a decent workout but still a fairly easy hike.
The trail will lead you to a beautiful rock outcropping with views of Deep Cove, the ocean, and Vancouver. Everyone will be taking lots of pictures. There are some alternative options to get to Quarry Rock if you want a longer or quieter journey that you can read about here.
2. The Grouse Grind, North Vancouver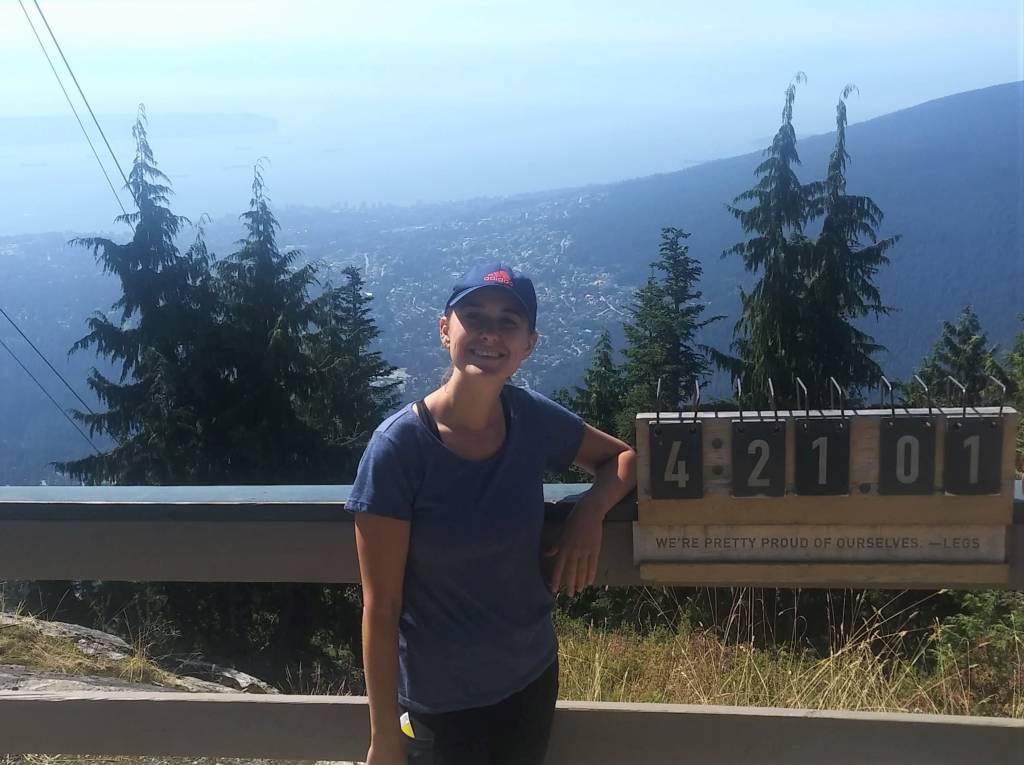 This trail is famous, but I cannot bring myself to call it a hike, it is more of a fitness challenge. This trail takes you directly up the side of Grouse Mountain via many sets of stairs. You will gain 800m of elevation gain in just under 2km of distance.
They do not allow you to take The Grind back down because there are too many people. You can either buy a downloading ticket on the Grouse Gondola or take the neighboring trail the BCMC down, which is just as steep but has fewer people on it.
Once you reach the top you will be at Grouse Mountain Resort where you can grab a refreshment or explore some of the mountain top activities.
There are challenges here every year to see the fastest time and the number of times a person can do The Grind in a day and the Canucks even sometimes come here to workout! Nevertheless, it is iconic and you have to do it so you can at least complain about it later.
3. Lynn Canyon, North Vancouver
Lynn Canyon is famous for its suspension bridge. It is the free option for those not wanting to pay the $60 to get into Capilano Suspension Bridge. The loop is only 3km long with some stairs and hills but overall fairly easy.
There is also a beautiful river gushing through the middle of this park that is clear and blue and supplies a few waterfalls. This is a great park to check out in the rain, it is just as beautiful and there are far fewer people!
4. NorVan Falls, North Vancouver
These plummeting falls are worth the 14km walk. You will likely have seen this trail on Instagram and Vancouver blogs. The trail is long but has minimal elevation gain and is best done in the summer.
This hike is also stunning in the rain and largely covered so if you aren't bothered by a little mud, this is a great bad-weather day hike to avoid the crowds.
5. St Marks Summit, West Vancouver
I see this hike on social media so often! This is a 10.5 km hike with 600m of elevation gain and it is only ranked as moderate, making this hike possible for a lot of people. There are steep sections, muddy sections, flat sections, stairs, all sorts of terrain but the variedness of it makes it more fun. The trail leads you to a cliff with sweeping views of Howe Sound and the surrounding islands.
This trail is very popular and only accessible in the summer (please do not try to go in the snow, it is dangerous) and it will be busy so do your best to be respectful to nature and be friendly to others on the trail.
If you want to extend this hike you can continue on to Unnecessary Mountain, where the views are just as good but there will be considerably fewer people (this addition adds 5km and 500m of elevation gain making it challenging).
6. Eagleridge Bluffs, West Vancouver
This trail isn't quite as iconic as its fellow Cypress Mountain trail Saint Marks Summit but it is still quite popular and leads to very photogenic views of the city and the ocean.
This trail is 8km long with 450m of elevation gain. Please note that this trail takes you up Black Mountain, then takes you back down the other side of it, so you will be making an ascent on your way home (make sure you save some energy for this part).
You can also do this hike in the winter as a snowshoe trail.
7. Tunnel Bluffs, Lions Bay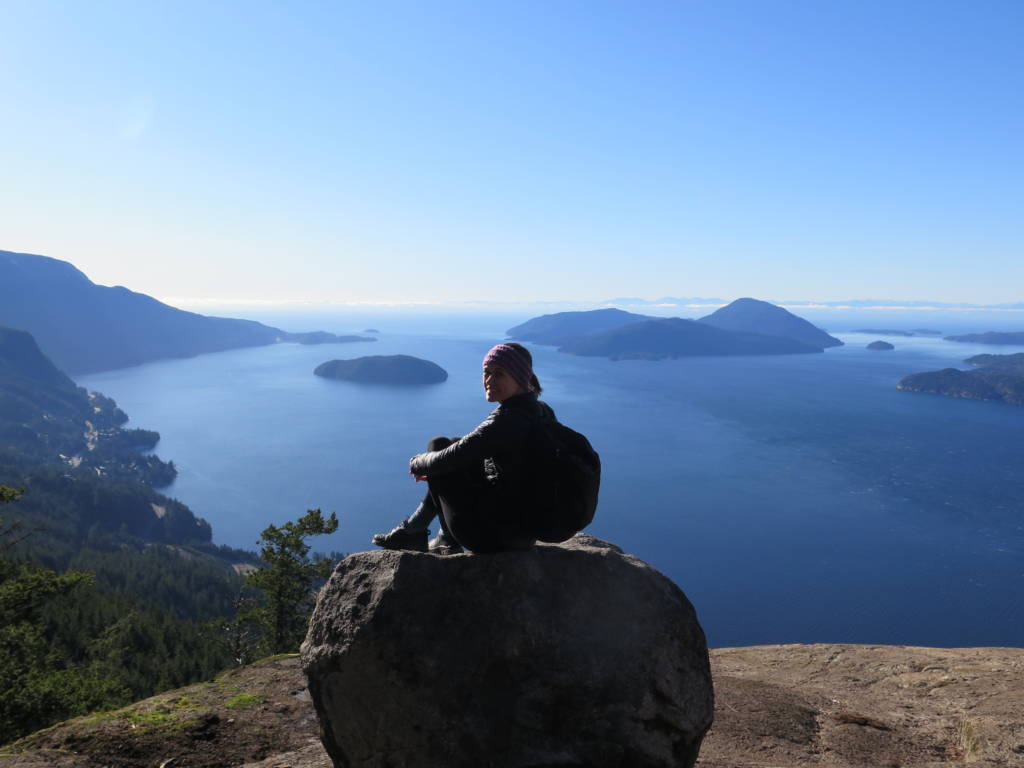 This is another hike with stunning views of the Howe Sound and the surrounding islands. This hike has recently been modified so that it is a bit longer at 11km, with 500m of elevation gain, all of which is gained in the first 2km. The elevation is more gradual than the steeper climb of the old trail, making it easier, in my opinion.
This trail now starts at the Magnesia Creek trailhead in Lions Bay (if there is no parking at the trailhead you can park at the elementary school and take the short connector trail at the east end of the parking lot to the main trail).
Tunnel Bluffs is a great spot to hang out during a sunny afternoon on the big rock outcropping and is a beautiful place to watch the sunset (but be sure to come prepared with headlamps if you plan on staying after dark).
It is possible to do this hike year-round but when the weather is freezing the path will turn to ice and then there will be lots of mud after it melts.
8. The Lions, Lions Bay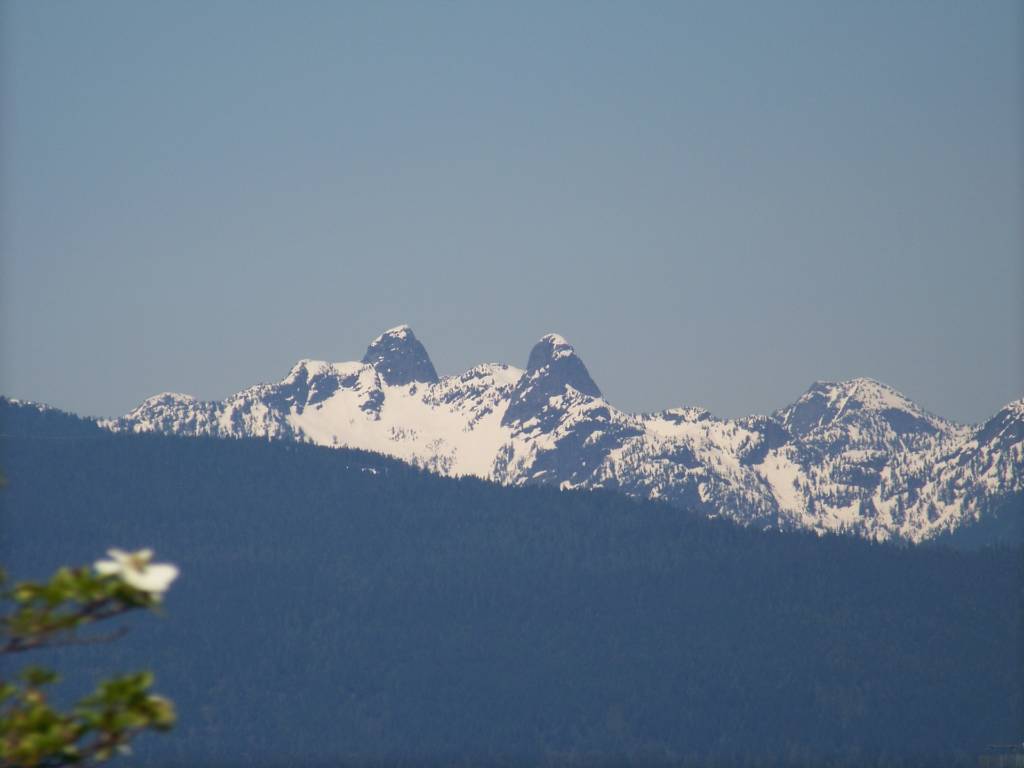 This is not exactly an iconic hike because it is very difficult so most people do not attempt it, but it is a very iconic part of the Vancouver mountains skyline. The twin peaks always stick out and make me want to get up into the mountains ASAP.
If you are up for this challenging trail it is stunning and you will have full views of the mountains around you. The trail starting from Lions bay is 15km long with 1400m of elevation gain and is only accessible in the summer.
If you want to see the Lions from a vantage point I would try nearby Mount Harvey or Mount Brunswick, both of which are equally as difficult.
9. The Stawamus Chief, Squamish
This hike is kind of like the Grouse Grind's big brother. It is steep and has lots of stairs to conquer but in my opinion, it is so much more worth it.
This trail is up to 6km long with up to 800m of elevation gain if you choose to do all three peaks. If you choose just to do one peak the difficulty will be reduced somewhat.
At the top of this giant rock, you will find incredible views overlooking the town of Squamish, the Howe Sound, and mountain ranges all around you. This is a very popular hike but well worth it.
The Cheif can be done year-round but ultimately should be done in the summer as winter conditions can be variable and dangerous.
10. Garibaldi Lake, Squamish
Like The Lions, this hike is only accessible to those with a good level of fitness but the photos of this place are absolutely iconic and there are a plethora of them online.
The hike to the lake itself is 20km with 1000m of elevation gain which can be achieved by moderate hikers, however, the hikes beyond this such as Black Tusk and Panorama Ridge are tougher and usually are done in two days after camping at Garibaldi Lake for the night. If you choose to do one of these hikes in a single day you are looking at about 30 km with 1600m of elevation gain in one day, plan to be out all day long. 
If you do these hikes you will be rewarded with stunning mountain views and the blueness of Garibaldi Lake is even more stunning from above.
11. Joffre Lakes, Pemberton
Joffre Lakes is quite far away, about a 2.5 hour drive from Vancouver, just outside of Pemberton. This hike is so incredibly iconic so it has to be included on this list. There are a series of three lakes that are the most incredible blue color, I can almost guarantee you have seen a photo of these lakes online at some point.
Another reason that this hike is so iconic is because it is relatively easy at 8km with 500m of elevation gain, and it's far less than that if you choose to only go to the first or second lake instead of seeing them all.
Please note that at the time of writing (March 2021) Joffre Lakes is closed for the rehabilitation of the natural habitat, please check to see the opening status before you go.
Let me know if you have done any of these iconic hikes or if you think I am missing an important one in the comments. Happy hiking!
Welcome to Alpine Feeling! My name is Talon, and I am a Vancouver local who loves hiking and all things outdoors. I am here to do my best to provide you with outdoor guides to the Vancouver area and beyond.