There are so many fantastic hikes near Vancouver for the beginner hiker, the hiker who is trying to ease into the hiking season, the hiker that just wants a short hike, the hiker with kids, or the hiker whose body may no longer allow them to go on long hikes. Easy hikes are for everybody and there are some really worthwhile ones in the Vancouver area.
If you are looking for the next step up and are interested in moderate hikes near Vancouver you can find them here.
Easy/Beginner Hikes Near Vancouver
1. Lighthouse Park, West Vancouver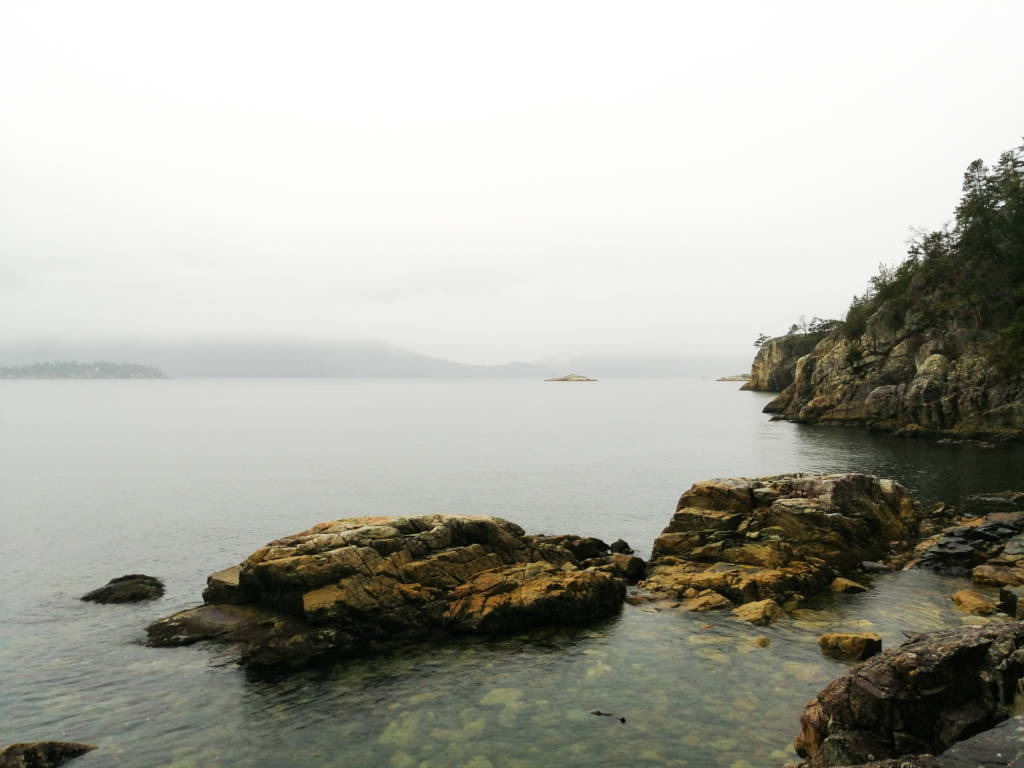 Lighthouse Park is such a great little trip outside of the city. There are up to 6km of hiking trails; there are some hills but it is easy to choose trails that are on the flatter side. You can find some stunning views of the ocean, islands, and Vancouver, as well as the very photogenic lighthouse.
These trails are available year-round and are great in any weather (though it can get muddy in the rain). This park is also accessible by bus! Find my full guide here.
2. Capilano Canyon, North Vancouver
Capilano River Park is definitely an underrated gem in North Vancouver. The longest loop is about 8km long but there are a multitude of trails so you can choose whichever length is best for you. There are some stairs but nothing that is too challenging.
I love going here in the rain to see the green forest light up and the river and dam rushing through the canyon (though be prepared for mud). Check out this park year-round and in any weather. You can also get to this park by bus. Find my full guide here.
3. Lynn Canyon, North Vancouver
This park is famous for its suspension bridge but it also has a beautiful river with stunning blue pools and waterfalls. The main loop is only about 3km long and is fairly easy even though it has several sets of stairs. If you are looking for an easy extension, adding on the Rice Lake Loop is a good choice.
I love this park in the rain because the crowd thins out and there is good tree cover, it's also accessible year-round. There is a bus that will drop you off nearby as well.
4. Bowen Lookout, West Vancouver
This is a great little 4.5 km hike that starts at Cypress Mountain. The slope is nice and gradual and only ends up being about 150m of elevation gain. The views at the end are of the city, the ocean, and the islands on a clear day.
This hike can either be done in the summer, or in the winter as a snowshoe trail. You will go through an interpretive forest past Yew Lake so keep an eye out for interesting flora and fauna. For a harder hike you can continue on to St. Marks Summit.
5. Cypress Falls, West Vancouver
This short 3 km hike has some hills but leads you to a great waterfall. Be sure to make your way to the upper falls for the really great view. The trail can be confusing in that area so be sure to download a map before you go. You can do this hike year-round and in any weather, though be sure to wear proper footwear if you go in the rain.
6. Whyte Lake, Horseshoe Bay
This is a 5km trail with 200m of elevation gain. There is a gradual slope all the way up to the lake so this hike may be considered more moderate for some people but you will reach the lake sooner than you expect and the forest along the way is stunningly lush and green. This is a great year-round and all-weather hike, though it will be muddy after a rain.
You can do a connector hike to Cypress Falls if you want to make the day a bit longer, but this section of the trail is a bit boring.
7. Mystery Lake, North Vancouver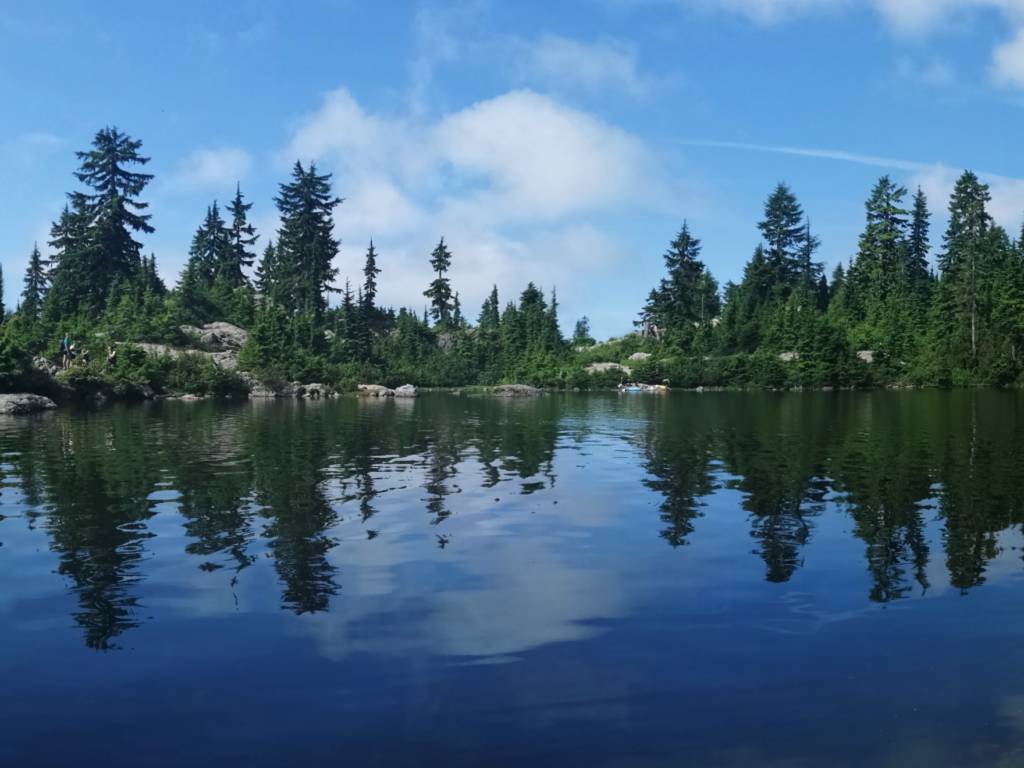 Mystery Lake is a gorgeous little lake at Mount Seymour. The trail to get there is only 2.5km round trip and most of the trail to get there is wide and well maintained with a gradual slope. This is a great place to bring a floaty and picnic to and spend the day swimming.
You can hike up to Mystery Peak as well if you want a little extra exercise, though the lake will be the highlight.
This hike is only accessible in the summer.
8. Dog Mountain, North Vancouver
Another sweet little hike at Mount Seymour that is a bit under 6km long. Though this hike heads out straight from the parking lot to the viewpoint this trail still has lots of little hills that will keep your legs working. You will find views of the city, the ocean, and the islands.
This trail can be done in the summer and is also a very popular snowshoe trail in the winter. Its a great beginners snowshoe trail but it is often very tracked out so you only need microspikes.
9. Quarry Rock, Deep Cove
This is a gorgeous and famous hike that starts at the sweet town of Deep Cove in the furthest eastern part of North Vancouver. The trail is short, coming in at a bit under 4km, and though there isn't much elevation gain there are a lot of stairs to conquer.
The viewpoint is a large rock outcropping where you will have beautiful views of the town of Deep Cove and the ocean. This is a great year-round hike and is accessible by bus. There are several extensions of this hike which you can read about in my full guide here.
10. Sasamat Lake, Belcarra
This is a short 3.2km hike with almost no elevation gain. This walk takes you around the edge of Sasamat Lake and over a floating bridge. You can find views of the mountains and little secret beaches as you walk around the area. This hike is accessible year round and is beautiful in the rain.
11. Jug Island, Belcarra
This 5km hike has about 200m of elevation gain but there are lots of flat sections and it doesn't feel too tough as you are on this walk. You end at a small beach and find the view of Jug Island and the mountains behind. It's a great spot to spend an hour or so with a hot coffee or a book and relax if it isn't too busy (which it can be on the weekend).
This is a great year-round all-season hike and it is accessible by bus!
12. Minnekhada Park, Coquitlam
This is a great park with many different trails, the longest loop being about 7km long but there is little elevation gain, unless you are making a short push to a lookout. Choose whichever trail you desire but be sure to get up to High Knoll for a nice view. These trails are accessible year round.
13. Lower Falls, Maple Ridge
This is a great wide open and well-maintained hike that is 5.5 km long that is largely flat in Golden Ears Provincial Park. At the end of the trail, you will find two viewpoints for a gorgeous waterfall and pool that is clear blue and is popular for swimming and cliff jumping on a warm summer day. There are also several spots you can stop along the hike and hang out by the river for the day.
This hike can be done year-round but is special on a sunny summer day.
14. Lindeman Lake, Chilliwack
This 3.5 km trail has 250m of elevation gain and though it's short it can be steep and rocky in places but you will be rewarded by a gorgeous blue lake. The lake is cold but still fun to swim in the summer months. You can do this trail year-round but it gets muddy and slippery in the rain.
15. Teapot Hill, Cultus Lake
This is a fun and adorable hike that is about 5km long with a bit less than 300m of elevation gain. The hike does take you uphill most of the way so it's a bit of a workout but you will be distracted by the hundreds of teapots set up throughout the forest. It is a magical little spot that is definitely worth checking out if you are in the area. It is great year-round and in all weather.
Bonus: Parks
Parks can be a great place to immerse yourself in nature and get out for a walk that isn't too hard.
Stanley Park – I cannot leave this classic off this list. The entire walk around Stanley Park is about 9km long but is completely flat. There are lots of other trails around Stanley Park to check out as well.
Pacific Spirit Regional Park – This is a great park near UBC with a multitude of trails that go through the forest and along the beach. Most of the trails are flat and are all well worth checking out.
Burnaby Lake – The perimeter of Burnaby Lake is about 10km long but it is flat all the way around and a nice easy and pretty walk for a sunny day.
Burnaby Mountain – These trails can be steep but are also short and most of them lead you to a great lookout on Burnaby Mountain.
Let me know if you tried any of these hikes or if you think I missed an easy hike that should be on this list. Find more hikes ranked by difficulty here if you need something more advanced. Happy hiking!
Welcome to Alpine Feeling! My name is Talon, and I am a Vancouver local who loves hiking and all things outdoors. I am here to do my best to provide you with outdoor guides to the Vancouver area and beyond.