There are so many amazing hikes near Vancouver that could fit into the "moderate" category and they have such a wide range, some are steep but short, others are long and flat. There are hikes to waterfalls and hikes to mountain peaks, some that can be done year round and some that can only be done in the height of summer.
Normally I organize my hikes by how far away they are from Vancouver, but in this instance I have attempted to organize them from "easy moderate" to "challenging moderate", but this is very subjective based on what each person's body is comfortable with. I hope this helps you find the best hike for you!
If you are looking for easy hikes near Vancouver you can find them here.
Moderate Hikes near Vancouver
(Organized easier to harder)
1. Jug Island, Belcarra
This Belcarra hike is a sweet 5km with 200m of elevation gain that leads you to a small beach with a view of the mountains and the tiny Jug Island in front of you. The trail is well maintained and easy to follow and great to do year round and in any weather.
Be sure to park at the Belcarra Picnic area (paid parking will be in effect as of March 2021) or take the bus straight to the trailhead.
2. Whyte Lake, Horseshoe Bay
This hike teeters in between easy and moderate at 5km with 200m of elevation gain. You are climbing almost the entire time which can be tiring for some but it's never too steep and the forest you walk through is stunning.
The trees are covered in bright green moss and the river flowing next to you makes it extra magical. The final destination is a small lake with a dock that is a great spot for a picnic. You can extend the hike to Cypress Falls if you feel inclined by the connector trail isn't quite as pretty.
This is one of my favorite year-round, snow-free hikes.
3. Buntzen Lake, Anmore
This is a nice, mostly flat, hike around the edge of Buntzen Lake that totals at about 10.5km in length. The lake is beautiful and this hike is well worth your time. There are some small hills but it is the length that makes this hike moderate instead of easy.
This lake is very popular in the summer and the parking lot fills up very quickly on a sunny summer day, that's why this is one of my favorite hikes to do in the winter and it is beautiful in the rain as well.
4. NorVan Falls, North Vancouver
This 14km trail is mostly flat but its length will tire you out so it's still considered moderate. The trail will lead you through the forest and beside a river and deposit you at a tall stunning waterfall.
The rocks are slippery to be careful but find a good spot to sit and take it all in for a few minutes before heading back.
This trail can be done year-round but the trail can be icy and have residual snow so take caution and bring proper gear if you choose to go in the winter. The ultimate time to go for me is a rainy day between April and October.
5. Lost Lake, Blue Gentian, and Brothers Creek, West Vancouver
I personally believe this one is on the easier side of moderate but you are travelling uphill almost the entire time so it can still be tiring. This hike is 8.5km long with 400m of elevation gain and will lead you to two lakes and two waterfalls.
Keep an eye out for the waterfall near the top of the trail on the west side of the river, it is kind of hidden, and the other one is on the Baden Powell section of the trail near the bottom which is hard to miss.
You can do this hike in the winter as well but you will have to cut out the lakes and turn back early.
6. Kennedy Falls, North Vancouver
Kennedy Falls is a 12km trail with 500m of elevation gain. The trail is very varied and the elevation gain comes through many hills and gullies. You will find yourself crossing multiple streams, using ropes to get down steep parts, climbing some small stairs and much more to reach your destination of a beautiful fanning waterfall. This hike definitely takes some energy to complete.
Stay left at the big cedar after admiring its height. Please note that the parking lot at Mount Fromme has a three hour limit and this hike takes closer to four hours. You can either risk it or park further downhill in the nearby neighborhood.
7. Eagleridge Bluffs and Cabin Lake, West Vancouver
This 8km trail has about 450m of elevation gain, the first 2km are quite steep and I always tend to wonder when they are going to be over but once you near the top of Black Mountain the trail will level out and you will be able to stop and take in Cabin Lake which is great for swimming in the summer if you are keen!
The trail will then start to slope downwards again as you make your way to Eagle Bluffs where you will find a large rock outcropping with massive views of Vancouver and the surrounding ocean. It's a great spot to sit and relax or explore for awhile.
On your way back you will have to climb that slope you went down to reach the bluffs to get back to the top of Black Mountain, then it's all downhill from there back to the Cypress Mountain parking lot.
This hike can be done as a snowshoe trail in the winter, though it is partially unmarked, I would not recommend going on this trail during shoulder season (fall and spring).
8. Alder Flats, Maple Ridge
This trail is the first half of the trail to the Golden Ears summit. After walking along this trail to the camping area the trail turns upwards and becomes steep and challenging, but the Alder Flats trail is, as the name implies, mostly flat and easier at 11.5km and 400m of elevation gain and stops before that uphill turn.
The valley is beautiful and full of flora. This trail can be done year-round as well.
9. Pinecone Burke Provincial Park, Coquitlam
There are a series of hikes at this park in Coquitlam that can work up a good sweat. The most popular of these is probably Crystal Falls, the trail has recently been changed, read more about it here (scroll to #9).
The upper trails can have snow on them in the winter to take care if you are going hiking here during the cold months. It is a great local escape if you live in the area.
10. East Canyon and Upper Falls Loop, Maple Ridge
The Upper Falls in Golden Ears Provincial Falls are some of my favorite falls in the Vancouver area. The crystal clear water plummets over rocks that have been smoothed and molded by the water over time and these are much less busy than their popular neighbor Lower Falls.
You can go to the falls and then turn back or you can do the loop that goes through the canyon for some extra scenic hiking at 10.5km with 400m of elevation gain.
To get to the falls it is a short detour off of the trail, keep an eye on your map and a very keen eye out for trail markers to find the turn off, it is not easily noticed. The trail to the falls is not very well maintained so be prepared to climb over rocks and fallen trees and down mini cliffs to get there. It is all worth it in the end.
On the way back get on the main trail and continue to the loop, which is all a nice gradual slope and mostly well marked and maintained.
Pro tip: get to the falls in the morning for the most sunlight.
11. Lindeman and Greendrop Lake, Chilliwack
Some people would say that the hike just to Lindeman Lake is of moderate difficulty since it is uphill and a little challenging navigating the rocky ground at times, but overall it is quite short, to make it a moderate hike I would add on the next lake which is Greendrop Lake. This trail with both lakes is 14km long with 500m of elevation gain.
The lakes are beautifully colored and the first lake is very popular for sightseeing and swimming in the summer. Greendrop Lake is quieter and has a campsite if you want to make this a two-day excursion. 
Lindeman Lake is usually snow-free year-round but the trail afterward has snow in the winter, I wouldn't recommend going to Greendrop until April and be aware that the large rock fields will be slippery in the rain.
To make this a challenging hike you can continue even further to Flora Lake and Flora Peak in the summer, but be prepared to spend all day doing this loop.
12. Swan Falls, Anmore
This trail starts at Buntzen Lake and takes the trail along the edge of the lake but takes a detour at the far end towards Swan Falls. The trail turns suddenly upwards and becomes steep and rocky but only for a short while before arriving at Swan Falls. The falls are a nice reward and you will find them to be much less busy than the rest of the Buntzen Lake trail.
This trail is 9.5km with 300m of elevation gain.
Though the trail is usually snow-free the rocks can be slippery in the rain and cold so I would recommend doing this trail on a nice day; however, be aware that the Buntzen Lake parking lot can fill up quickly on a summer weekend.
13. Tunnel Bluffs, Lions Bay
The Tunnel Bluffs trail has recently changed and though it is now longer, I would consider it more moderate than before. The trail now starts from Magnesia Creek in Lions Bay (if the parking lot is full you can park at the elementary school and take the short connector trail to the main trail).
The trail from here is 11km long with 500m of elevation gain. Most of the elevation gain is conquered within the first 2km then it flattens out and you can enjoy the jaunt through the woods to the big rock outcropping that showcases sweeping views of the Howe Sound, the islands, and big mountains.
This hike can be done year-round but if it has snowed recently or there has been a cold snap the trail may turn to ice, then after it melts the trail will be pure mud for a little while. Consider recent weather and check trail reports before you go during the cold season.
14. Goat Mountain, North Vancouver
This trail is moderate if you choose to take (and pay for) the gondola to the top of Grouse Mountain and take the 7km trail with 400m of elevation gain from there. The trail still has steep parts, especially near the summit, but overall is much easier than if you choose to do the hike from the base of the mountain where you will have to add on the very steep Grouse Grind or the BCMC on either end of the trail making it a total of 12km with 1200m of elevation gain. This version is definitely challenging.
The view from the top of Goat Mountain is well worth it with 360 mountain views and a tiny Vancouver skyline in the distance.
Be sure to download a map before you go because there are a lot of intersecting trails that are not very clearly marked.
This trail can only be done in the summer.
15. Diez Vistas, Anmore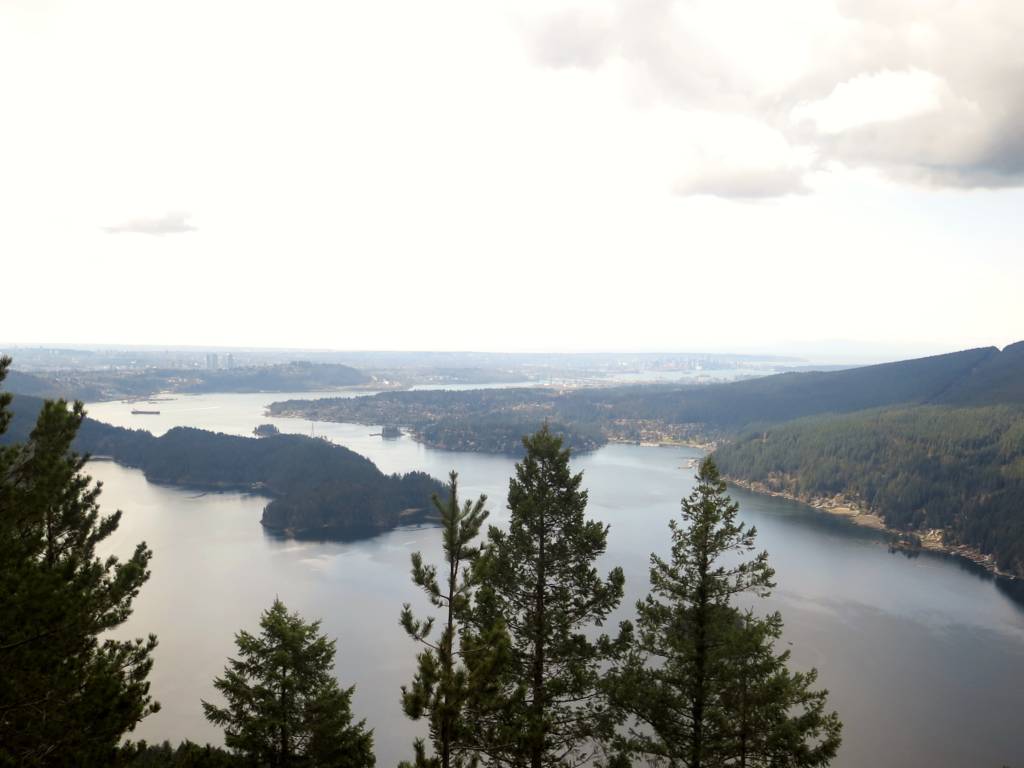 This hike takes you above Buntzen Lake along the west ridge and gives you beautiful views of the water and city. The hike is 13km long with 650m of elevation gain and is on the more challenging side of moderate with plenty of hills but also plenty of flat parts.
It is also possible to shorten this hike by making it an out and back rather than a loop. Simply take the trail to the left and head straight up to the first lookout then return.
This hike is best done starting in April, during the winter there can be ice and snow and if it has melted the trail will be quite muddy.
Buntzen Lake is very popular in the summer and the parking lot fills up quickly on a nice summer weekend so either arrive early or go on a weekday in the shoulder season for the best chance at getting a parking spot. Be sure to go on a clear day so you can get all of the best views.
16. Mount Gardner, Bowen Island
Mount Garnder is on Bowen Island, and though you have to take a ferry to get there from the mainland, the travel time is only about an hour, which is often less time than it takes to get to a hike in Squamish (read more about getting to Bowen Island and things to do there here).
If you walk across the ferry and start from the terminal like most mainlanders would do the hike is 16km long with 800m of elevation gain that is gained gradually so it isn't too difficult.
The best part about Mount Gardner is that it rarely gets snow so this is one of the few mountain summits near Vancouver that you can do year-round. At the top, you will find beautiful views of the surrounding islands and the ocean, and even Vancouver in the distance.
17. Hollyburn Peak, West Vancouver
This 9km trail has 450m of elevation gain, which is largely gained shortly before the summit with a very steep section. The first half of the trail has a nice gradual slope which turns steeply upwards just as you are thinking you must be nearly there.
It's all worth it with the big views of surrounding mountains and the city skyline to take in.
This is also a great place to go snowshoeing (or take microspikes) in the winter.
18. St. Marks Summit, West Vancouver
This is one of Vancouver's most iconic hikes with a staggering cliff and sweeping views of the ocean and islands at the end. This hike is also popular because it is only a moderate difficulty rating at 10.5km in length with 600m of elevation gain. The terrain is varied and there are plenty of steep parts but also flat parts, bridges, gorgeous forest, and views along the way (Bowen Lookout is a nice short detour).
If you are interested in a more challenging hike or want to avoid the crowds you can continue on to Unnecessary Mountain, adding another 5km and 500m of elevation gain.
Since this is such a popular trail be extra careful to Leave No Trace and be respectful of nature and your fellow hikers. This hike is best completed in the height of summer when there is no snow, it can be dangerous in the winter.
19. The Stawamus Chief, Squamish
People may argue with the fact that I have put The Chief in the moderate category rather than the challenging category but I stand by it. This trail is very well maintained and is largely made up of stairs but can be done by most people.
There are three peaks and if you want to go to all three the trail is 6km long with 800m of elevation gain, if you only want to do one peak (which is just as nice) then this number reduces.
This is absolutely a glute burner but the views at the top are of Howe Sound and the surrounding mountains and the way up is definitely an adventure. There is a reason this is one of Vancouver's most popular and famous hikes in the area.
This hike can be done year-round but just be sure to check the weather and webcams before you go to ensure there will not be snow or ice at the top.
20. Elfin Lakes, Squamish
This hike is long at 20km with 800m of elevation gain, but the slope is gradual and well spread out so it doesn't feel too exhausting and can be done in a half-day. This is a great hike to do for people who are ready to start moving into challenging hikes and need an in-between hike to test their stamina. Plus, it is beautiful!
At the end you will find several small lakes, all with different purposes (one for swimming, one for drinking), a campsite, a shelter, and beautiful mountain views all around.
Most of the elevation gain is in the first 5km on a well-maintained wide trail that is forested, then pops you out onto a ridge on which you travel the rest of the way to the lakes.
This is also a beautiful place to go snowshoeing in the winter or you can continue on to Mamaquan Lakes if you want to make this into a two-day excursion.
21. Watersprite Lake, Squamish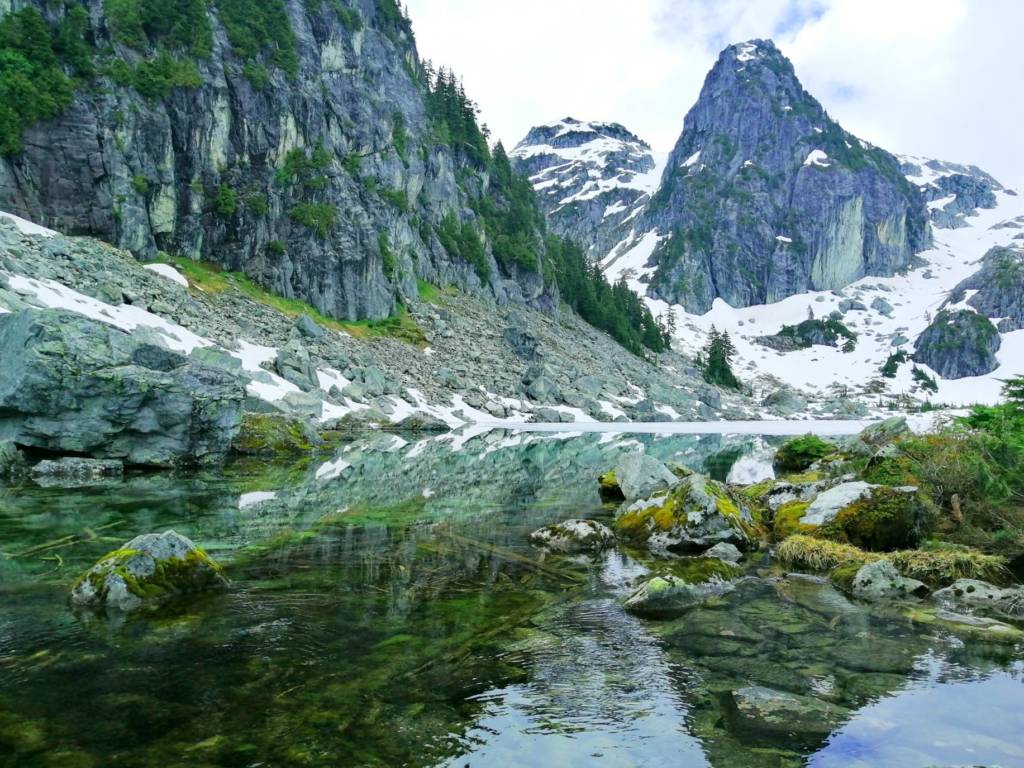 This is a stunning hike that I liken in difficulty to Elfin Lakes above. The hike is about 20km with just under 800m of elevation gain which is all gained on a rather gradual slope, making this a good transitionary hike from moderate to challenging.
At the end of the trail, you will find a stunning lake which is popular for a cold plunge in the summer as well as stunning mountain views, a campsite, and a small shelter.
This hike is largely snow free by May but be prepared to still find some snow and mud near the end.
Please note that the road to this trailhead is dismal. The dirt road will take significant time and stomach strength even in a 4×4 vehicle and shouldn't be attempted in a small car.
Conclusion
Get out and enjoy some of these moderate hikes, because they are always enjoyable! Getting to go somewhere beautiful in nature that doesn't leave you with jello-legs and a shirt that is 90% sweat is always a win in my book. Let me know if this list helped you at all or if you have any feedback for me in the comments. Happy hiking!
Welcome to Alpine Feeling! My name is Talon, and I am a Vancouver local who loves hiking and all things outdoors. I am here to do my best to provide you with outdoor guides to the Vancouver area and beyond.