If you live in Vancouver or any of the surrounding neighbourhoods and suburbs, you do not need a car to get around the city. There is an extensive network of busses, light rail, car share vehicles, and bike paths all around the city.
If you live anywhere near the Skytrain, chances are you would choose to take public transit to get into the city even if you owned a car. It's just easier.
However, if you want to enjoy the mountains and outdoor sports on offer outside of the city limits, a car is necessary. As Vancouver is known as an outdoor sports capital, you would be seriously missing a lot of the allure of living here if you don't have a car.
If you choose not to buy a car when living in Vancouver, I would recommend using the Evo carshare network on weekends to enjoy the beautiful hikes near Vancouver, nearby tourist towns, and ample skiing opportunities.
Pros of Having a Car in Vancouver
1. Hiking Access
By far the biggest advantage of having a car in Vancouver is that you'll be able to make use of the extensive hiking trails that Vancouver is known for. Without them, you'll be limited to a small number of hikes accessible by public transit in Vancouver.
The hiking in North Vancouver, Squamish, and along the Sea to Sky highway are excellent and not to be missed. So, even if you don't own a car, I would strongly recommend renting an Evo carshare vehicle for weekend trips to some of the best hikes near Vancouver.
2. Access to Squamish and Whistler
There are several towns just outside of Vancouver city limits that are fun to visit. Our favorite is Squamish, which hosts many hiking and backcountry skiing areas. They also have one of the best breweries in the region (Backcountry Brewing) and an awesome all-day breakfast spot called Fergies that's worth a visit.
3. Access to Provincial Ski Resorts
While there is public transit access to Grouse Mountain and Cypress Ski Area, if you want a truly good skiing experience, you'll want to head further afield. I personally prefer Big White and Sun Peaks, which have softer and dryer snow than Whistler. They're both about 5 hours' drive inland from Vancouver and would require you to own a car.
4. Getting Around the City is Easy
Even within the city, we use our car more often than we use public transit. We use it for our weekly shopping as well as for dashing around the city to spend time with friends. Unfortunately you usually do have to pay for parking, but the convenience of zipping around rather than waiting for busses or Skytrains is in our opinion more than worth it.
5. Trips to Chilliwack
Chilliwack is a really underrated area near Vancouver. We go there regularly though the summer to enjoy the extensive Chilliwack hiking trails. Elk mountain is a great hike with awesome views of Mt Baker from the top. There's also a fair bit of good camping around that area that's worth checking out.
Other areas out that way worth checking out are Golden Ears National Park and EC Manning Park, both of which you'll need a car to access.
6. Paddle Boarding Trips
Paddle boarding is a really common thing to do in summer around here, and you'll need a car to access the best paddle boarding spots near Vancouver. Our favorite spot is Buntzen Lake which is large enough that you'll be able to escape the crowds by paddling across to the other side.
If you don't have a car, you could take your paddle board out to Jericho beach, but you'd want to live nearby because carrying a paddle board on public transit might be a little awkward!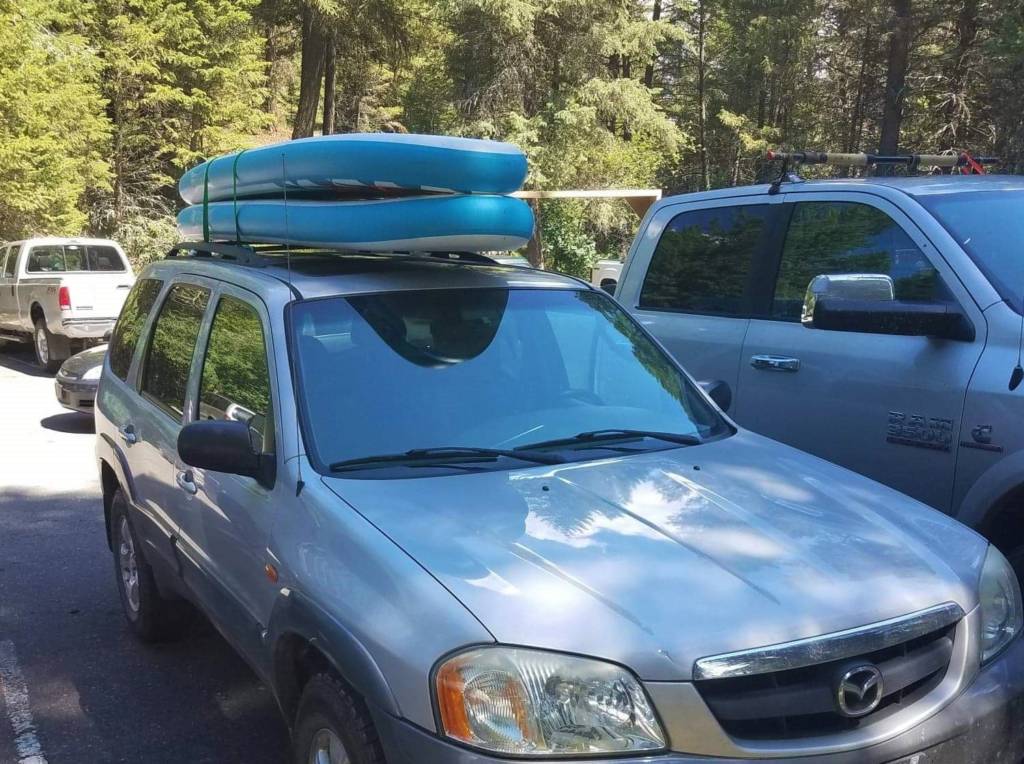 7. Access to Washington State
Vancouver sits right on the border with the United States, and there are some great trips you can take down south for a day or weekend. Bellingham is the first major town you'll come across south of the border. It sits alongside Mt Baker, which is an awesome location for hiking and skiing. See Talon's guide on Mt Baker hikes for more.
Further south is Seattle, which you can access in about 3 hours.
8. Access to the North Shore
The North Shore is connected to the city by two bridges and a ferry called the SeaBus. So, getting to the North Shore can be a bit of a headache without a car. When you get a bus across, you usually have to change busses at the Phibbs bus exchange (and invariably end up waiting 25 minutes between busses). If you take the SeaBus, it usually involves a Skytrain trip into the city, changing to the SeaBus, then catching a bus on the other side.
In other words, if you don't have a car, getting to the North Shore is a nightmare.
And the North Shore is a place we go to quite often – for the hiking, skiing, and great range of breweries up there.
Cons of Having a Car in Vancouver
1. The Parking Fees
Vancouver has really reduced the amount of free curbside parking lately, meaning fees are becoming the norm. You'd need to get the parking app to pay all your fees, which add up over time.
If parking near your house is restricted, you'll often need to buy a local parking permit, which will cost about $50 – $100 per year. We resisted getting this for about 6 months and just made use of some free parking nearby, but in the end we caved and bought the permit and we don't regret it.
2. The Insurance Cost
Car insurance in BC is insanely expensive. There's a single government-run insurance provider called ICBC which has a monopoly on all vehicle insurance. In my opinion, the lack of competition in the insurance market has really inflated prices. There's also talk that ICBC has been really mismanaged for several decades now, so it's all a bit of a mess.
We're paying about $150 a month for insurance right now and honestly we're really toward the lower end of the fees compared to some friends of ours. I discuss insurance in more detail lower down in this article.
3. The Public Transit System is Pretty Good
There's an argument to be made that – even if you have a car – you'll be leaving it at home and taking public transit anyway.
I've got friends who have lived in Vancouver without a car for several years. They all say that the main reason they don't have cars is because the public transit is good enough.
The Skytrain cuts through several parts of the city and provides very fast access to the city and surrounding areas. There is also an extensive network of busses and bike paths to connect you around the city.
4. Vancouverites can't Drive (Sorry!)
I hate to say it, but it's true. Vancouverites (dare I say it – Canadians?) are horrible drivers. They don't know what an indicator is, cannot navigate roundabouts, and habitually drive very, very fast.
And you're going to be sharing a road with them. Sometimes, it's a scary ride.
How to get around Metro Vancouver without a Car
1. Bike
There is an extensive bike network in Vancouver BC which is rapidly growing. They're increasingly turning several local streets into special cycling routes. For example, Francis street is more or less a cycling dominant street all the way from the city centre all the way through to the eastern edge of Burnaby.
Through this network, you can usually cross the town in 25 minutes or less.
You will also find the Shaw rental bikes on the major bike routes. There are bike stands every few blocks on the bike routes so there will be one close to you. You can unlock the bikes using an app and have a limited timeframe before you have to re-lock them to a bike stand close to your destination.
Another major part of bike network is the 'the greenways', a network of cycling paths that crisscross the neighbourhoods. These greenways are used for both pleasure and transportation to work.
However, remember that Vancouver is an incredibly rainy city, so you'll be riding through the rain more than half the days of the year (I'm not joking).
Don't forget to wear a helmet or risk copping a fine.
2. SkyTrain
The Vancouver Skytrain is a fast, efficient, and popular way to get around town. It's generally very well regarded because it connects much of the city and surrounding suburbs.
However, it's not fully finished yet, and even when it is done, many people will find that there's no station within walking distance of their home.
For example, if you live in North Burnaby, the nearest Skytrain station is probably going to be a 45-minute walk away at least.
Similarly, UBC, Kitslano and surrounding areas are not connected to the skytrain network at all and still rely heavily on busses.
Really, it mainly just cuts through southern Burnaby and into the north end of Surrey, with another line that heads down to Richmond.
If you want to make the most of the Skytrain to get to work (which I recommend – it's the fastest way into the city by a country mile), you'll want to live in a neighbourhood that's well served by the Skytrain. You'll notice that these neighbourhoods are much more built-up and have more skyrise buildings specifically because of their proximity to the metro.
Common places to live with large Skytrain terminals include:
Metrotown (Burnaby)
Commercial Drive and Broadway
Brentwood
New Westminster
Olympic Village
3. Bus
The bus network is extensive in Vancouver. You'll find that there are major bus terminals at most Skytrain stations to further connect everyone who doesn't live near a Skytrain. It's not uncommon for people to catch the bus to the Skytrain then the Skytrain to the city.
If you live in Richmond, South Vancouver, Surrey, or near either of the main Universities (UBC and SFU), you'll become very familiar with the bus network as it's the main way to get around. The busses fill up, but come quite frequently.
For BCIT, Emily Carr, or VCC students, your main campuses are within 20 minutes walk of a Skytrain. Students studying in the smaller downtown campuses of UBC and SFU will also be able to get one of the downtown Skytrains so won't need to worry about Busses.
Overall, while busses are a very common way to get around, they're a supplement to the Skytrain which, I think, is most people's preferred option as it's faster, quieter, and connects you to the main hubs.
4. SeaBus
The SeaBus connects the North Shore to the city. North and West Vancouver are both North of the Indian Arm river, meaning you'll either need to drive across one of the two connector bridges, or take the SeaBus.
The SeaBus leaves on regular intervals and goes between Waterfront Station and Lonsdale Quay.
It's worth getting the SeaBus to the North Shore even just once to enjoy the views of the city and check out some of the great shops on the Quay.
A city compass card can get you on and off the SeaBus.
5. Taxi, Uber, and Lyft
As of late 2020, Uber and Lyft have been operating in Vancouver. Before this date, these companies were banned to protect the taxi industry in the city.
The introduction of Uber and Lyft was welcomed by most Vancouverites because the yellow cab mobile apps were really quite terrible.
Now, you can see Uber and Lyft all over the place. They're clearly very active and were a necessary introduction to the city. There are still many yellow taxis around the place, particularly outside the airport, the large hotels downtown, and the major train stations.
6. Evo Carshare
Evo offers a carshare service that is very popular throughout the city. They're tiny hybrid Toyota cars (with roof racks!). Simply turn on your app and it shows you where all available nearby cars are. Go to a car and unlock it with the app. You can then drive the car around the city, park it, and pay for how much you used.
If you live in one of the Vancouver neighbourhoods, you'll find that an Evo carshare car is always nearby – within a few blocks – so it's a very convenient option for people who don't want to pay monthly insurance for a car of their own.
What's it Like Driving in Vancouver?
Vancouver is generally an easy city to navigate in a car.
Within the urban Vancouver neighbourhoods, you're mostly driving on a grid system which makes getting around very easy. The only exception to this would be the downtown core where they have created several one-way streets that can catch you out occasionally and leave you driving the long way around to get where you want to go.
Rush Hour
Vancouver doesn't have too much bad congestion compared to many other major cities around the world. I come from Sydney Australia where the traffic is dreadful, so I find Vancouver to be really tolerable even when I'm caught in peak hour.
The main pinch points for traffic are the Ironworkers bridge and Massey Tunnel heading to North Vancouver and Whistler, which are regularly gridlocked during peak hour. Similarly, southbound on Highway 1 can be a problem if there is a police operation or car accident.
But, even during peak hour, southbound on Highway 1 can sometimes be quite smooth.
If you're lucky enough to own an electric vehicle, you can apply for a sticker that allows you to drive on the high occupancy vehicle (HOV) lane on Highway 1 even if you're the only person in the car.
But beware: Canadians drive well over the speed limit on highways so you'll have people in the HOV lane riding your tail even if you're doing 10 or 15 over. So I often happily hang out in the right-hand lane and do the speed limit.
Parking
Unfortunately, free parking is increasingly difficult to find. East Vancouver recently switched to pay-by-phone parking just about everywhere. And when I'm downtown I don't even bother trying to find a free park. I just drive straight into an underground parking lot and swallow the cost.
Furthermore, if you're parking on the street near your home (like most people do), check the street signs to see if it's a locals only parking zone. If so. you'll need to apply to the local government for a local parking permit. That will set you back between $50 – $100 per year.
Oh, and P.S. don't expect anyone to know how to use an indicator or roundabout in Vancouver. Sorry, Vancouverites, but you're terrible drivers.
How to use Public Transit in Vancouver
To use public transport in Vancouver, you need a compass card. They can be purchased in most corner stores as well as the airport. You can top them up at most major Skytrain stations or using your phone. The instructions are listed on the back of the card.
The compass card is valid for SeaBus, Bus, and Skytrain services. For the Skytrain, you need to tap on and off, while you can just jump off the SeaBus and Busses as they are now all set at flat fare rates.
The Shaw bikes operate on a private system, so you'll need to download the app to use the rental bikes.
Similarly, the Evo carshare requires you to download the app and go through the steps to get registered (including uploading a photo of your driver's license).
Is Car Insurance Expensive in Vancouver?
Car insurance is very expensive in Vancouver. This is because there is a single government-run insurance and registration agency called ICBC that doesn't have to compete on price. They're the only game in town.
To get car insurance, simply go to Google Maps and search for 'ICBC Autoplan Broker'. There's seemingly one on every corner.
Throughout the province, ICBC is the subject of the ire of everyone. We all love to complain about it.
But recently, ICBC was turned into a no-fault system (similar to Saskatchewan) which lowered bills by 20%. This was a controversial move, but from my understanding they managed to save this money by reducing the bureaucracy and limiting the amount of cases that end up going to court arbitration.
Still, even with a 20% haircut, your monthly insurance bill is going to be eyewatering. At the moment we're paying about $150 a month as a couple in our early 30s and late 20s to insure our 20-year-old Mazda Tribute. Our yearly insurance costs more than our car.
How Much Does it Cost to Maintain a Car in Vancouver BC?
A second-hand car will cost you anywhere from $1000 for an unreliable clunker all the way up to $15,000 for a relatively new vehicle. When you buy the car, you will have to pay provincial sales tax which is 12%. (This is higher than PST on just about everything else in the province).
The main expenses for maintaining our car are:
Insurance and Registration – You need to renew your insurance and registration every year. If you pay yearly you get a discount, but you can also pay monthly. You need to get insurance and registration from ICBC and you can buy it through an ICBC Autoplan broker. There's no need to shop around for the best price because the prices are set by the government. Prices vary depending on your driving history and type of car, but expect anywhere from $1500 – $3000 a year for this (I know!).
Maintenance – You can go to a local mechanic or one of the many drive-in oil change providers around town. We've found that mechanics in general are cheaper here than in the States. Expect to pay about $50 for a simple service.
Parking Permit – Most Vancouver neighborhoods near commercial districts restrict curbside parking to locals-only. You can get a parking permit from the local government by sending-in proof of address. This will set you back $50 – $100.
Resources and Maps
Conclusion
Overall, we believe it's worth it having a car in Vancouver because getting to the outdoors is hugely important to us. Vancouver really is quite a small, sleepy city, so you'll probably be bored if you can't get out of a weekend to enjoy our enormous and beautiful backyard.
We do recognize, though, that we're privileged to be able to afford a car, especially because the costs of parking and insurance can be a bit overwhelming.
If you'd like to know more about places you can drive to from Vancouver, I'd recommend checking out Talon's articles on taking a day trip to Hope (a really nice town just a little farther out than Chilliwack) and her thoughts on doing a day trip to Bowen Island, which you'll also need a car to access.
Hey! I'm Chris. I hike with Talon alllll the time. And I'm the unofficial photographer for a lot of the photos here on Alpine Feeling. But, sometimes I'll add some articles as well.