These hikes are all within a 45-minute drive of Bellingham or less, I have organized them in sections of Bellingham, Chuckanut/Larabee, Lake Whatcom, and I-5 South. I have not included any Mount Baker hikes but if you would like to know more about them click here.
Most Bellingham hikes can be done year-round, some of the higher elevation ones may become icy or muddy in the winter, but are usually snow-free unless there has been low-level snowfall.
Also, state parks in Washington require a Discover Pass to park which is $10 per visit or $30 for the year (it is well worth it to buy the annual pass as there are so many convenient state parks to visit in Washington). You can buy the passes online or in various stores or parks, find out more here.
The Best Hikes in Bellingham, Washington
Bellingham
1. Lake Padden
Distance: 2.5 miles | Elevation Gain: Minimal | Difficulty: Easy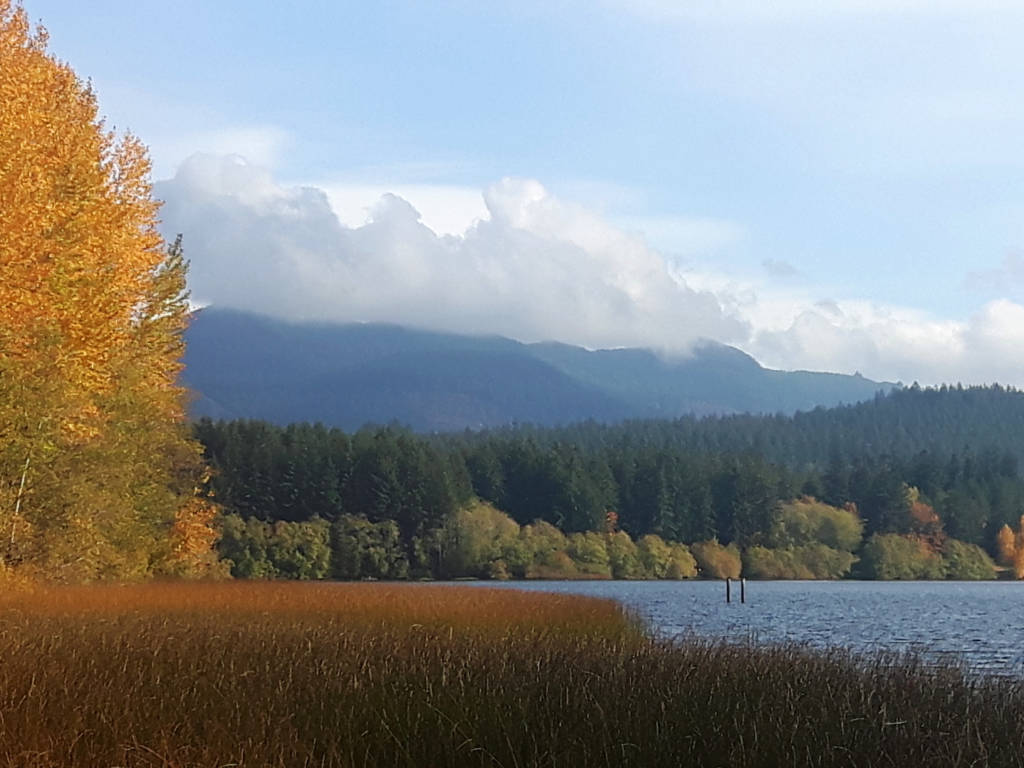 Lake Padden is only a short drive from downtown Bellingham and is a simple hike around the lake, but it is beautiful year-round and is an excellent way to get out into nature and get a small workout in when you only have limited time.
The trail is snow-free and forested and is especially beautiful in the fall when the leaves start to turn yellow. There is a large parking lot and a park that has all of the facilities you would need.
2. Sehome Arboretum
Distance: Up to 2 miles | Elevation Gain: Up to 300ft | Difficulty: Easy
This is a simple trail above Western Washington University. There are a series of trails in this protected forest that can be explored, some trails are simply used by students looking for a greener walk to class and some trails take you up to the top of the hill where you can find an old lookout tower with some views of the ocean. The tower itself is very cool and worth the quick walk it takes to get there.
These trails are normally snow-free and are accessible year-round.
3. Lummi Peak Trail
Distance: 6 miles | Elevation Gain: 1600ft | Difficulty: Moderate
This trail is not in Bellingham but it does not fit into any of the other area categories. This trail is on Lummi Island, which is accessible via ferry after a short drive northwest of Bellingham. It makes for a very fun adventurous day out.
The trail itself is not too challenging and usually snow-free for the whole year. After a steep incline, the trail will even out and bring you to a big cliff where you will get to enjoy spectacular views of the San Juan Islands.
The land is protected so please do not bring any pets and do not plan to camp or make a fire and of course, pack out what you pack in.
Chuckanut/Larabee
4. Chuckanut Falls
Distance: 2 miles | Elevation Gain: 400ft | Difficulty: Easy
This trail starts at the south end of Bellingham at Arroyo Park (there are many trails in the area so you can change your route if you are looking for a longer hike). The trail is easy and can be done year-round and will lead you to a waterfall. The trail can be a little hard to follow, so I recommend downloading a trail map before you go.
5. Fragrance Lake
Distance: 4 miles | Elevation Gain: 1000ft | Difficulty: Moderate
This hike starts across the road from the Larrabee State Park campground. The trail takes you up a steady incline to a viewpoint and then to a lake. The trail is relatively simple and straightforward and is a good option for a shorter hike near Bellingham. There are many trail extensions to be done in the area if you want to push yourself further such as continuing on to Lost Lake.
Note that Larrabee State Park requires a Discover Pass to park here ($10 for the day or $30 for a year).
6. Lost Lake and Viewpoint
Distance: 5 to 12 miles | Elevation Gain: 1300 to 3200ft | Difficulty: Moderate to Challenging
There are many different ways of getting to Lost Lake so the distance and elevation gain can vary greatly. You can drive up Cleator Road all the way to the near-top of the ridge and take the Rock Trail to the viewpoint and the lake for a shorter/easier hike, or you can start off Chuckanut Drive, which means you have to hike all the way from sea level up the ridge which is much more challenging.
The second option or starting on Chuckanut Drive is a good choice for extra exercise and if the road to the top is closed (which can frequently be the case). This version of the hike starts just past Larrabee campground and you will need a Discover Pass to park here.
The views from the hike are stunning, you will get views of the ocean and of Mount Baker, and there are plenty of trail extensions to explore. Be sure to actually go to the viewpoints and don't just stop at the lakes. Download a map before you go and hike here between March and November for best results, though year-round hiking is a possibility. 
7. Pine and Cedar Lakes Trail and Raptor Ridge (from Lake Samish Drive)
Distance: 5.5 miles | Elevation Gain: 1900ft | Difficulty: Challenging
This trail can be done just to Pine and Cedar Lake or just to Raptor Ridge but I would recommend doing both on the same day as they are pretty close together and that way you get to see the lakes and you get to see the beautiful views of Mount Baker from Raptor Ridge.
The stats above are for the trail that starts off of Lake Samish Road, but you can also start this trail at the North Chuckanut Mountain Trailhead near Arroyo Park in South Bellingham.
The second option is longer but has a more moderate incline. This second option is also a possibility for those willing to walk the interurban trails from Fairhaven to get to this trailhead.
This trail can be done year-round but watch out for ice and mud in the winter and note that you need a Discover Pass to park in Larrabee State Park.
8. Oyster Dome
Distance: 6 miles | Elevation Gain: 1900ft | Difficulty: Challenging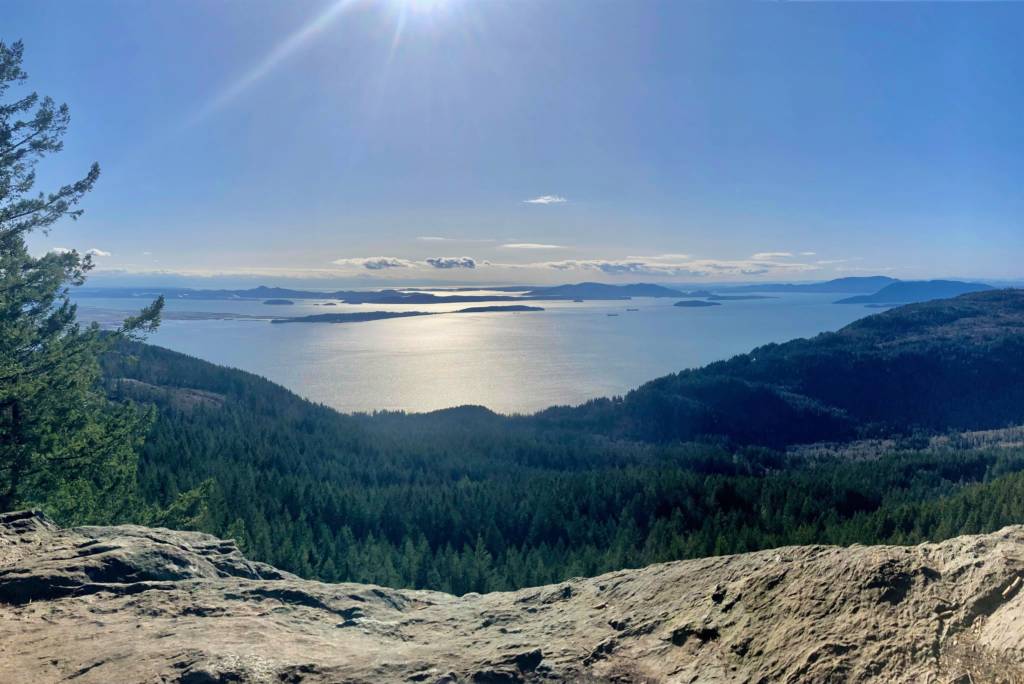 This is probably the most iconic hike in Bellingham, and though it is a slog uphill the views are worth it as you look out over the ocean and the islands.
The hike starts south of Larabee Park on Chuckanut Drive and the parking is just road shoulder parking so it can be hard to find a spot on a nice weekend day. The hike can be done year-round but I would highly recommend going on a clear day for the views and take caution of mud and ice in the winter months.
Overall, this is a must-do if you are a Bellingham local and highly recommended for anyone passing through as well!
Lake Whatcom (Sunnyside, Sudden Valley, and More)
9. Stimpson Nature Preserve
Distance: 2.8 miles | Elevation Gain: Minimal | Difficulty: Easy
This is a simple forested loop in a wetland that is just outside of Sudden Valley. The trail is easy to follow and can be done year-round and in any weather. This is an excellent place to get out into nature and explore when you have limited time or energy.
10. Hertz Trail along Lake Whatcom
Distance: Up to 6.5 miles | Elevation Gain: Minimal | Difficulty: Easy
This trail can be as short as you like as it travels along the edge of Lake Whatcom until you hit private property. The trail starts on the Sunnyside side of the lake at Lake Whatcom Park and is easy to find.
This trail can be done year-round and in any weather and is a great simple option to get out and explore. There are some beautiful trees, lake views, and waterfalls on this trail.
11. Chanterelle Trail at Lake Whatcom
Distance: 4.3 miles | Elevation Gain: 1000ft | Difficulty: Moderate
This trail starts from Lake Whatcom Park (Sunnyside area) and is a nice gradual incline until you reach a viewpoint of the lake from above. You can continue to meander around the top if you want to walk more, but watch out for mountain bikers. This hike can be done year-round.
12. Blue Mountain
Distance: 5 or 10 miles | Elevation Gain: 1100 or 2100ft | Difficulty: Moderate or Challenging
This hike isn't exactly at Lake Whatcom, it is a bit past the end of the lake heading southeast, and you drive along the south side of the lake to get there (in total about 45 minutes from Bellingham).
There are two options on Blue Mountain, both of which involve long walks on logging roads; however, the roads are still scenic and the views at the top are beautiful! You will be able to look out to Mount Baker and many other surrounding mountains. Both trails have beautiful views, it will just depend on how long you want to hike.
The southern trail is shorter and more moderate and gives you views of the Twin Sisters. The summit route (north) will be more challenging and give you bigger views. Either one will be beautiful and peaceful.
Note that the logging road is active, you will know if this hike is open to foot traffic if the gate at the bottom is CLOSED (i.e. no trucks are coming through). You should be safe to go on the weekends and in the off-season, but there is always a chance it will be open to trucks.
If you go in the winter you may need microspikes or snowshoes if there has been heavy snowfall. Be sure to download a map before you go as there are several intersecting roads at the beginning.
South on I-5
13. Alger Alps
Distance: 4.3 miles | Elevation Gain: 1000ft | Difficulty: Moderate
This hike in Alger has a nice gradual incline on an old dirt road (inactive) that brings you to a viewpoint where you can see the green valley below and the mountains in the distance.
This hike can be done year-round but I would recommend going on a clear day so that you can see the view at the top. This is an excellent short trail to get your heart rate up and take in some views.
14. Lookout Mountain Trail (from Chain Lake in Alger)
Distance: 8.5 miles | Elevation Gain: 2500ft | Difficulty: Moderate
This is the mountain just north of Alger Alps (above). This trail takes you up higher for more mountain and lake views. The best viewpoint is actually about 0.5 miles from the summit, so I would recommend stopping there as there isn't much to see after that.
The trail has a few semi-confusing spots and may have some brush to get through depending on the time of year so download a map before you go. There will be snow here from December to April and I would avoid this hike during those months.
Bonus: Nature Parks
All of these parks allow you ample space to wander and will definitely get you your nature fix, many of them have walking trails, but I would classify them as walks, not hikes, so if you are looking for an easy stroll in the woods or by the beach, these would be your spots!
1. Whatcom Falls
This is a must visit for any local or passerby. The park is very serene and the falls are beautiful. The falls are just after the entrance to the park but there are trails you can walk along deeper into the woods if you want to explore.
2. Larrabee State Park and Teddy Bear Cove
This park is on Chuckanut Drive and is a real gem of a place. You can find stunning forest and beach landscapes and plenty of short trails to explore. There is also a campground here for those wanting to stay a few days.
Teddy Bear Cove is a small beach inlet that is very popular and for good reason, it is beautiful there! You can even find phosphorescence in the water here in late summer.
3. Hovander/Tennant Lake Park
These sister parks are north of Bellingham and are well worth the short drive. The Hovander Homestead is on the river and has some beautiful old buildings and a big garden to explore as well as the rest of the farm. The tree-lined driveway is a very idyllic entrance to this dreamy property.
Next to Hovander you will find Tennant Lake park which has a lookout you can climb and there is an educational trail with lots of beautiful plants to explore.
4. Woodstock Farm
This park is along Chuckanut Drive and takes you to a property that has an old home on it on the water. You can venture down close to the beach and explore this land and imagine what it would be like to live there.
5. Clayton Beach
This beach is down Chuckanut drive and it is very secluded because it is a just under 1-mile walk to get there that can be a bit rough in places. There are beautiful rock formations and it is a popular place to go bouldering.
6. Boulevard Park and the Boardwalk
This park is a given, it is in the Fairhaven part of Bellingham and there is a big beautiful boardwalk over the water that is absolute bliss on a sunny day. If you have been to Fairhaven, you will certainly know this walk and park.
Happy hiking all!
Welcome to Alpine Feeling! My name is Talon, and I am a Vancouver local who loves hiking and all things outdoors. I am here to do my best to provide you with outdoor guides to the Vancouver area and beyond.