Tips Before you Go
The Mount Baker area has some of the best hikes I have ever done, they almost all have incredible mountain views and incredibly diverse terrain. You will find wildflowers, animals, berries, and fall foliage to boot. These hikes are organized starting from easiest to most challenging (though that is always up to personal interpretation).
The best time to hike around Mount Baker is August and September. Often even into July there can be residual snow in the mountains, and sometimes it is there year round. There can be snow as early as October so just check recent weather reports before going on either end of the main season and always be prepared to make snow crossings.
These hikes listed are all accessed off of the Mount Baker Highway (542) after the town of Glacier on your way to the Mount Baker Ski Area. Half of these hikes start just off of the highway and you will be able to access them easily in any type of car. The other half of the hikes begin at the end of very rough forest roads that should be driven with a 4WD but most of them can be accessed in a sedan if driven very slowly and cautiously. The type of road is mentioned in each hike description.
The hikes on this list are all hikes I believe an average hiker could do. There are lots of overnight hikes or hikes that need special mountaineering skills to discover in this area as well if you want to do some further research. 
Many of these trails are popular but are not always super well marked so I would recommend downloading a map before you go. There is minimal to no cell service in the Mount Baker-Snoqualmie Forest so be prepared with driving directions and a trail map before you lose service.
Most of these trails require a Northwest Forest Pass to park. This pass is for all national forests in Washington and Oregon. You can either buy an annual pass for $30 USD or a daily pass for $5 USD, these passes are per car, not per person.
Another option is to buy an Interagency Pass for $80 USD that includes most national forests as well as many other national lands (there is a list at the bottom of their webpage). You have to buy these online before you go or at a forest service station. It is not possible to pay at the trailhead.
Mount Baker Highway Hikes Ranked By Difficulty
1. Fire and Ice Trail
Distance: 0.6 miles | Elevation Gain: Minimal | Difficulty: Easy
A simple little summer loop behind the Heather Meadows Visitor Center. This trail is short and easy but has beautiful sights all around. A great place to stop and stretch your legs, take kids, or add on as part of the other trails nearby such as Bagley Loop.
2. Picture Lake
Distance: 0.4 miles | Elevation Gain: Minimal | Difficulty: Easy
Another simple loop to stop at just off the highway. The lake is beautiful and the surrounding mountains are stunning. This is an easy trail and worth the stop if you need a short break or are heading to/from another excursion on Mount Baker.
3. Bagley Creek Loop
Distance: 1.4 miles | Elevation Gain: Minimal | Difficulty: Easy
A fantastic little trail that takes you along bridges, past reflective lakes, and of course alongside amazing mountain views. This trail can easily be extended by continuing to Chain Lakes, Table Mountain, or adding on the Fire and Ice Loop. This trail can also be done as a snowshoe trail in the winter.
4. Horseshoe Bend Trail
Distance: 3 miles | Elevation Gain: 500ft | Difficulty: Easy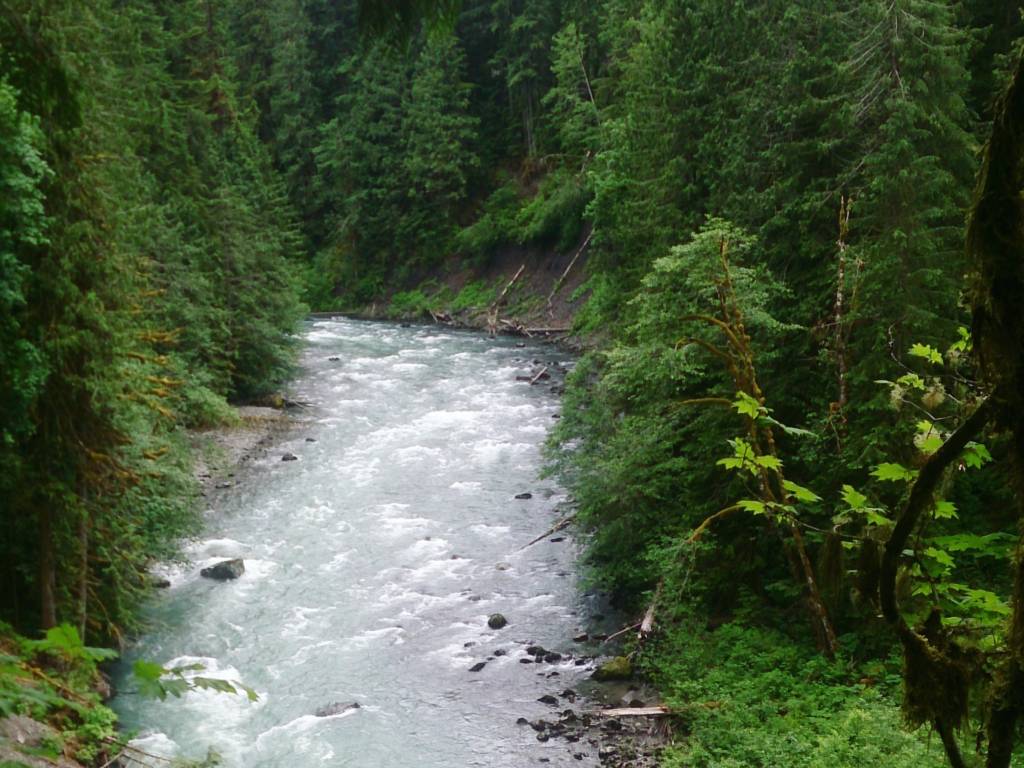 This is an easy little trail that is at the base of the mountain so it can usually be done year round. The trail takes you along the side of the Nooksack River that is a beautiful blue color. The trail itself may be boring for some in comparison to the big mountain trails at the top of the highway but this is a great little excursion into nature during the off season.
The trail starts at the side of the highway and is a popular put in spot for kayakers.
During the rainy season the trail can be muddy and stream crossings can be wide so be prepared with good footwear.
5. Artist Point
Distance: Up to 4 miles | Elevation Gain: Up to 1000ft | Difficulty: Easy to Moderate
This trail is highly variable, it is possible to drive much closer to the summit during the summer months. In the winter, this is a longer trail at about 4miles and is an excellent snowshoe trail. The views of Mount Baker and Mount Shuksan are incredible. Be sure to make it all the way to Huntoon Point, which is a bit past Artist Point.
There is avalanche risk on this trail at times so be sure to check the Mount Baker website before heading out.
6. Table Mountain
Distance: 2.8 miles | Elevation Gain: 650ft | Difficulty: Moderate
This moderate hike will lead you to massive sweeping views of the surrounding mountains and is a good introduction to different types of terrain for newer hikers. The trail has parts that are steep and covered in loose shale so you will have some scrambles but there are also lots of flat, well-trodden dirt path parts. The trailhead is at the end of Mount Baker Highway and is accessible in the summer.
7. Winchester Mountain
Distance: 3.1 miles | Elevation Gain: 1300ft | Difficulty: Moderate
This hike is absolutely incredible if you are willing to brave the drive to get there. The trail itself is an easy incline that leads you past Twin Lakes, a beautiful forest, and deposits you at a lookout with 360 mountain views. At the top, you will also find an idyllic old fire lookout.
The road to get there is the hardest part. Take the national forest road 3065 to the Yellow Aster Butte Trailhead then keep going to the Twin Lakes Trailhead. This final section of the road is very rough and I would strongly recommend a 4WD high clearance vehicle. Take it slow and remember that there are some fantastic rewards ahead of you. This trail is only accessible in the summer.
8. Chain Lakes
Distance: 6.5 miles | Elevation Gain: 1800ft | Difficulty: Moderate
This hike is a must do on Mount Baker because it includes all of the perks. You will find amazing mountain and lake views the entire time you are hiking, the trail is a moderate ranking so your legs won't turn to jello, and there is easy parking just off the highway at Austin Pass or Artist Point.
I would recommend doing this trail in the height of summer as it retains snow late into the year and gets snow early in the fall. If you can get to this trail in September you will also be rewarded with beautiful fall foliage. This trail is also largely exposed so be sure to come prepared with lots of water and sun protection. Most people go counterclockwise.
9. Ptarmigan Ridge
Distance: 11.5 miles | Elevation Gain: 2400ft | Difficulty: Moderate
Though this trail is long it is still considered moderate because the elevation gain comes gradually. The trail is exposed and rocky so be sure to wear solid shoes and keep an eye on your footing, be sure to download a map as well, as the rocky ground can be hard to follow.
Due to the warm rocks you are likely to see wildlife such as marmots and goats! At the end and throughout you will be rewarded with incredible mountain views as usual in this area.
Another positive to this trail is that it starts at Artist Point so the drive there is paved and well maintained.
10. Lake Ann
Distance: 9.6 miles | Elevation Gain: 2600ft | Difficulty: Moderate
The tough part about this hike is that it starts as a descent into a meadow and then climbs again, this means on your way back to your car you are going to have to make a final ascent when you are tired from the rest of the hike. It is well worth it at the end of the day.
This hike takes you through forest, meadows, rock fields, past waterfalls, and takes you up close to Mount Shuksan and its glaciers. Be sure to listen for shifting glacial ice as you walk and take in your surroundings!
If your final destination is the lake, the hike will be a bit shorter, but I would encourage going a bit past for more views.
Another positive of this hike is that it starts just off the Mount Baker Highway near the ski resort.
11. Heliotrope Ridge
Distance: 5.9 miles | Elevation Gain: 2000ft | Difficulty: Challenging
This is a very popular hike and for good reason! The final destination is a giant glacier that you can get very close to. Take some time to soak it all in and listen to the glacier shifting.
The hike there is also beautiful. It is challenging but not too hard and there are several stream crossings that are fun, though be sure to take caution, wear good footwear, and download a map before you go. Also, keep an eye out for mountain goats and marmots on this trail!
The trailhead is at the end of a long rough forest road (#39/Glacier Creek Road). Be prepared to go very slow and to meet many other cars along the way and at the parking lot. Arrive early or try to go on a weekday to ensure a parking spot.
12. Skyline Divide
Distance: 8 miles | Elevation Gain: 2600ft | Difficulty: Challenging
This hike starts in the forest and you conquer most of the elevation in the first half of the trail until you are deposited onto a ridge where you will be overwhelmed by massive mountain views. From here you will continue along the ridge and can soak in all of the views as the hike somewhat flattens out. Stop when you feel like it as the trail continues on to Hadley Peak and there isn't a clear indication of hitting the end of the Skyline Divide Trail.
The drive to get to the trailhead is pretty horrible, it is at the end of national forest road #37 and it is about 12 miles of potholes. Be prepared to take plenty of time and go in a high clearance vehicle if possible. The views will be well worth it in the end.
13. Yellow Aster Butte
Distance: 8.7 miles | Elevation Gain: 2800ft | Difficulty: Challenging
This is a gorgeous hike that starts out steep in the forest and then flattens out and takes you through fields of wildflowers, including yellow aster, which gives this trail a feeling of eternal fall. At the end there is one final very steep push and then you will be rewarded with mountain views as far as you can see.
This trail also has a small sweet campsite close to the beginning of the trail for those wishing to do some backcountry camping but not wanting to carry gear too far.
You can also continue on to Tomyhoi Peak if you are looking for a longer day though be sure to be fully prepared for tough backcountry hiking if you choose to go on.
The drive to this trailhead is not fun, it is along forest service road #3065 which is filled with potholes. Of course, a 4WD vehicle would be helpful but if you take it slow you should be able to accomplish it in a smaller vehicle as well. Take solace in knowing that the people continuing on to the Winchester Mountain trailhead will have an even rougher road ahead than you.
14. Excelsior Peak via Damfino Lakes
Distance: 5.2 miles | Elevation Gain: 1600ft | Difficulty: Challenging
This is probably one of my favorite hikes I have done on Mount Baker but beware that the road to get here (national forest road #31) can be very rough and is frequently closed or blocked by fallen trees or rockslides. Be sure to check recent trail and road reports before you go.
Once you get to the trailhead the trail is nice and gradual through the forest and past Damfino Lakes until you reach the ridge where you are rewarded with beautiful flower filled meadows and incredible views of Mount Baker.
15. Excelsior Pass
Distance: 8.4 miles | Elevation Gain: 3600ft | Difficulty: Challenging
This trail takes you to the same place as the trail above but the trailhead is just off of Mount Baker Highway so you do not have to conquer rough forest roads and driving. However, your legs will have to conquer more elevation gain. Whichever way you choose you will be rewarded with the same incredible views of Mount Baker and the rest of the North Cascades.
16. Church Mountain
Distance: 8.4 miles | Elevation Gain: 3800ft | Difficulty: Challenging
This is definitely a challenging hike with constant uphill most of the way until you hit a beautiful meadow filled with colors through the summer and early fall. After the flat bit through the meadow, there is one final scramble to the ascent where you will find incredible 360 views of the surrounding mountains and lakes.
Be aware that this trail is at the end of National Forest Road #3040 which is rough just like all of the other forest roads on this list. Take you time and be prepared for potholes.
17. Hannegan Peak
Distance: 9.6 miles | Elevation Gain: 3100ft | Difficulty: Challenging
This is a gorgeous hike, and hence, quite busy so it's always a good choice to go on a weekday or early in the morning for parking. It's a tough hike but the elevation gain is well dispersed until the final steep push at the end.
The trail can be buggy in July but there are wildflowers throughout the summer and wild blueberries in August and September. There are stunning views of surrounding mountains and Mount Shuksan really shines on this hike.
Be aware that this hike is at the end of the national forest road #32 which can be rough and washed out so be sure to allow for plenty of time to drive there.
This trail continues on to Hannegan Pass and many other trails so be sure to download a map before you go so that you can make the correct turnoff to the peak.
18. Goat Mountain
Distance: 8.7 miles | Elevation Gain: 4200ft | Difficulty: Challenging
This trail eases you into it with a long flatter forest stretch at the beginning and then makes a sharp turn upwards where it is exposed and rocky (where you can channel your inner mountain goat).
Near the end there is residual snow late into the summer so be prepared for a slushy crossing. At the top you will find stunning 360 mountain views.
The trailhead is at the end of national forest road #32 so be prepared for a rough drive before you start hiking.
Conclusion
If you are looking for hikes in Bellingham, you can find them here.
Get out and explore some day-hikes in the Mount Baker area, they are all incredible and well worth the trip. Let me know how it goes or if you have a favorite that isn't included in this list in the comments. As always, happy hiking!
Welcome to Alpine Feeling! My name is Talon, and I am a Vancouver local who loves hiking and all things outdoors. I am here to do my best to provide you with outdoor guides to the Vancouver area and beyond.